7 Tips For Improving eCommerce Curbside Pick-up Operations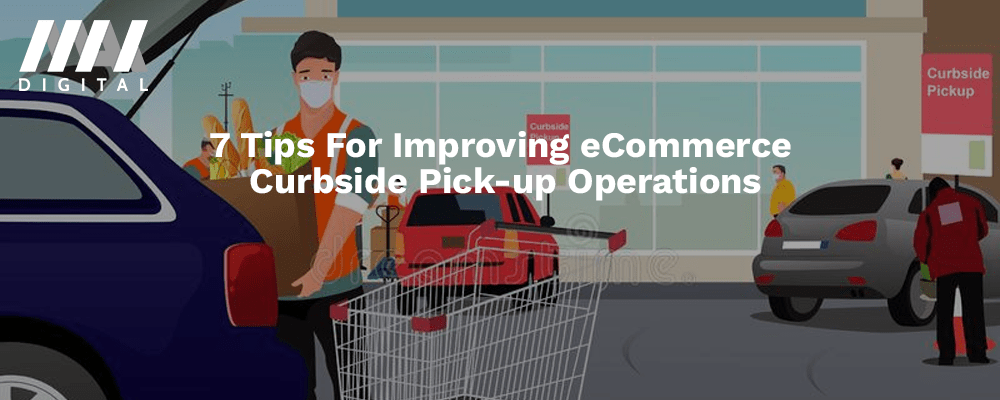 eCommerce businesses are evolving, and their mode of operation and practices are constantly improving. With the ongoing pandemic, there have even been more noticeable changes to the way businesses operate. Curbside pick-up service is one of the most notable additions to the way eCommerce businesses operate. This service has gained popularity lately because of the current pandemic.
For clarity, curbside pick-up provision is when eCommerce businesses allow their customers to place orders online, then they pick up their order at a designated pick-up location. The designated pick-up location could be the business' warehouse, store, or other designated pick-up location.
Curbside pick-up is safe and contact-free since customers do not need to go into the store to place an order or pick their order. That makes it an excellent option for eCommerce businesses and their customers, especially during the pandemic.
No wonder most businesses are starting to add curbside pick-up provisions to their business to improve their customer service. Curbside pick-up is very beneficial for businesses, so it does not look like it will stop after the pandemic. Businesses need to take advantage of curbside pick-up as it is a safe and contact-free collection system. It could improve the sales figure and web traffic of eCommerce businesses.
Here are seven helpful tips to follow to improve and implement curbside pickup practices in your E-commerce business.
Improve Your Business' Communication Systems
eCommerce businesses should have good communication systems in all business areas, including your curbside pick-up service. That is because your customers need all the information they can get to enjoy your curbside pick-up service. You need to effectively communicate the order status to your customers to know when to pick their item up.
So, you must decide the best way to notify your customers about the details of their order. Send unique and noticeable notification emails that won't get filtered in with junk emails and get deleted.
You should also add other reliable methods of communication like SMS to the mix. Text messages have up to an open rate of 83% within 30 minutes from when recipients receive them. That shows that your customers will likely read the messages you send via text.
Learn From Your Mistakes
Have you started offering curbside pick-up services? You may find that it is overwhelming for you. That is understandable, as curbside pick-up is still a new practice for most businesses, and you may have to learn through trial and error. You have to learn from your mistakes and incorporate the new lessons into your operation to improve your curbside pickup operations.
For example, let's say you book more collections than you can swiftly handle that you keep some customers waiting too long for their order. Although you will receive negative responses from those customers, that should not deter you from looking into what caused the delay. Look into what went wrong so you can then make changes to make sure the same problem doesn't happen again, thereby improving your service.
Create An Awareness Of Your Curbside Pick-up Service For Your Customers
Let your customers know about your curbside pick-up service. After all, you need your customers to be aware of any service you are offering if you want them to partake in it. Inform your customers of plans to add curbside pick-up to your services, and let your customers know why they should opt for it.
That should be like when you are marketing any other product to your customers where you remind them in your regular marketing campaigns. Put the necessary information about your curbside pick-up service on your social media platforms, websites, and so on.
Create A Supportive Workplace Environment For Your Workforce
Employees are very important in every organization as they are crucial for organizational success. Therefore, you need to appreciate and support your employees and make sure to fill your employees in on everything that entails your curbside pick-up service. Train your employees adequately so they can understand the processes involved in curbside pick-up.
Make Sure The Collection Process (Pick-up) Is Convenient
Now that your customers know about your new collection service, they need to know where to pick up their items. Provide necessary information regarding this right at the beginning of the ordering process. Should your customers come to your store to pick up their orders? Do you have a warehouse they can go to instead to pick their items?
Provide crucial information like this and ensure the entire processes and stages involved in the collection service are convenient for your customers. If not, they may lose interest in seeing the process through and end up canceling their order.
Have A Clearly Defined Structure For The Collection System (Pick-up) Your Business Is Offering
Most business operations require maximum planning, and curbside pick-up operations are not different. So, you have to plan everything concerning the collection systems to the last detail. Break down the entire process into small and simple parts that you can manage easily. Always inform your customers and employees about everything involved in each of those stages.
Consider important factors like who to assign to handle the packaging for orders and how many collections you can process at once. Also, take care of other small tasks like your bank reconciliation checklist without delay.
Follow Up With Your Customers
You need to retain your customers, and you want repeated patronage from your customers if you want your business to grow. So, it isn't enough that a customer has successfully picked up their order and driven off. Your business growth greatly depends on whether you can get your customers to make return purchases. Ensure you follow your customers up with first-class after-purchase services.
Don't be afraid of asking for their feedback, so you can know the areas that you need to improve in your services. Add your customers to your mailing list so you can send emails to them, informing them about your services, your new updates, and so on. Customer feedback is useful if you are trying to improve your services. Your customers will also feel like you value them when you request their opinion and feedback.