Advantages of
Responsive Web Design
So, in a nutshell, Responsive Web Design is the process of developing a website in a way that the content will respond based on the device screen size and resolution on which it is being viewed.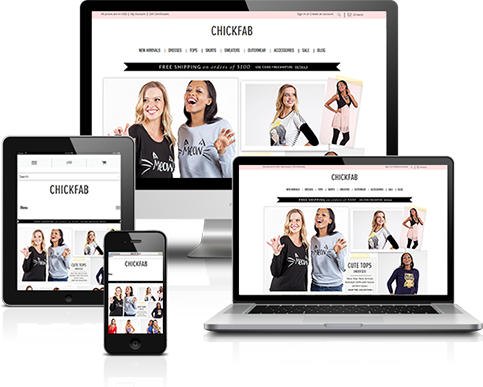 One/Same URL for all Devices
Before the advent of so many different devices, there was a separate web page specific to a device. There were separate sites for mobile and desktop. Then came the "device specific HTML approach", enabling websites serving on the same URL with different HTML and CSS depending on whether the user was viewing on a desktop or mobile device.
Overtime, a Responsive Web Design approach was developed so the website could serve single URL to all the devices be it smart phones, tablets or desktops.
One/Same Content for All Devices
This also presented a problem for the search engines. The search engines had to crawl multiple site or multiple pages for the same site. Responsive Web Design overcame these issues. The search engine can now crawl single URL and same content HTML, only the CSS3 media queries changes.
One/Same Content for All Devices
Responsive Web Design has the same single HTML code for all devices. Eliminating the need of device specific HTML approach, where you have to code the web page according to the device the user is viewing the site from.
Visions of Future Approach
Because technology and innovation is moving at warp speed, Responsive Web Design is considered as "future friendly. This approach is simply not compatible with current devices, but with future devices that we may encounter on the horizon. Customers using mobile devices are increasing exponentially. As this customer base grows, Responsive Web Design will continue to provide customers with exceptional user experience.
Optimal Search Engine Optimization (SEO)
The URL, Content and HTML remains the same for all devices. Therefore; it is easier to update and optimize the content in one place. This is the suggested approach by Search Engines, Google, Yahoo and Bing. This approach will improve the Search Engine Optimization (SEO).
Cost Effective and Efficient
Responsive Web Design approach is highly optimized for search engines and extremely cost effective when considering the maintenance of two different sites. It is difficult to create separate sites that cater to various devices that are entering the marketplace daily. Responsive Web Design eliminates this unnecessary expense proving the efficiency of the product.
Wider Browser Support
One HTML and one Content are managed by CSS3 Media Queries, which is now supported by most browsers using the Responsive Web Design Approach.