BigCommerce Store Migration and Redesign

Byourbed has been servicing all your bedding needs for quite some time. Starting their ecommerce journey on Volusion Byourbed saw incredible growth through the platform, bringing their brand to the forefront of online bedding sales. Eventually they decided it was time to upgrade and once again contacted MAK to help usher in a new-era of Byourbed. When presented with all of the possible upgrades the decision came down to invest in a Headless build through the BigCommerce platform.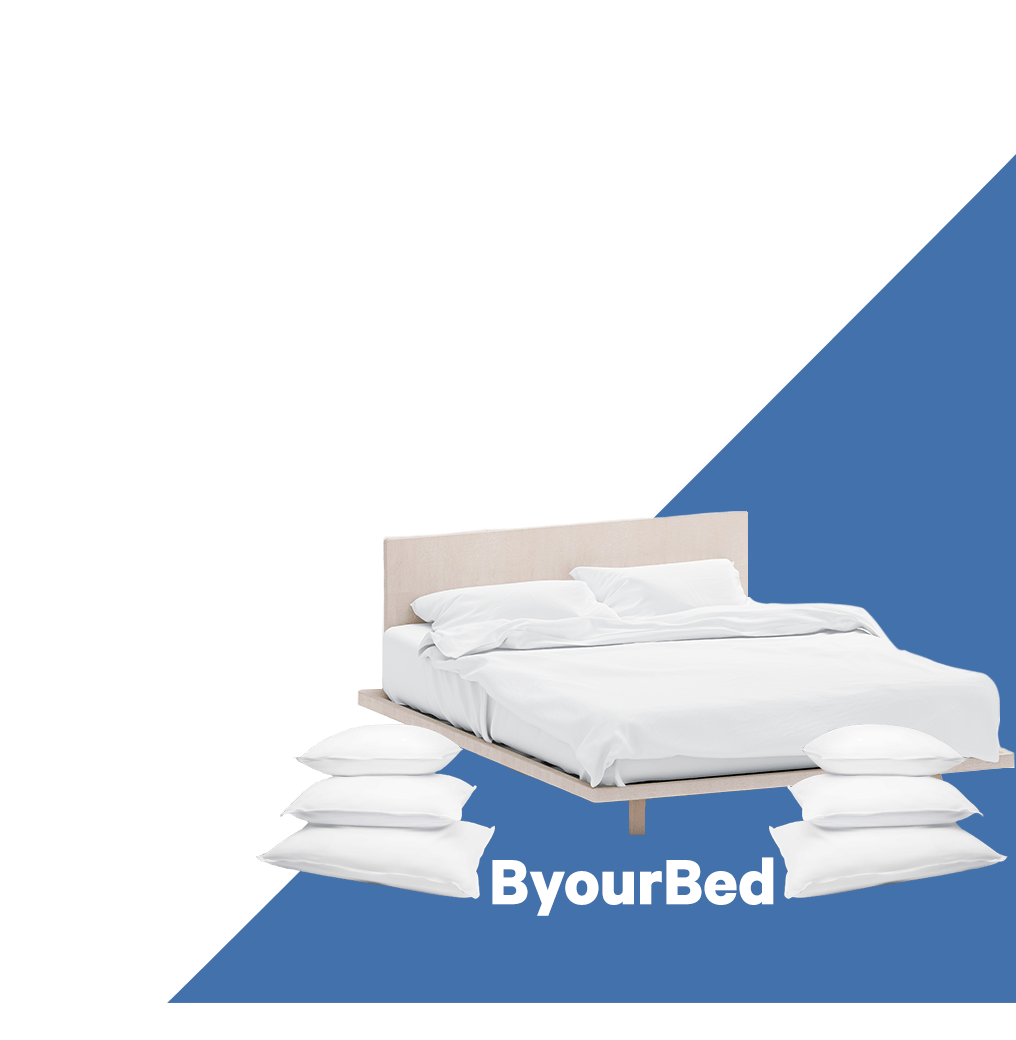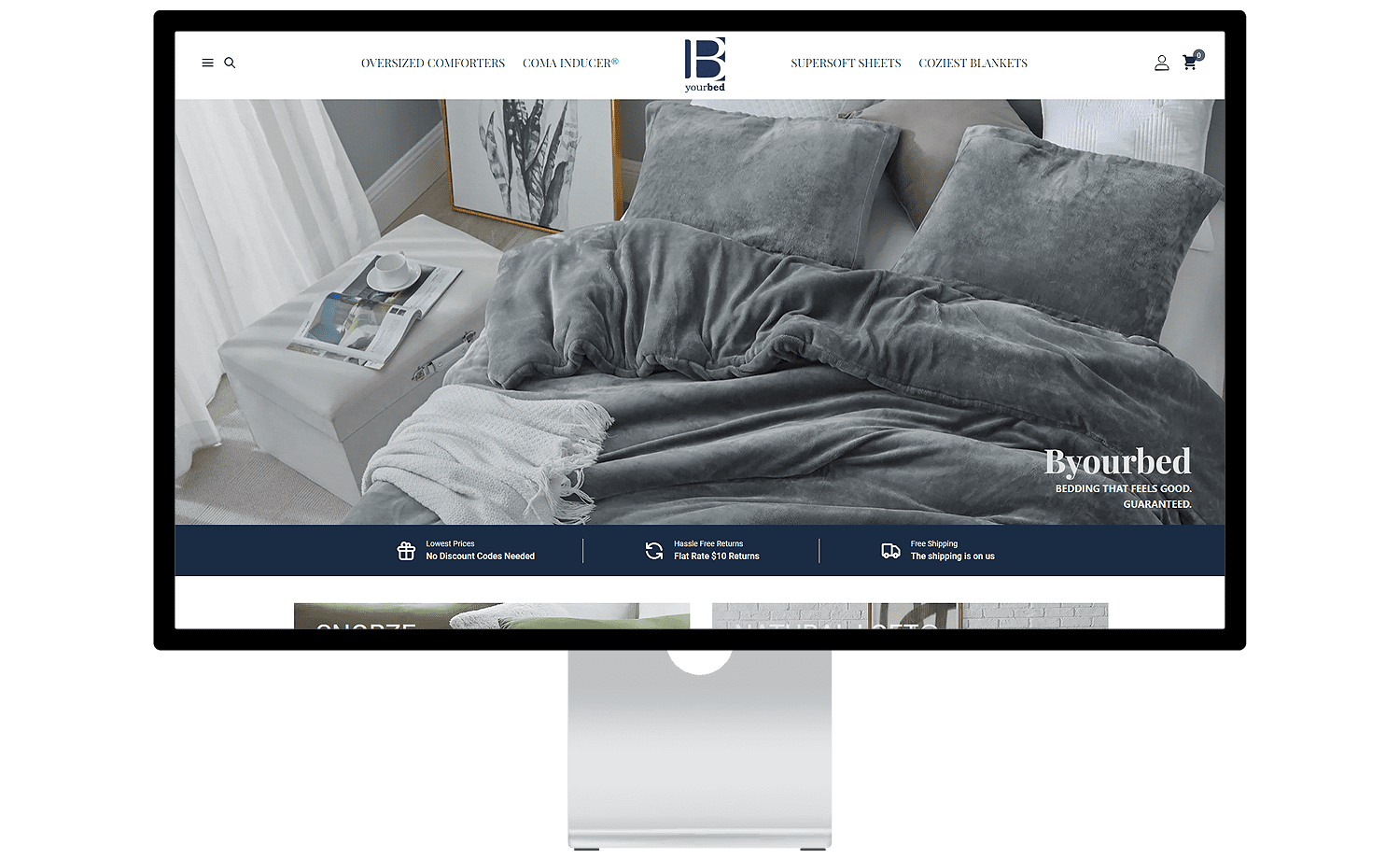 Project Details
MAK built Byourbed.com utilizing headless technology through React and BigCommerce's APIs. Byourbed.com was built with three critical factors in mind: speed, user experience, and SEO & Accessibility. While building the new Byourbed.com site, MAK has ensured to use proven best practices to ensure nothing short of the highest level of performance and subsequently, ROI. Despite the large amount of traffic the new site is experiencing, the speed and performance the new site is able to maintain is nothing short of incredible, achieving near-perfect scores on any of the scaling systems. MAK decided to utilize Vimeo for video optimizations, Shopper Approved API integration for product reviews, and Searchanise API technology for the site's search function as well as merchandising. Finally, the site utilizes Cloudflare for all traffic load-balancing and security.
Byourbed.com decided it was time to move away from Volusion and onto a platform better suited for their growth trajectory. Byourbed.com's leadership worked with MAK to evaluate the market, and ultimately concluded that BigCommerce would be a near-exact fit for their stringent set of requirements. By utilizing BigCommerce's robust API technology, MAK was able achieve a perfect marriage between all of Byourbed.com's existing technologies, achieving ultimate performance.
Byourbed.com was migrated from Volusion and compared to last year it was almost 50% down in sales. We completed migration on 11/14/2022. The site has only been live for 2 weeks and we have instantly seen a huge increase in conversions. Last year the site finished with $2.1 million in sales, losing almost 50% this year, it was projected to finish the year at around $1.2 million in sales.
Had Byourbed stayed on Volusion and followed their sales trajectory they would of closed November at around $110K, however after switching to BigCommerce on 11/14/2022 it is finishing November at $150K this is an increase of over 35%! An unbelievable achievement in just two weeks! We are already seeing SEO organic positions climbing up and improving in an incredibly short time.
But this is not all! This was a very personal project for our company where we knew we could not fail! This was a project whereas compensation MAK did not receive a huge check, but instead as part of the payment ByourBed.com agreed to ship two trucks full of bedding to the two different churches that provided accommodations to the newly arriving Ukrainian refugees. Our co-founder Marina is from Ukraine and that is why this project, and the end result was so important to her.
Technologies:
Headless React Build using BigCommerce API
Searchanise search
Shopper Approved Reviews
StoryBlock.io for Content Management
Vimeo for Video Content
Rewind Data Backups & Security
ShipperHQ
Ship Station
Custom Programming:
Headless React Build
Custom API integration with Shopper Approved
Complex Mega Navigation
Custom headless Integration with StoryBlock.io
Custom Integration with Vimeo
Custom API integration with Searchanise
Custom component for easy product bundling
Custom up-sell side cart component
Custom filtering using Searchanise API
The project lasted for nine months from February 2022 until November 2022.
Redesign
The Homepage, Category Pages, and Product Pages will all be a focus during the redesign. The homepage required a larger focus on featuring key products for Byourbed to sell, the layout was chosen to give it more modern appearance over the old version. The category pages now display products and subcategories in a more optimized manner and highlights special collections to draw in customers. The product pages have been condensed to offer immediately important information with all other info available at the click of the mouse. We needed to de-clutter these pages so customers would be more focused on purchasing and not trying to figure out where all the relevant information they want is. Overall, the site was given an updated style to give it a more professional appearance and bring a solidified brand image across all pages.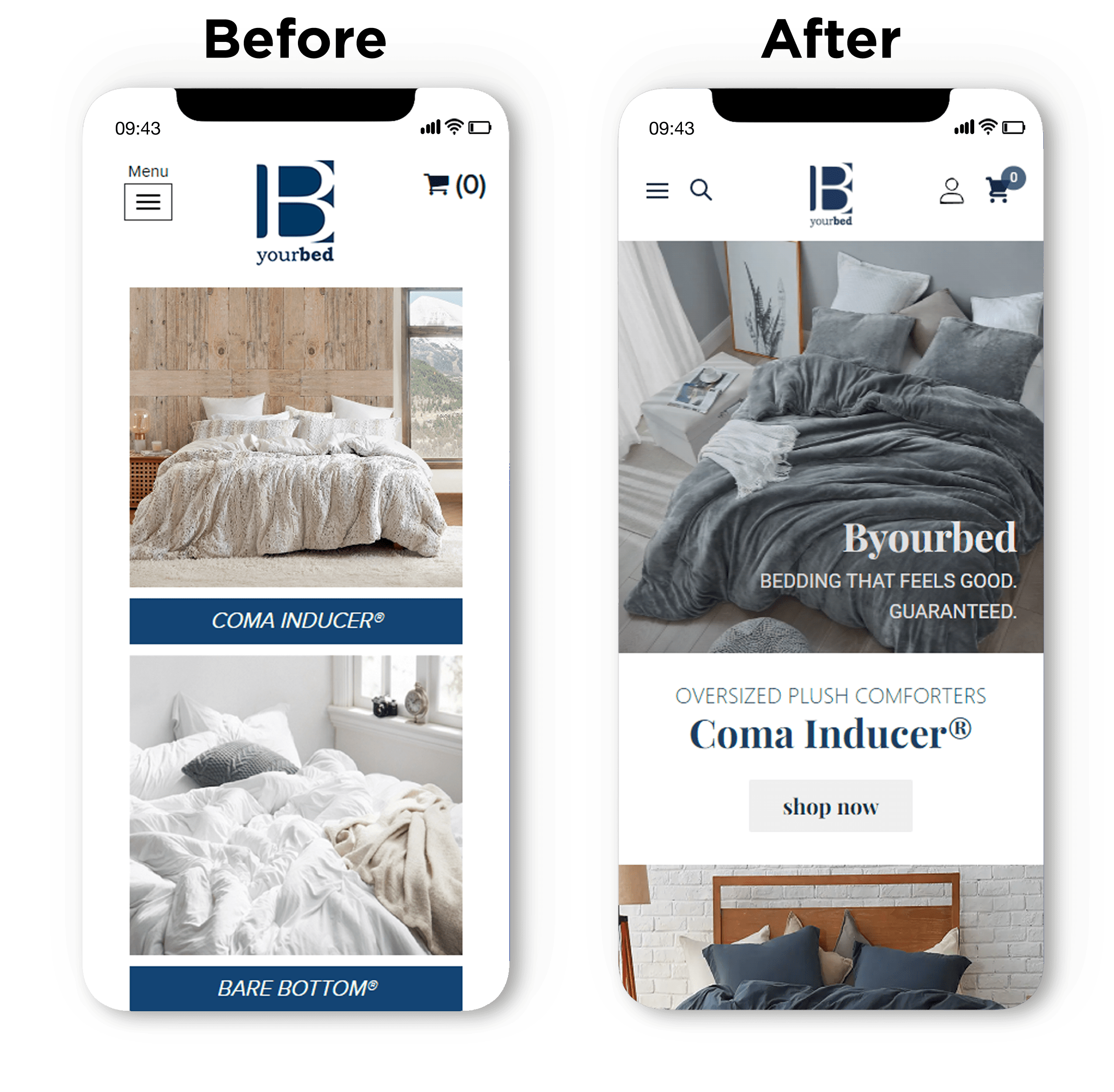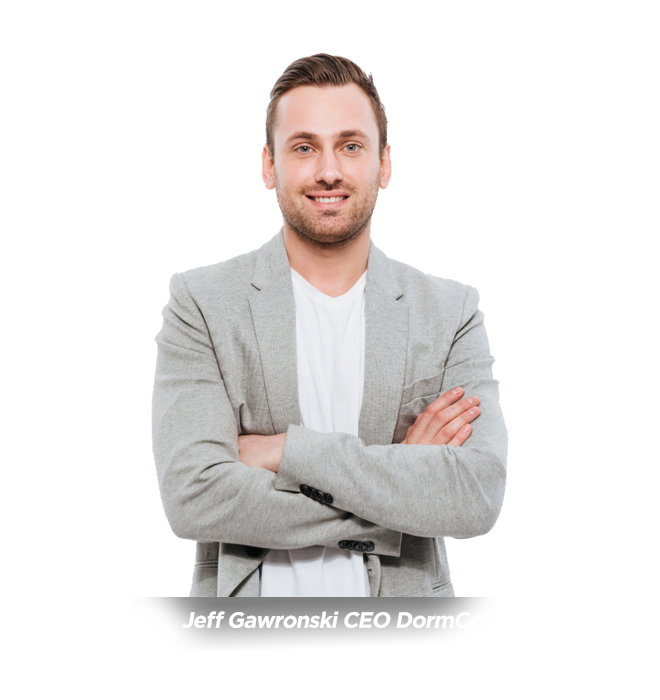 Testimonial
If you are seeking the perfect story, the fairytale business, then I'm sorry to say you didn't find it. The journey from taking Byourbed.com from old and antiquated to it's new Headless store took grit, perseverance and it was at times ugly (yes, I said it, ugly, ugly ugly). MAK Digital and my company engaged in what at times felt like a family feud!! We're not even related or in the same city!! What I learned through the process is maybe that's unavoidable or even a good thing when both parties care deeply about the outcome. To both of us the finished product meant everything. While Marina leading MAK Digital worked to get our Headless store and best practices in place, me and my team were seeking the perfect look and feel. After all, what good is speed if quality or function is sacrificed? In the end, the joint effort (through MAK Digital's leading expertise) didn't have to sacrifice anything and that is what I feel is the mark of something worthy of an award. For Byourbed to transition from its old platform to the headless platform and achieve instant success is how I can best quantify why I feel MAK Digital did an amazing job. In business, success is measured by sales and all the hard work, countless hours and ideas mean nothing if it doesn't result in measurable sales increases.
MAK Digital came through with the new, built from scratch Byourbed.com Headless store that didn't sacrifice speed, appearance or functionality and in the end created a finished product that in terms of business success (sales) is exceeding all expectations. This all said, what's even more special to me has been the relationship I have formed with MAK Digital and how that's led to some pretty special things. Marina, a Crimean native introduced me to two separate Ukrainian refugees. Each shared how their respective churches had an overwhelming number of Ukrainians that had to flee their home country to the New Jersey and came with nothing. I was honored to be introduced to these great people and my company, Byourbed, shipped two 53 ft truckloads of Comforters (over 1400) to provide warmth and quality sleep to these good people in need. The reason I'm sharing this story is that the level of 'Care' may have started with the goal of a new headless store, however the outcome was much greater than an impressive store with increased revenue. The true outcome is making an impact in people's lives!! That's my goal with Byourbed and whether it be with Marina's connection to refugees in need or someone else in need that will now find Byourbed (thanks to our new Headless store), I think Byourbed is just getting started!!  Thanks for taking the time to read.
- Jeff Gawronski CEO DormCo
Byourbed.com
Homepage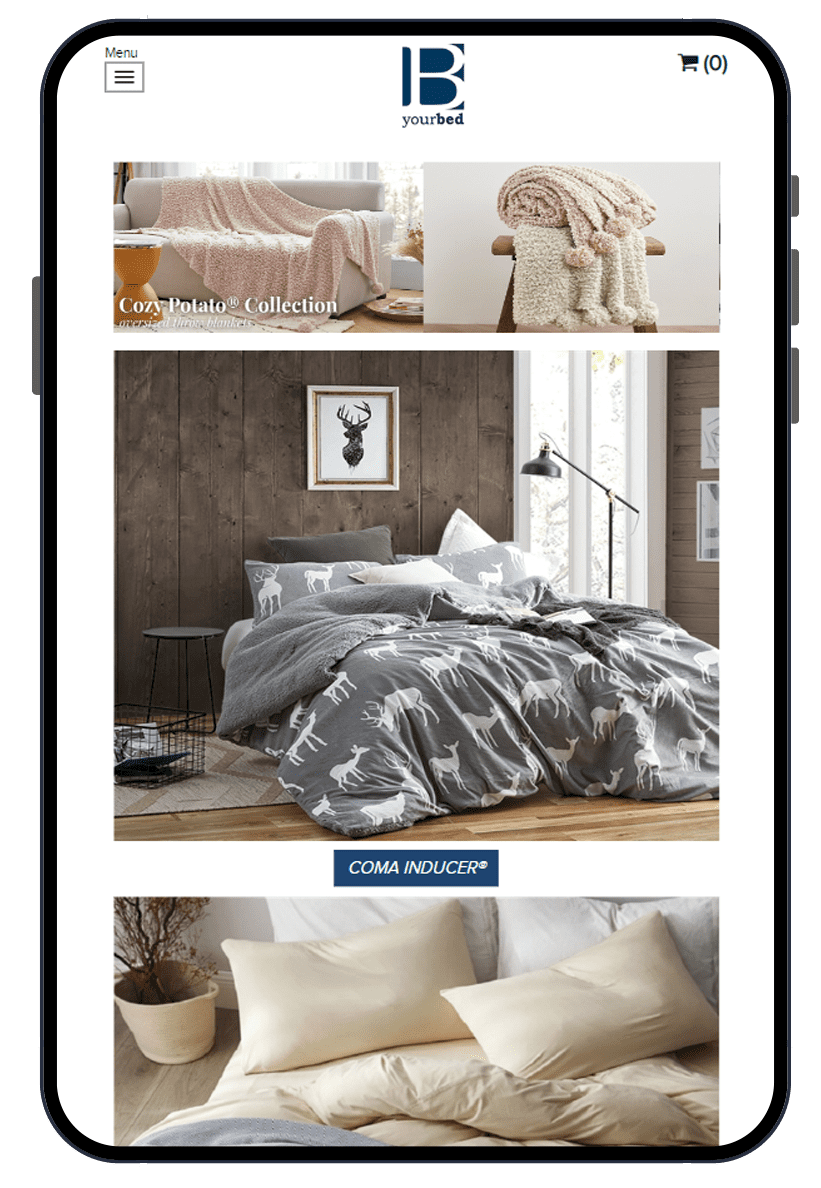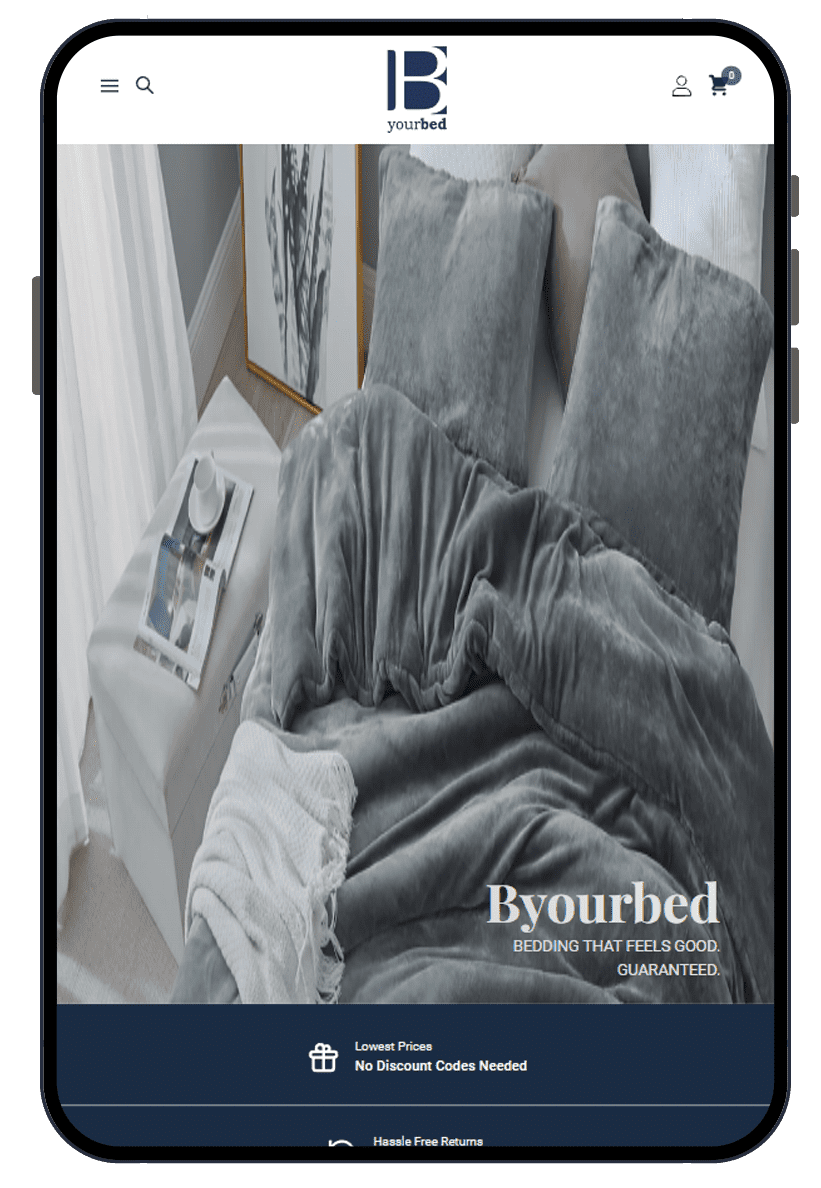 Category Page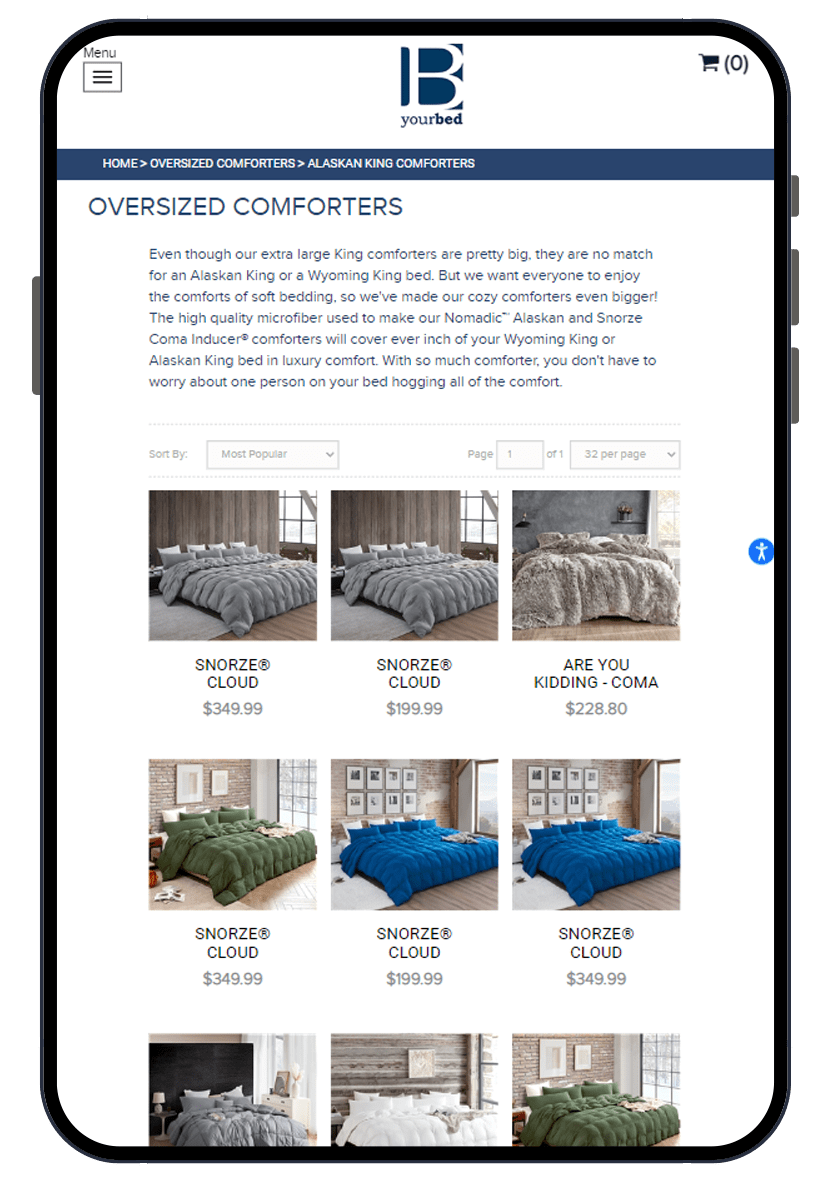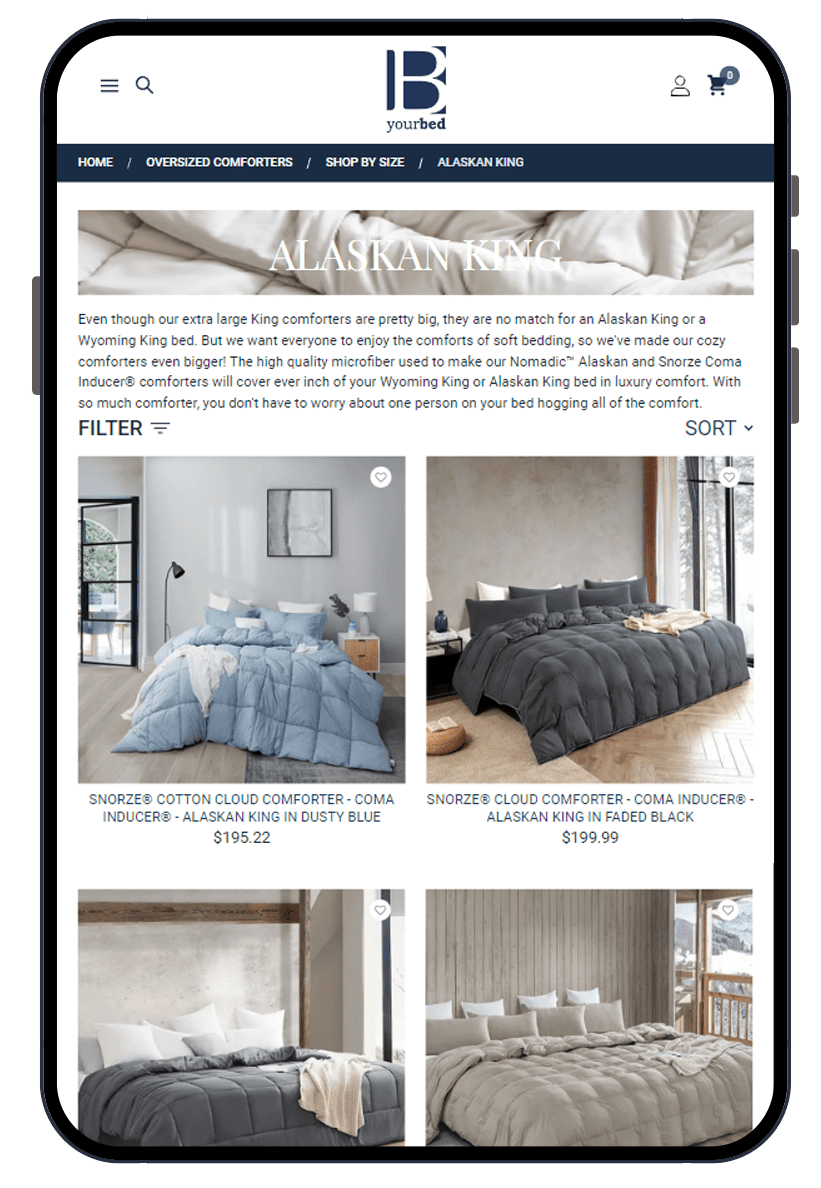 Product Page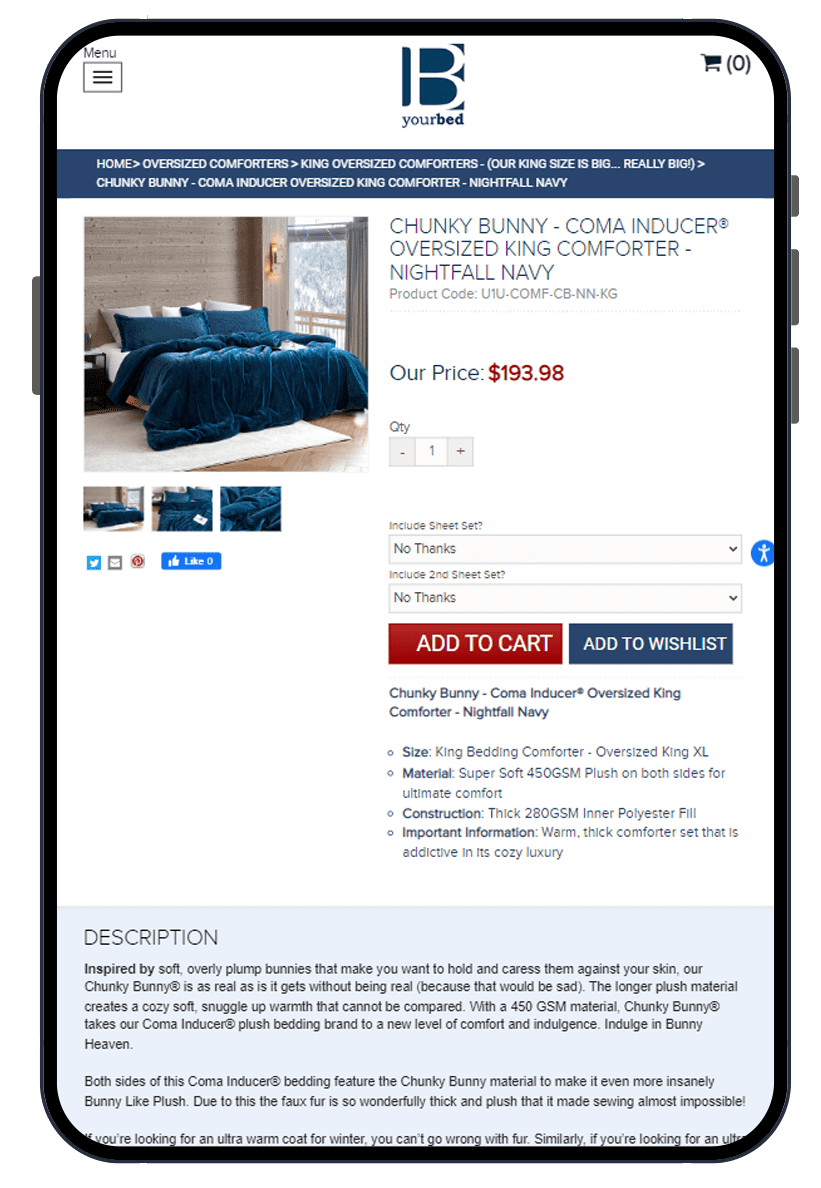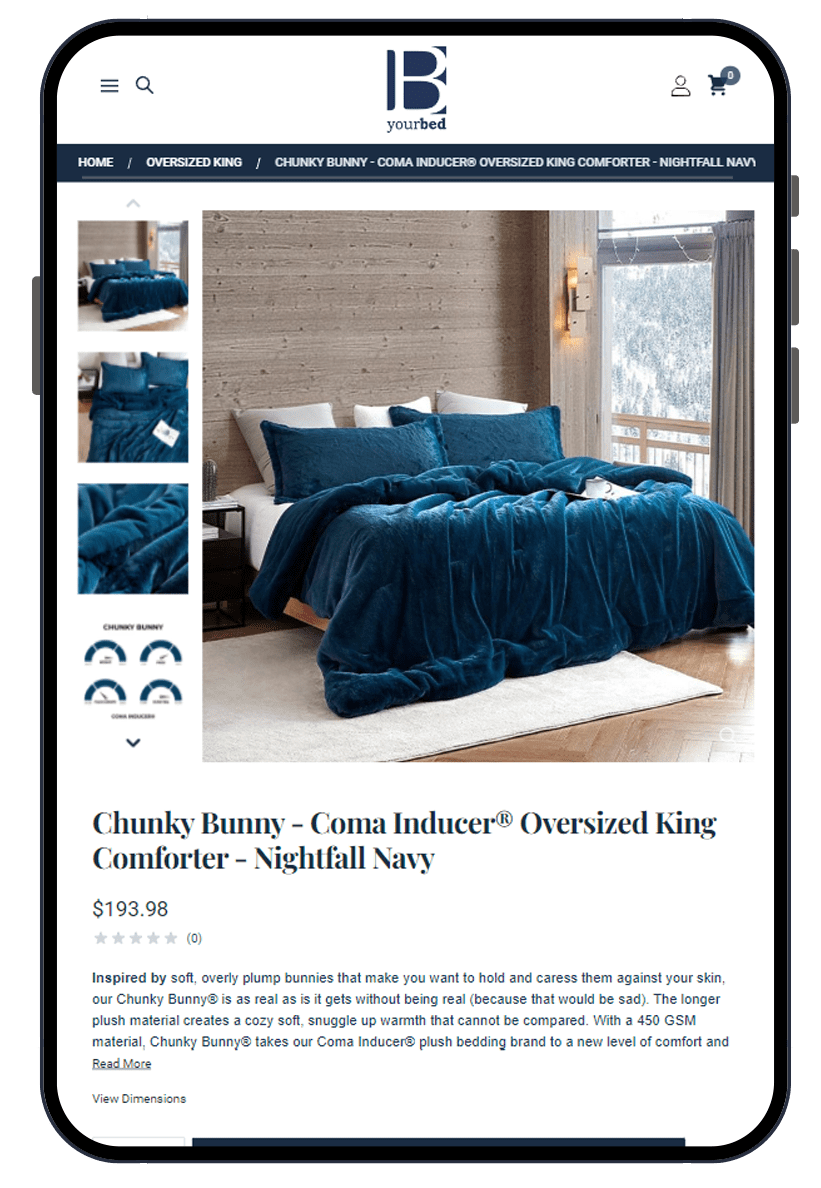 Start Your Project With Us
We'd love to hear from you