Why Experiential Marketers Need To Start Learning About Web3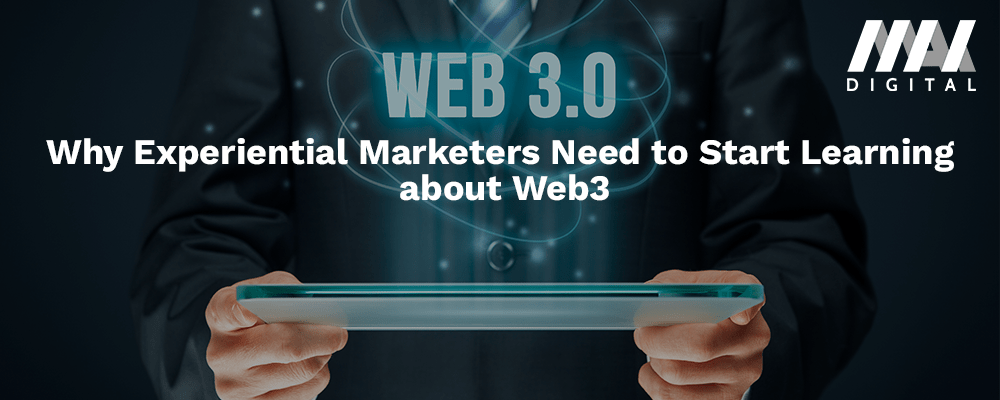 If you've been a marketer for the last six months you've probably heard of Web3. Additionally, you would have seen a few notable changes that affect how you carry out marketing strategies and campaigns. Apple's iOS 15 now restricts access to and collection of third-party user data. This makes it almost impossible for marketers to create personalized marketing campaigns. Marketers have used a motto that helped create the core purpose of experiential marketing, which is. "The more digital, the more physical."
Experiential marketing stems from the idea that the more digital marketing becomes present the more demand for physical/offline representations. When the dot com era took over the world, there were corresponding physical/offline events to keep up with its growths. People had seminars, conferences, talk shows, lectures, etc. to discuss dot com. They discussed what it is, how to benefit from it, and the cynicism surrounding it.
Why Web3, NFTs, Digital Currencies Are Experiential Marketing's Worthy Frenemies
Currently, the world is paying attention to VR, AR, XR, and other hyper-reality technologies in the metaverse. AR and VR has been on the rise, these technologies deserve the attention marketers are giving them now. However, there's a burgeoning set of technologies and trends that also needs the attention of experiential marketers. They include web3, NFTs, digital currencies, tokenized communities, and index funds.
NFT
2021 started with an NFT explosion, it took the world by surprise and now the NFT industry is ever-growing. We saw NFT series Bored Ape Yacht Club (BAYC) release 10,000 NFTs in April. Recently, Bored Ape number 7090 sold for $2.9 million at Sotheby's. Another NFT series known as CryptoPunk, with a current market cap valued at about $2 billion, sold one of its CryptoPunk pieces at Sotheby's for $11.7 million.
Bored Ape and CryptoPunk are both decentralized communities. Both owners have voting rights to determine, along with other voting members, what the community should focus on and how to spend its money. Although NFTs are digital, and the money in NFT communities is gathered digitally, most of it ends up spent offline.
For one, Larva Labs, the creator of CryptoPunk signed a deal with United Talent Agency in August. BAYC creator, Yuga Labs, has partnered with Gary Oseary, a top shot manager who represents musicians such as Doja Cat, Madonna, The Weeknd, Kim Petras, and Britney Spears. There is also a rumor that BAYC is planning to open an on-site members-only club in Miami Florida.
For over a decade, crypto, blockchain, and everything in between only mattered to people interested in the technologies. It only concerned the techie. But not NFT, NFT is for everyone. We are seeing people who are just learning about terms such as shill, HODL, to the moon, and whales thriving in the NFT space. Artists are using NFTs to connect with their fans directly, eliminating the need for labels and agents.
Now, owning an artist's NFT can make a fan eligible for entries into exclusive events such as meet-and-greets and merchandise pop-up shows. These would usually require the decision of labels, agents, sponsors, and promoters. Artists still must create offline events.
DAO
A DAO community for crypto enthusiasts and content creators, called Friends With Benefits (FWB), recently received VC funding. This valued the community above $100 million. The membership fee for FWB, a community with over 1200 members, which used to be $75 is now almost $8000. Yet, 200 new people join the community every week. While FWB members meet on Discord, the community is making plans to organize offline local meet-ups and conférences.
You can see that there's a pattern with digital trends. The more popular they become, the more they create offline avenues to support their communities. As online communities increase, they will hold offline opportunities to connect with other members of the community. A Comic-Con of the sort but for the metaverse.
In the last few years, Discord has served as the most popular platform for crypto enthusiasts to congregate. CryptoTwitter, a curated community for influencers, investors, developers, and companies to discuss crypto topics, serves a similar purpose. We can also expect that communities from both Discord and CryptoTwitter will organize offline events.
Experiential Marketers Need to Answer The Call to Web3
The web3 communities present numerous marketing opportunities. Many of which will go to web3 enthusiasts who are already familiar with the trends and technologies in the industry. For many marketers, web3 is an alien field that they have little knowledge of what it is, but that should not discourage you from learning about it.
Even though members of the web3 communities are more familiar with the industry than you are, they will be new to marketing, a weapon you wield masterly. Open your mind to learning. You can learn from web3 communities that share web3 knowledge. An example is Jump, a community with more than 150 marketing professionals discussing web3 with excitement.
Bottom Line
Developers and pro-decentralization enthusiasts have been suggesting and arguing that web3 is what the world needs to save us from the loopholes in web 2. Whether that's correct or not doesn't matter because it is still too early to tell. But one thing is sure right now, and that's the fact that there is a rapidly growing list of web3 communities globally, which continues to present overwhelming marketing opportunities.