Top eCommerce Search Software Tools To Connect Your Products to Your Customers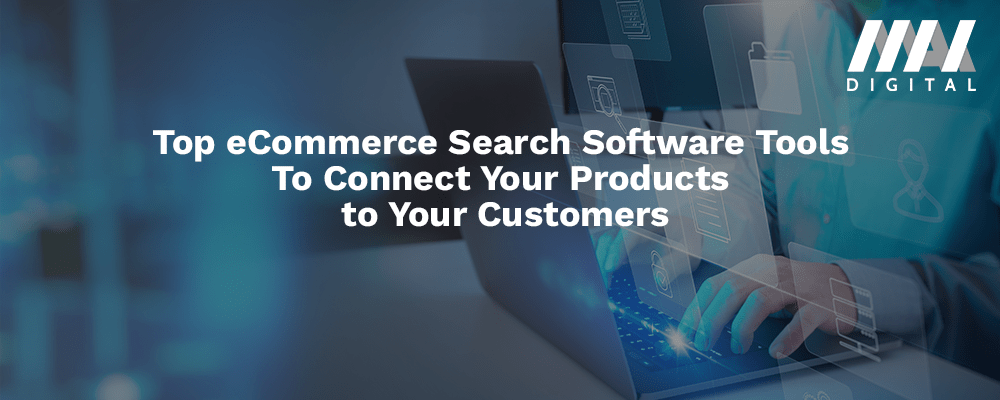 The search bar feature on eCommerce websites is a useful tool that can make shopping much easier for potential buyers, thereby creating double the chance for the average visitor to buy an item. Buyers who use the search bar feature tend to fall under the category of high-intent visitors, and you can seize the opportunity by giving them the best search bar experience using optimized tools. Using the right search software tools can help you collect valuable data about potential buyers, which will help you better understand their behavior and preferences.
Can eCommerce Search Software Improve User Experience?
Yes, the eCommerce search bar can improve user experience if you learn how to use it well, starting by leveraging search engines. Typically, before a buyer visits an eCommerce website to search for a product, they search for the same product and other related stuff on search engines. For example, a fitness-inclined buyer will always search for fitness topics and items, and will often visit eCommerce websites to search for fitness products. Hence, if you set up AI and ML tools that collect user data and inform your website about each buyer's preferences and behavior based on their search history, it will optimize your search bar experience. That will help you recommend personalized products better, which will make it faster for buyers to find items they are already interested in buying.
What is The Best Search Software for eCommerce
The ultimate purpose of your eCommerce website is to make sales and profits, and if there's anything you can do to boost your desired results, then, by all means, go for it. We've established that having a search bar on your eCommerce website can help you sell more, but not all eCommerce search bars generate good results. Depending on the search bar tool you integrate into your website, you can optimize your website's search experience significantly or merely.
Here are the top eight eCommerce tools we recommend based on their effective features and history.
Searchspring
Searchspring is a popular search tool utilized by many large name companies within the ecommerce space, known for their outstanding customer service and efficient solutions.
Searchspring helps ecommerce brands deliver exceptional shopping experiences that convert browsers into buyers, and buyers into returning customers. By replacing your site search with faster, smarter search, and autocomplete solutions, Searchspring equips online retailers with hyper-relevant site search, intuitive navigation, and advanced merchandising capabilities. With personalized recommendations, an easy-to-use drag and drop feature, and automated rules-based interface, your team can save valuable time while driving more conversions. Understand your customer and store performance on a whole new level with Searchspring.
Fast-Simon
Fast Simon brings integrated AI conversion optimization to automate manual work and replace expensive, complicated, long implementations by point vendors. Designed from the ground up for automation & self-service, Fast Simon delivers AI-Search, Collection filters, Merchandising, Personalization, Similar Styles, and Complete-the-Look to increase merchants' conversion rate and AOV.
Their integrated platform not only replaces point solutions, but also delivers a superior experience due to the number of data streams fed into its AI engine. Fast Simon uses shopper behavior signals, store signals, and merchant policies to deliver personalized search, collections, upsell, cross-sell, ad-platforms, data feeds, and campaigns.
Fact-Finder
Fact-Finder is one of the leading search software tools that offers search and personalization solutions for B2B and B2C eCommerce websites. Fact-Finder is a search tool that can help reduce your bounce rate and increase conversion rate and revenue by up to 33%. It has an intuitive feature that makes it easier to optimize search results and speeds up the purchase by making it faster for buyers to find items.
Fact-Finder is easy to use, and you don't need any coding knowledge to integrate it into your website. And it is also compatible with numerous eCommerce platforms, whether it is a custom website built from scratch or ready-made eCommerce platforms such as Oxid, IBM WebSphere, Shopware, Magento 1 and Magento 2, Spryker, Hybris, Presta Shop, etc.
Features
Fact-Finder Core+: this feature creates one giant solution using search, analytics, merchandising, and navigation to process search queries within seconds.
Personalization: this feature takes product recommendation to a higher level by creating real-time one-to-one and responsive search experiences tailored to each customer.
Geo: this feature capitalizes on nearby online and offline shopping searches to put your eCommerce website in front of potential buyers within your geo-location.
Predictive Basket: Fact-Finder uses machine learning (ML) to study customer behavior and predict their needs, thereby making the purchase process faster.
Customer-Specific Pricing: this feature offers real-time dynamic pricing functionality, which displays discounts and tailored prices so that each potential buyer finds products with the best prices anytime.
FinancesOnline named Fact-Finder the Best Site Search Solution in 2021.
Algolia
Algolia is a top search and discovery tool that offers search and recommendation features to create an optimized search experience for your eCommerce business. Algolia uses AI to give potential buyers seamless access to your product catalog in milliseconds, which increases conversions and sales.
Algolia allows eCommerce websites to create, integrate, and manage consistent search experiences across different brands, portfolios, and touchpoints from one Algolia account. It is easy and fast to set up, allowing you to integrate it into your backend within days, unlike other search tools that take up to months for the same process.
Attraqt
Attraqt is a super-fast AI-powered search tool that optimizes each buyer's search experience using their engagement history with the eCommerce website. About 20% of searches on eCommerce sites don't yield any result, but Attraqt can ensure that your website doesn't generate such results.
Algolia has a headless architecture that makes it easy and fast to deploy and integrate. And it provides updates regularly to improve its features and introduce new ones to improve the search experience generally.
Doofinder
Doofinder is a scalable eCommerce search tool that uses predictive, intuitive, and dynamic technologies to speed up the search experience. Doofinder offers a super-fast integration process that you can do in five minutes without programming knowledge. Doofinder provides features such as smart filters, visual search, personalized banners, multi-indexed search, voice-activated search, and geo-location search to create a robust search experience for your potential buyers.
Doofinder offers a one-month trial period with no upfront fees or commitments, so you can use it and decide if it is best for you within the one-month period.
Bloomreach
Bloomreach is a holistic AI-powered eCommerce tool that provides customer engagement, product discovery, and other solutions to create a robust search experience for your customers. Bloomreach maximizes personalization, SEO, merchandising, site search to create super-fast product recommendations. Bloomreach's Commerce Experience Cloud leverages customer data, which allows you to create and manage consistent search experiences across multiple eCommerce touchpoints.
Bloomreach is a headless API-first scalable tool that provides flexible access to operate on any front end. It uses AI to monitor customer journeys, thereby creating fulfilling search experiences for your customers and boosting your conversion rate and sales.
Pay Attention to Your Search Bar in 2022
The competition in the eCommerce industry keeps getting tough. And to stay on top, you have to grab your website visitors before they lose interest. When potential buyers use your eCommerce search bar, it shows that they have a clear intent to engage the product and are looking to buy the product. Therefore, ensure that your search bar is optimized to meet their demands by offering personalized product recommendations and product filters that make it easy for them to find any product.