Understanding and Utilizing Local Marketing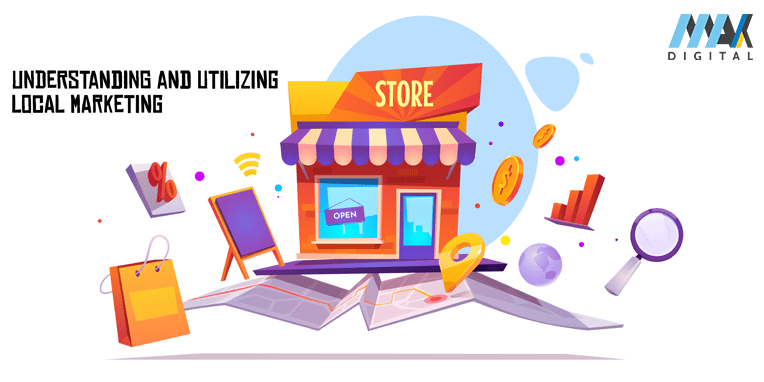 Local marketing is a location-based SEO that helps eCommerce businesses to target more local buyers. Local marketing generally favors eCommerce businesses within the same local areas they are targeting. However, eCommerce businesses in any location can also reach local buyers in faraway regions. Local marketing is not quantum physics, so you don't need any technical skills to implement it for your eCommerce business. That said, let's discuss effective ways to localize your eCommerce website and increase sales.
6 Local Marketing Strategies That Can Help You Reach More Buyers
Optimize Your Website With the Local-related Keywords

If you are located in the same area most members of your target audience is also located, then local marketing will work seamlessly to help you reach your target audience. So, that's good news because all you have to do is use local keywords, such as; "Brooklyn sport gear shops" and "best sport gear shops in Brooklyn".
For eCommerce businesses that want to target and reach local buyers far away, using the name of your city as a keyword will not work effectively like the example above. Instead, use these three tactics to generate effective local keywords.
Use keyword data for close regions: for example, if you run an eCommerce business from Wrightwood, California, a small town with less than 5,000 residents, it will be wiser to target larger regions close by than using Wrightwood in your keywords. Thankfully, Wrightwood is close to Los Angeles, Riverside, Bakersfield, and other big towns and cities, and you can use them for your keyword research.
Take advantage of Google autosuggestions: Google is super-optimized for user search, ensuring that users can easily find related and similar topics/keywords to their original search. Google autosuggest feature helps in this aspect, and you can use it to generate local keywords for your eCommerce business. Googling from Hawaii, take a look at the similar searches to "sport gear shops".
Use related SERP suggestions: like Google autosuggestions, search engine result pages (SERPs) can also give you insights you can use to generate local keywords. For example, if you Google an eCommerce niche adding the keywords "local," "small business" etc, you will see supposedly local and small eCommerce businesses in that niche on SERPs. But upon further inspection, you will see that some of those eCommerce businesses are, in fact, not small or local. However, they will reach more buyers because they seem more trustworthy.
Collect Testimonials From Local Buyers
There's no better marketing than word-of-mouth marketing, especially when it comes from buyers. As you know, customer reviews have a strong influence on buyers in the purchase journey. Imagine how convincing and trustworthy your eCommerce business will look to local buyers if they see testimonials from buyers in their local areas on your website. Get in touch with buyers in the local areas you want to target and ask them to give a review about your brand and product/service. Publish their reviews highlighting their local areas.
Run Local Ad Campaigns
In your efforts to target local buyers, you will achieve better results if you run paid local ad campaigns. You can run paid local ad campaigns on Google, Facebook, Instagram, and other social and digital platforms.
Two tips for running local ads;
Pay attention to local events and trends: pay attention to events and trends in the local areas you want to target and run local ads about them to position your eCommerce business as a local business.
Use local language: get familiar with the lingo and slang of the local areas you are targeting and infuse them into your local ads. Try not to overuse it though, because some local buyers can tell when brands force it.
Create Local Landing Pages

When targeting local areas, multiple practices work hand in hand to help you reach more local buyers, and creating local landing pages is one of those practices. Create a landing page for each local area you target. And if you operate in multiple locations, local SEO practice will come in handy to help you discover potential buyers in each location. Ensure to publish relevant content on the local landing page about the specific services you offer customers in that local area.
Claim Your Google My Business

Pretty much every business in today's world has a Google My Business (GMB) profile. Now, whether they claim it or not is another story. One sure way to connect with your target audience in local areas is by claiming your GMB profile(s). Update your GMB profiles with your product catalogs and pricing, and reply to customer reviews.
Customers rely on images, videos, and sometimes map directions when using Google Maps and similar digital platforms to seek out local businesses and products/services. So, ensure to publish clear images and videos about your products.
GMB is free, so nothing should stop you from claiming your profile. Businesses that don't claim their GMB profiles are leaving it to the mob to decide their fate. This can go any way, for example, people sharing unverified negative reviews about your brand, fraudulent impostors putting their contact details on your GMB to take advantage of unsuspecting customers.
Collaborate With Local Businesses

A faster way to penetrate a local market is by collaborating with existing local brands that share similar values. You can then work on local projects together with your partners, sponsor local events, and work on joint content marketing projects.
Backlinks are effective SEO elements that can help you increase your grasp of your target market. You can target reliable local publications to publish a guest post or write a blog post about your business to increase your backlinks and make Google recognize your website as an authority in your industry. You will find it easier to generate backlinks when you have value to offer, and that's why it is important to collaborate with local brands to work on local projects or sponsor local events. Then local publications will have something to write about your business.
Finally, Evaluate Your Values

While big businesses have an abundant budget for marketing and setting up branches in every corner of the world, most buyers prefer small-to-medium businesses overall. Buyers believe that small businesses will give them better customer service and quality products/services and are more trustworthy than big businesses. Buyers also believe that small businesses are more people-oriented than big businesses. Regardless of your business size, learn to adopt positive values that set aside small businesses from big businesses.