BigCommerce Migration

ProDrinkingFountains is a division of Category Five Technologies, Inc. They carry the best quality in commercial drinking fountains with top trusted brands such as Elkay, Oasis, Haws, Sunroc and more. A few years ago, we redesigned their site on Volusion, and since then they have had great success and growth as a company. So, naturally, when it was time for ProDrinkingFountains to migrate to a more modern platform, they came back to us at MAK Digital. After much consideration, they decided it would be best to move to the more robust BigCommerce platform, as well as update their websites design yet again.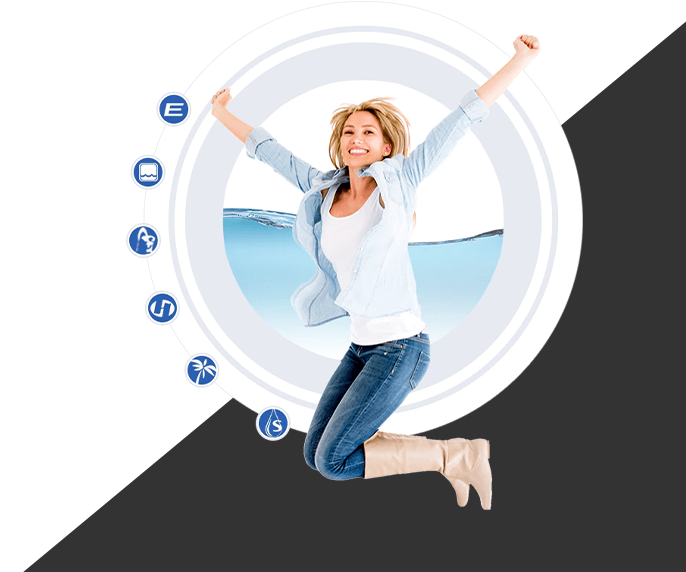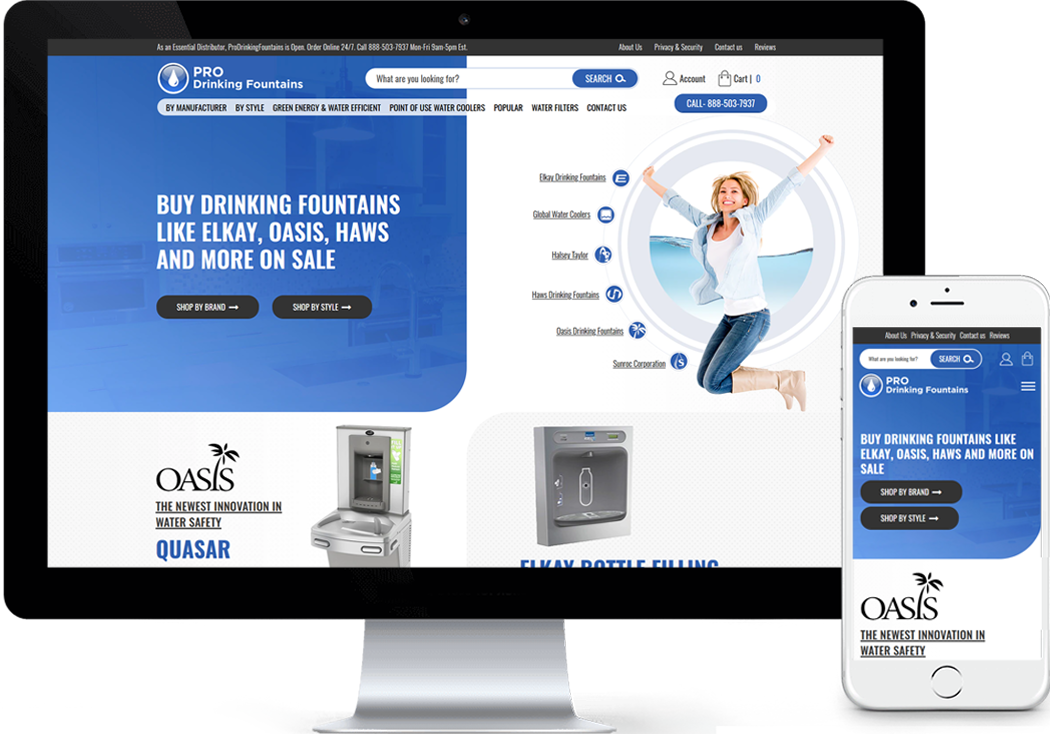 Project Details
Before Pro Drinking Fountains came to MAK Digital Design, they were running their business on an outdated platform, and they felt that it was holding them back from implementing newer features and growing their business even more than they already have. What they needed more than anything else was a modern platform that could accommodate their needs, and an even more modern design to complement their new changes.
Like many of our customers, after reviewing all of their options, Pro Drinking Fountains decided that BigCommerce would be the best platform for the future of their company. BigCommerce offers a much more robust platform with more modern features that they were unable to have access to on their previous platform. Along with their brand new design, the improved framework will allow them to scale-up their business, increasing revenue.
Unlike many of the other companies we have done complete redesigns for, Pro Drinking Fountains website was not bad, nor was it that outdated. The website they were running on through Volusion was designed by MAK Digital in 2018, which is a situation we do not often find ourselves in. Although this challenge to out-do ourselves was new territory for us at MAK, we were highly motivated to show just how much we have improved in only 3 years.
Redesign
As stated, we previously redesigned Pro Drinking Fountains website on Volusion in 2018. Their original website was beyond outdated and was not built to work on mobile devices at all. So, we updated the design of their website, and made it fully responsive to work on mobile. Fast forward to 2021, their business has had a lot of growth since the original redesign. Our goal was to improve and modernize their design, while also continuing to improve functionality on mobile devices. More than ever people are shopping from their phones rather than from a desktop or laptop, so with that in mind we built their new website for mobile first, making everything easier to navigate and use. The new aesthetic of the website is less bland, and more brand focused as well. We truly believe that we have outdone ourselves with this new design.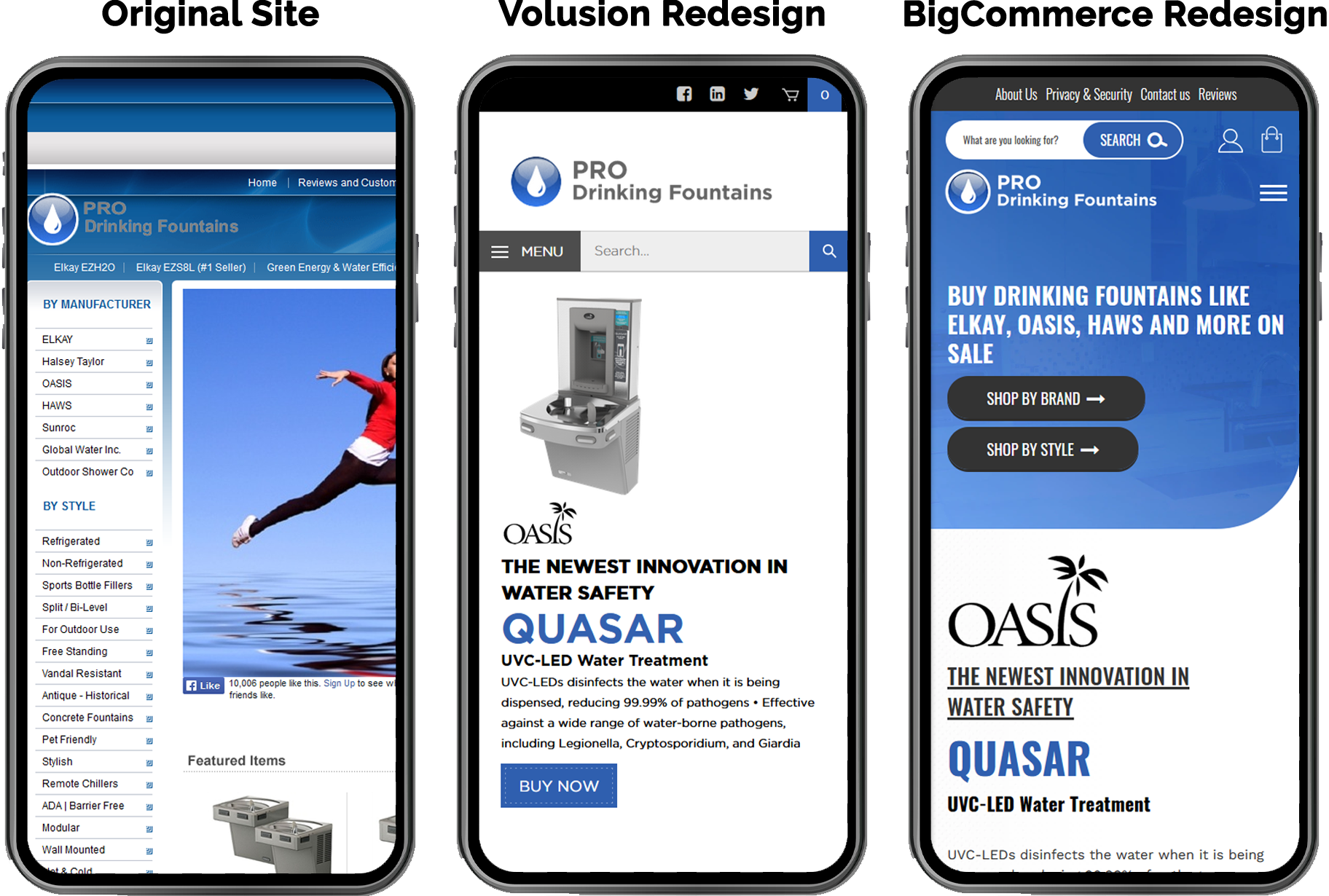 Before & After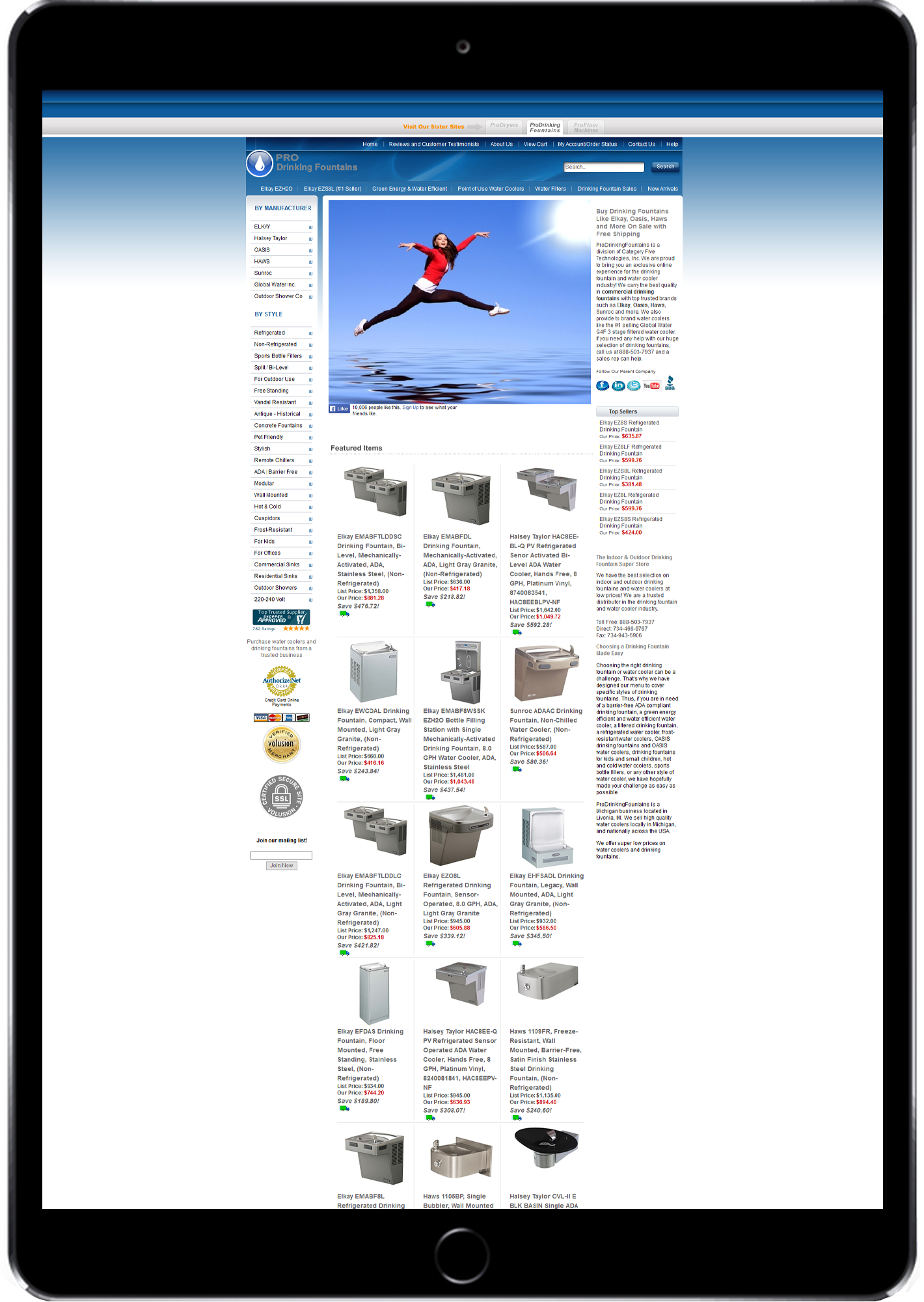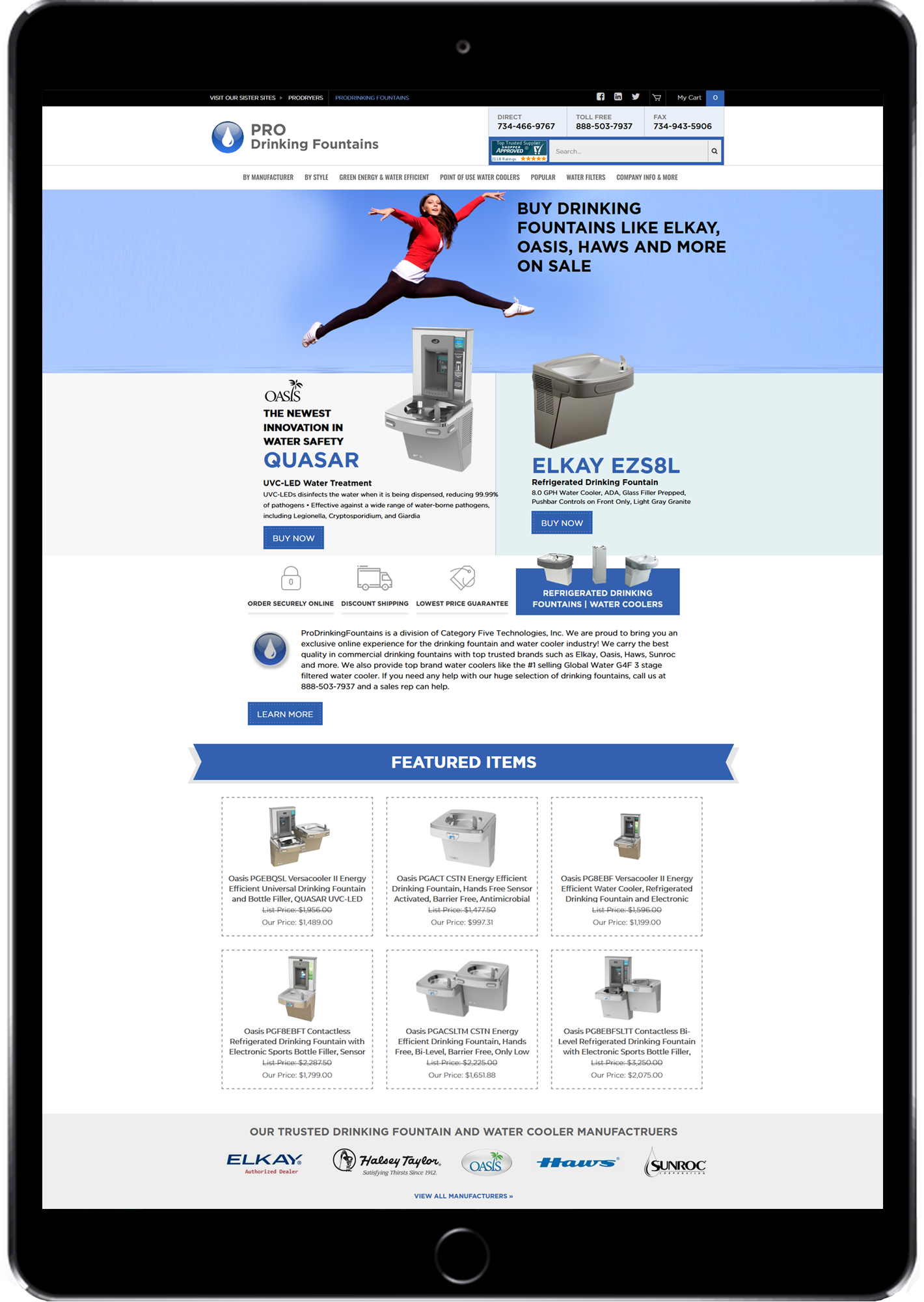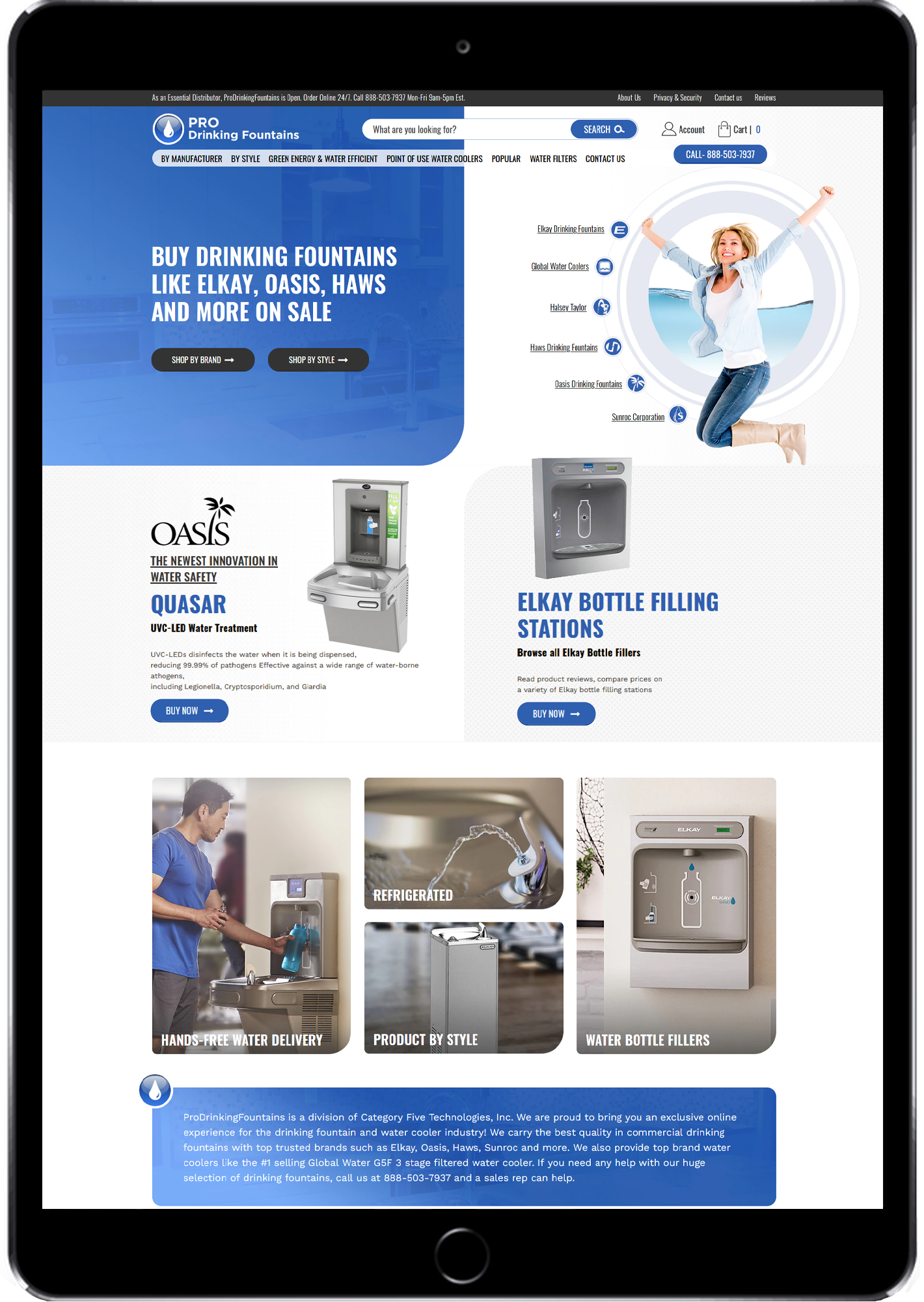 Start Your Project With Us
We'd love to hear from you