A Quick History of How Marketers Have Adapted on Facebook
Facebook has changed over the years. It has come a long way since first launching in the dorm rooms of Harvard, almost 12 years ago. Originally had no ads, no pages, and no newsfeed. Three features that make up the social media experience today, were not even in the original blueprints! They were, however, quickly added after it's initial launch.
For most marketers over the age of 25, this is what their first Facebook experience probably looked like: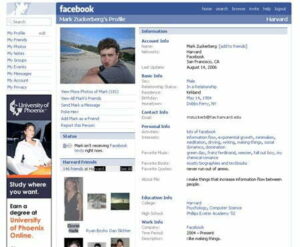 Today, it looks something like this.
You may have noticed the picture above is on an iPhone and features an in-feed ads. These are the two biggest transformations happening at Facebook: the movement from organic to paid advertising and the shift from desktop to mobile.
Organic to Paid
Facebook employed a (debatable) nefarious bait-and-switch technique in early 2010s for the marketing world.
Around April 2012, Facebook's organic reach started to plateau at around 16%. Facebook acknowledged this by encouraging people to sponsor its posts. By 2014, Facebook's organic reach had dropped half. They began to slowly diminish organic reach. Facebook was also beginning to restrict posts that were related to like-baiting, reposting content, and anything they considered to be spam. Facebook's organic reach had dropped to about 6%; for pages with more than 500k likes, the number was 2%!!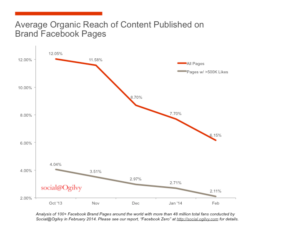 At this time, Facebook was also telling agencies and brands they'd have to pay for the same reach! Marketers were furious but, Facebook had enough legitimate reasons for the movement. The spam was out of control and Facebook had an obligation as a social platform to show users what they want to see on their newsfeed.
With organic reach all but burnt out, to the marketing world's delight, Facebook still came out to be one of the best ad platforms out there.
Facebook's other big shift- from desktop to mobile- is one of the main reasons why.
From Desktop to Mobile
In 2007 when iPhones first hit the market, it was much more difficult to find "mobile-friendly" websites or social medias. A couple years ago, the internet start converting- desktop to mobile.
In 2010, Vertical Viewing (i.e., time spent with content on mobile) was 5%. Today, it has increased to 29%. As shown below in Mary Meekers "Internet Trends" report, you clearly see that as vertical viewing continues to grow, tv is declining and desktop  media is stagnating.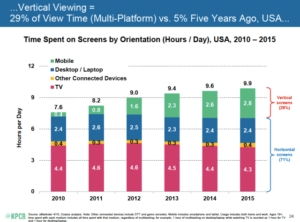 Facebook has been a step ahead of time with seeing Internet making its move to mobile. The company has been focusing almost entirely on its mobile app and its mobile advertising business.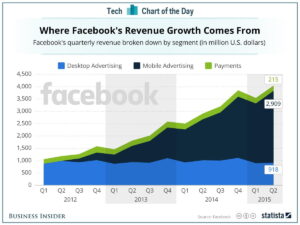 Most of Facebook's revenue growth has come almost entirely from mobile. The chart above, from Business Insider, clearly shows why so many marketers turn to Facebook for a well functioning mobile ad. Deacon Webster, CCO at digital agency Walrus said, "Facebook is a really great mobile platform. They seem to have properly cracked mobile. Mobile video on Facebook does incredibly well in terms of engagement. You don't really see other mobile ads doing the same things as Facebook ads do."
Mobile videos has been another huge milestone Facebook has surpassed. The company continues to monopolize all video content under the banner of its native video player. Surely, we will see more on this in the future from Facebook.
From Referral to Native
In 2014, Facebook introduced its native video player, with much success. There are currently 4 billion views a day on Facebook's video player. If you log on to Facebook, it's nearly impossible to find many videos that are posted via YouTube or any other video player (other than Facebook's).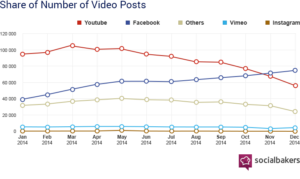 Marketers slowly but surely adapted to the trend. According to Socialbakers, from May 2014 to December 2014 the number of Facebook videos uploaded by brands increased by nearly 50%. This number has likely grown exponentially since. In September 2014, 1 billion video views per day were reported. Janurary 2015, 3 billion and in April 2015, 4 billion daily views!!
Facebook's ad product lead, Ted Zagat said "A year or two from now, we think Facebook will be mostly video." If that isn't enough proof for you of how seriously Facebook is taking video, I don't know what is!
Instant Articles are quickly taking over Facebook's News Feed. Media Publishers like The New York Times, BuzzFeed, and The Atlantic, among others, post their own content, and native ads on behalf of publishers, directly on to the platform.
Instant Articles product is on its way making referral links obsolete, just a few months after its initial announcement and test run earlier this year. Facebook video did this with links from YouTube.
For those who use Facebook as a publishing platform, referral links may become less effective. People are drawn to high-quality content that loads instantly. But for those who use Facebook as an ad platform, Facebook will only become more powerful as users stay on the platform instead of going elsewhere.