How To Build Customer Trust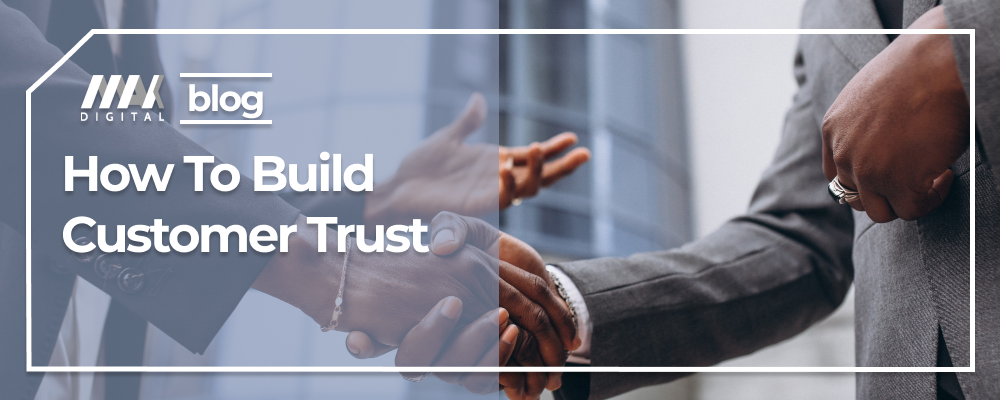 Let's paint a picture. Let's assume you have two friends, Alex and Jo. Alex always introduces you to sweet opportunities, but sometimes, Alex gets caught in the middle of issues that suggest that Alex tries to take advantage of you. On the other hand, Jo doesn't have access to many opportunities. However, any time Jo does, you can rest assured that everything will turn out as Jo says. Now, if you are looking for partners for a project you're working on, you have two friends to consider. But the question is, which friend will you trust to come through when it matters?
Our scenario is simpler for buyers because you're not their friend. While you can choose to trust Alex or Jo because you share a friendship bond, your customers and potential customers are not carrying any such burden. Customers won't hesitate to leave any business they suspect to be untrustworthy. Hence, you have to actively work on building customer trust.
6 Ways You Can Build Consumer Trust
Prioritize Customer Service and Support
Your best opportunity to show your customers that you can be trusted is when they engage your employees; whether to make inquiries, initiate transactions, or seek technical support. One employee with terrible customer service can damage your brand reputation, so ensure to teach your employees customer service. You can have a dedicated team of employees for customer service, but you should definitely teach all your employees who interact with customers the principles of customer service.
An employee with excellent customer service will make customers feel welcome, understood, and attended to with a deep genuineness. Customers can tell when employees regurgitate generic responses to them. Your employees should be attentive to each customer's challenge before attempting to resolve the concerns they are raising. Additionally, all employees across different departments who interact with customers should have access to relevant customer data to avoid asking customers for the same information repeatedly. That's why companies use customer relationship software tools so that every employee can have access to the same information.
Ask for Feedback and Act On It
Everyone wants to be heard, and your customers likewise. You will kill more than one bird with one stone by maintaining a habit of asking your customer for feedback and acting on the feedback. Customer feedback gives you direct insight into your customers' needs and pain points. Customer feedback is a priceless treasure. Hence, you should encourage your customers to share feedback. That said, your customer will be open to the idea of sharing feedback if they see that you use previous feedback from other customers — this is why you should customer highlight customer feedback and how you addressed it.
Not many people (and businesses) can handle criticisms, so you see why customers believe that companies that ask for feedback are better than those that don't. Take it a step further and show that you work on customer feedback, and your customers will trust you more.
Prepare for negative customer feedback, and learn to react positively to negative feedback. Don't just reply to customer feedback with empty words and promises, instead, own the problem and work the customer through how you will resolve it, sharing relevant updates.
Finally, ensure that you are easily reachable to customers. How can they share feedback if they can't reach you? Share your contact details and social media addresses across different channels.
Show Your Core Values
Today's customers care about the values of the companies they want to engage or transact with and won't think twice before dumping companies that share contrary values to theirs. In the same light, many customers will score you points for sharing the same values with them, so display your core values on your website, social media, brand collaterals, etc. Communicate your core values to your old, new, and potential customers ASAP.
Don't just show amiable core values and not back them up with actions. Work on community and social projects that align with your values.
Be Transparent
We mentioned that today's customers want to see beyond the products and services you offer, they want to know what motivates you, and they also want to see your processes. Your behind-the-scene process will also let them know the values you uphold. Share a few images and videos of your manufacturing processes, and you can also write a few articles detailing your business operations so that customers can know what to expect.
Another way to practice transparency is by letting your customers know what they are getting into upfront. For example, if you will be including tax or a shipping fee, you should inform your customers before they reach the checkout page. Don't act clever with your customers. You might fool some of them once, but they will spread the word about your trickery to discourage other customers from engaging your business at all. Not to mention that you may attract a few flags here and there for false advertisement.
There's no better way to make new and potential customers trust you to deliver quality products/services than sharing other customer reviews and testimonials. Whether you operate in the B2C or B2B industry, customers tend to trust businesses with positive customer reviews and testimonials more than businesses that don't publish customer reviews and testimonials. A whopping 88% of consumers trust online customer reviews and regard them as personal recommendations, according to a BigCommerce report. 72% of customers claim that positive customer reviews and testimonials make them trust a brand more.
Encourage your customers to leave reviews and make it easy for them to share quick and short reviews about your services and products. Reach out to your return customers to collect testimonials about doing business with you. Publish positive reviews and testimonials on your website landing pages and share them on your social media pages.
Customers will be more willing to leave positive reviews and share testimonials about your brand if you offer them small incentives such as points that count towards a discount. For example, Shein, the fast fashion eCommerce company, rewards customers that leave reviews with points that automatically convert into money.
Last but definitely not least, in your attempt to build customer trust, what matters most is that you deliver high-quality products and services at all times. If you want customers to trust your business, come through like Jo (in our above example) with 100% quality.