Customer Retention Strategies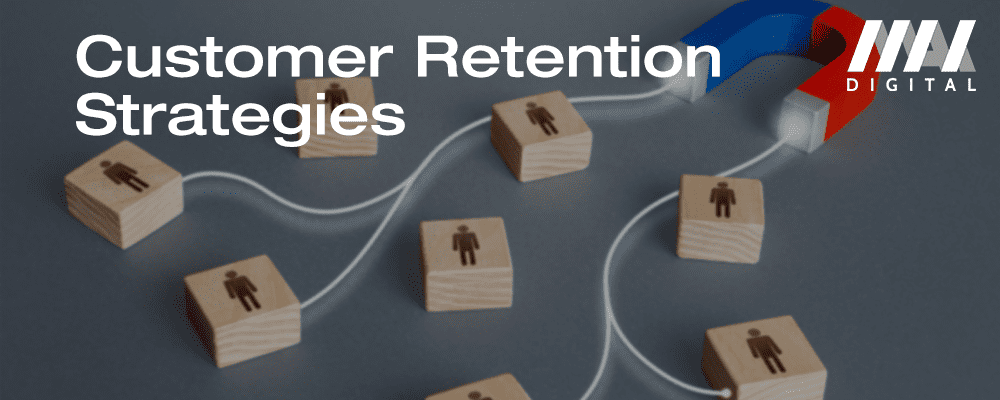 It feels magical when you get someone new to buy a product or pay for a service. Customer acquisition will make you feel like you know what you're doing as if you're practicing effective marketing. Many businesses get carried away with the constant influx of new customers that they unknowingly neglect old customers. Sadly, there's a price to pay for focusing on customer acquisition to the detriment of customer retention. Customer acquisition offers less ROI and costs five – 25 times more than customer retention, depending on your industry. So, while you acquire new customers, you are spending too much to get them to spend too little on your business. Hence, you should take customer retention more seriously.
What is Customer Retention?
Customer retention is a business strategy and ability to turn new customers to repeat customers, maintain repeat customers and keep them coming back for more. Customer retention is important because it can boost your sales — with a 60 – 70% probability of making an existing customer buy again, unlike a 5 – 20% probability for a new customer.
How to measure your customer retention rate (CRR) for a specified timeframe:
CRR = (E – N) ÷ S) x 100
Note;
E is total number of customers at the end of a specified period
N is total number of new customers acquired during a specified period
S is total number of old customers at the beginning of a specified period
8 Customer Retention Strategies That Will Boost Your Sales
Reward First Time Buyers
A new customer is more likely to leave after one purchase regardless of how they enjoy your product/services. So, you want to give them a reason to stay longer and try out your product/services one more time. Send them a "thank you" email for their purchase, adding incentives such as coupons, discounts, free shipping, reduced subscription fee, and a buy-one-get-one-free on their next order.
Find out incentives your first-time customers will appreciate and give them. For example, Apple Music allows first-time subscribers to enjoy three months of access to millions of songs without paying.
Create a Gamified Reward System
If you like learning languages, chances are you have tried out the Duolingo app. Duolingo is one of the best gamification apps available. See how Duolingo dominates other language apps, which shows that people respond well to gamification. A brief definition: gamification is using gameplay elements: scoring points and competing with others, to get people to carry out an action(s). In your case, you want to use gamification to engage your customers and encourage them to keep coming back.
Learn more about gamification and design a gamified reward system that will resonate with your customers.
Start a Community
If you can start a community about your product, brand, or services, don't hesitate. An active community will keep your brand and products in conversations and give you a following you can leverage to retain more customers. You will have a group of active customers you can quickly introduce a project, a discount, a running promo, an exclusive deal, and lots more.
Start a Loyalty Program
If Airline professionals claim that the airline industry has perfected the loyalty program, we will not argue. The airline industry uses loyalty programs to encourage existing customers to remain loyal to an airline because they hope to collect enough points to get a flight ticket for free. You can emulate the airline industry by creating a loyalty program to retain customers. Shein uses a point-based loyalty program, which gives points for customer reviews, and customers can sign in every day to collect more points. Shein automatically converts the points to dollars for users to shop. You can also consider a tiered reward system.
Starting a loyalty program can help you collect more customer data, and you can use customer purchasing data to create a better purchase journey for your customers.
The BNPL model is a budget-friendly payment method that allows you to sell to customers in multiple earning ranges by allowing your buyers to pay gradually over a specified time. Instead of losing a sale and probably a customer because they can't afford to pay the total price of a product or service upfront, the BNPL model lets you delight the customer. Telcos use it, giant companies such as Apple use it, airlines such as Delta use it, and you too can use it to retain your customers. You can integrate APIs such as Affirm to create a seamless method for your customers to shop and pay later.
Monitor Your Retention Data
In business, having a habit of recording your performance will help you achieve faster results. As you implement customer retention strategies, use software tools to monitor your performances. Define your success metrics and key performance indicators (KPIs) at the beginning of your customer retention strategy implementation timeframe. Some metrics to track include website traffic, conversions, sales, abandoned cart rates, new customers versus repeat customers, etc. Analyze retention data to discover how effective your retention strategies are.
Another metric you should pay attention to is your churn rate. How many customers left during your customer retention strategy implementation timeframe? Why did they leave? Use the information to create better customer acquisition and retention strategies, a smoother purchase journey, and an improved customer experience. The good news about monitoring your churn data is that you can use retargeting campaigns to bring back your customers.
Optimize With Software Tools
Software tools can help optimize retention strategies, avoid human error when collecting customer data, interpret data accurately, and improve customer experience. You can use custom and third-party software tools for all your retention strategies. Use live engagement tools to hold real-time conversations with your customers — you can't retain customers if you don't provide prompt replies to their inquiries. Use customer relationship management tools (CRMs) to manage customer engagement. Use AI and machine learning-powered automation tools to track customer engagement, and when it detects that a customer lapses, it can send them re-engagement content.
Finally, Make Your Customers Happy
Many benefits come with seeing your customers as people with needs and desires rather than purchasing characters you target for sales. As you learn more about your target audience, don't forget your existing customers. Create content and projects that will delight them, and appreciate them for being loyal.