Brick-and-Mortar VS eCommerce Shopping: How e-Retailers Will Fare in 2022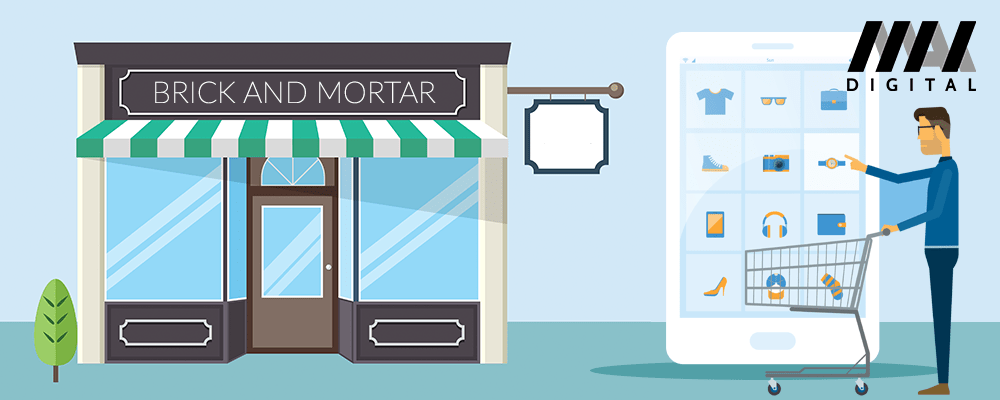 People are settling with the realization that COVID will remain a part of our reality for a long time. There's a new fatal variant every few months, with big pharma warning us about its potency and asking us to take another vaccine shot to "avoid" catching it. We can draw a straight line from the anti-vaccine and COVID-skeptic camps to why the virus is persistent. The takeaway from this is that COVID will impact this year and the next few years, and eCommerce shopping will continue to experience historical growth.
Statista predicts that the worldwide eCommerce market will reach a high of $5.5 trillion in 2022, which is a 12% increase from 2021, and it is expected to hit $7.3 trillion in 2025. More reason why small-to-medium-sized businesses keep making the crossover from brick-and-mortar to digital.
Here's what a lot of people are missing. Although the eCommerce industry keeps growing given the impact of the pandemic, the brick-and-mortar retail market recorded 18.5% growth in 2021, which is faster than the 14.2% growth eCommerce recorded in the same year. That suggests that brick-and-mortar retail might be making a comeback.
In-Person Shopping VS Online Shopping
Almost 64% of the global population have taken at least a shot of the COVID vaccine, and many can't wait to get back outside. The argument eCommerce stakeholders push during the debates of in-store versus eCommerce shopping is that eCommerce shopping is more convenient since buyers can shop from anywhere and choose home delivery. However, everyone has had to endure movement restrictions in the last three years, and we've been starved of outdoor experiences. Therefore, people are beginning to choose on-site shopping to give themselves outdoor experiences.
eCommerce shopping allows buyers to choose home deliveries and shop in multiple online stores in different niches within seconds to minutes, making it more convenient. However, as hard as vendors try, online shopping lacks physical experiences. Buyers can't see or touch the product before buying it. The absence of physical experiences with online shopping contributes to its higher return rate, which is 30% of ordered items, unlike the in-store shopping return rate which is only 8.9%.
Putting your brick-and-mortar retail business online is no doubt a lucrative move but don't rely completely on eCommerce, rather ensure to create physical experiences for your customers. You will achieve better results when you find a balance of in-store shopping experience and online shopping experience with your retail structure.
Global Commerce
The global eCommerce keeps getting bigger, and it creates an opportunity for small-to-medium sized eCommerce businesses to target international markets. However, you need to have an effective strategy that will help you target the global eCommerce market despite the tight competition. Global eCommerce has a unique dynamic that demands a different approach compared to the way you run your domestic eCommerce business.
You need to have a proper cross-border payment structure that will make it easier to pay and receive payments from different regions where you will have buyers and suppliers. When expanding your eCommerce business to target global markets, you should consider the supply chain challenges. Hence why you should work with suppliers around the regions you're targeting. It is better than asking your domestic suppliers to attend to your supply chain demands in international regions.
Social Commerce
A branch of eCommerce that has been fast-growing in the last five years is social commerce; 35.9% of Americans online bought at least once via social media last year. And eight out of 10 businesses plan to start selling on social media in the next three years. We might be seeing the global social commerce market grow significantly in the next few years, especially in places around the world where there are no giant eCommerce marketplaces like Amazon. For example, the WeChat social commerce market in China is worthy of mention because it is a developed industry. Although, China has Alibaba, which is a giant marketplace. Buyers in countries in Africa such as Nigeria shop online through social commerce channels more because they don't have big eCommerce marketplaces.
One of the selling points for eCommerce is convenience, which is arguably the ultimate reason people shop online. Social commerce takes convenience even up a notch because buyers can engage vendors directly on social media and transact manually in some cases even. Although, the more common social commerce dynamic is to click a link from the vendor's social media page, which will redirect to the vendor's online shop website. In any case, buyers find social commerce shopping even more convenient than eCommerce shopping. Upon seeing a product on a vendor's social media page, a buyer can click to buy it immediately, and this saves the time the buyer will typically spend navigating an eCommerce website.
According to Accenture, social commerce is expected to grow three times faster by 2025 than traditional eCommerce. Small and medium-sized businesses should see social commerce as an opportunity they can start preparing for. Frankly, many businesses have set up their social commerce structure and already operate their businesses on social media, which means you can start now if you haven't.
In 2021, Facebook had 56 million active buyers, and Instagram had 32 million active buyers in the US alone, making both platforms the most used social commerce channels. That's a large population of active buyers with intent to buy, and it will be a shame for small-to-medium-sized businesses not to take advantage of the opportunity.
The social commerce market is also unique in some ways than traditional eCommerce. Hence, you need to learn about its dynamics and adapt to develop effective social commerce strategies. One of the most effective social commerce strategies is user-generated content (UGC), in which buyers are encouraged to make videos about a brand/product. It works like word-of-mouth marketing, and it shows potential buyers that the product or brand is trustworthy, reliable, and can be trusted to provide quality products/services.
Over To You
Present-day retailing comes with many challenges and expectations because buyers are very informed, not to mention their short attention span. As consumer behavior is leaning towards in-store shopping again, that should tell you that the best way to succeed as a retailer, whether you're on-site first or online first, is to be open-minded. Stay ready to adapt to new trends.