Afterpay, Klarna, and Affirm; Top 3 Buy Now Pay Later (BNPL) Apps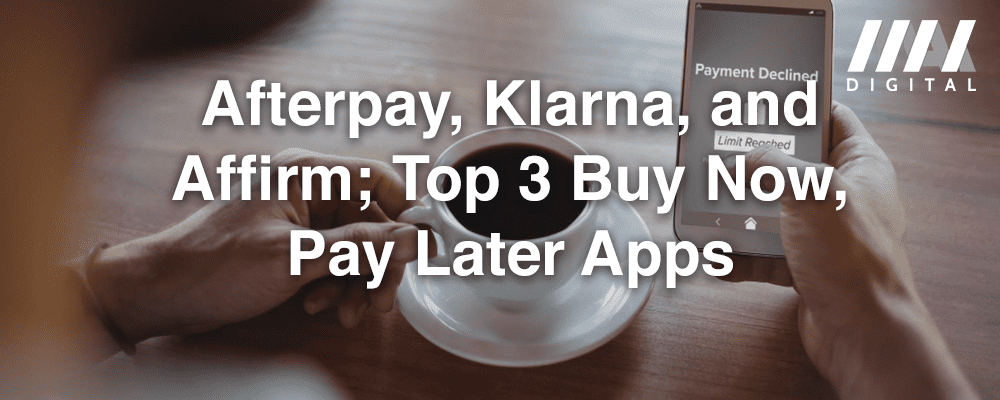 If you've ever shopped online in the last decade, chances are you've come across the buy now pay later (BNPL) model. The BNPL model removes the constant worry about what buyers can afford upfront, making it easier for them to shop within and above their immediate budget. It attracts all kinds of buyers from different wealth and social classes. Online shoppers use BNPL for affordable items such as skincare products and high-end items such as furniture and tv set. As a result, eCommerce businesses are using the BNPL model to boost conversion and increase sales and average order value. For example, Klarna claims that integrating it with your eCommerce store can increase your AOV by 41% and conversion rate by 30%.
Let's look at the top three BNPL solutions, Affirm, Afterpay, and Klarna to determine the best for your eCommerce business.
How Affirm Works
Affirm is a San Fransisco-based fintech launched in 2012 that focuses on providing point-of-sale (POS) installment loans for customers to finance their purchases. Buyers can access Affirm at the checkout or apply for an Affirm virtual card in the app. Affirm carries out a soft credit check on buyers before approval. It supports 38 integrations, including Volusion, Shopify, and BigCommerce. Affirm pays merchants within three business days of purchase.
Affirm offers two BNPL options;
Affirm Pay in 4: this option allows buyers to pay every two weeks for four payment installments without attracting any fees or interest. No fees for late payments either. It is easy to set up, buyers can set up automatic payments, and it also doesn't impact the buyer's credit score.
Monthly payments: this option is for big-ticket purchases, and it can be interest-free or attract a simple interest ranging from 10 – 30% annual percentage rate. Once buyers agree to a fixed APR interest for their payment plan at the checkout, the interest will never compound. Set up is also easy and buyers can make automatic payments — the original price with the charged interest. Affirm monthly plan options are; three months, six months, and 12 months. While Affirm doesn't charge late payment fees, it rewards buyers for responsible borrowing and timely payments. Affirm sends buyers' borrowing and payment reports to Experian, a credit bureau, which affects their credit score positively or negatively.
How Klarna Works
Klarna is a Swedish fintech and regulated bank founded in 2005 that provides multiple financial services, including the BNPL solution. One advantage of using Klarna as a merchant is that you will still get full payment for your items even if the buyer doesn't pay up.
Merchants using Klarna pay a fixed transaction fee, monthly product fee, and variable percentage fee. The customer's payment plan and country affect these fees. Klarna supports 44 integrations, including Elixir, Gambio, and Amazon QLDB.
Pay in 4 interest-free installments: this plan breaks the payment into four equal installments to pay every two weeks, paying the first at the POS. Late payment on the second installment will attract a fee of $7. This plan is available to all retailers.
Pay later: this plan allows buyers to complete and receive their order and pay later in full within 30 days. It doesn't attract any interest or fees, but if a buyer doesn't pay they will be blocked from using Klarna. This plan is not available to all retailers.
Monthly financing plan; this option is for big-ticket items, and it's only available for select retailers. Klarna pays for the purchases in full upfront, allowing the buyer to pay monthly over six to 36 months, depending on the agreement. This plan attracts a fixed annual percentage interest of 19.99%, although special offers and promotions can reduce it. Buyers can also go interest-free by paying off the purchase within six months. Late payment attracts up to a $35 fee if a buyer misses a month.
Klarna carries a soft credit check for the Pay in 4 installments and Pay Later plans, which may show in their credit report, but it will not affect the buyer's credit score. However, Klarna carries out a hard credit check for the monthly financing plan and it will impact the buyer's credit score.
How Afterpay Works
Afterpay is an Australian Sydney-based fintech founded in 2014, which has grown to become one of the top BNPL services providers, with over 15,000 retail partners in the US alone. The American fintech company, Square, bought it in 2021. Like Affirm and Klarna, Afterpay also carries out a soft credit check on buyers before approval for BNPL, which will not affect their credit score. Afterpay doesn't send any report to any credit bureaus, so responsible and irresponsible buyers have no reason to worry.
Pay in 4 installments: Afterpay provides only one type of BNPL plan, and it is interest-free. Buyers pay every two weeks spread over six weeks into four equal installments paying the first installment at the point of sale. After a grace period, buyers whose automatic payment method doesn't go through will pay a fee of $8 or a max of 25% of the purchase price for multiple missed payments. Buyers must complete their outstanding payments before they can use Afterpay again.
Why Integrate a BNPL Solution into Your eCommerce Store
You might be wondering whether you need to integrate a BNPL app into your eCommerce store since you already make a lot of sales. Besides, integrating a BNPL app means giving the app a small percentage of your profit. Yes, we know BNPL models benefit buyers by allowing them to pay in installments, but how does the BNPL model benefit you as an eCommerce merchant?
Integrating a BNPL app increases the payment options on your checkout page: every business should have enough payment options to ensure buyers don't get discouraged at the checkout stage. The BNPL model is an additional payment option buyers can choose instead of paying with a credit card, debit card, PayPal, or other options. Having multiple payment options can reduce your abandoned carts rate.
Millennials don't want to accumulate credit card debt: only 33% of people between 18 and 29 own a credit card. Shopping for them means they either pay in full immediately from their pocket or rely on BNPL solutions. Gen X shoppers also like the BNPL model — 87% of shoppers aged 22 – 44 would also like to use BNPL services. The BNPL model is simply a better financial choice for most shoppers, irrespective of their age group. Boomers too would probably prefer BNPL services if many of them were shopping online.
BNPL services can help you sell more: with the reasons above, you can see how integrating a BNPL solution into your eCommerce store can increase sales. Even as you are giving the BNPL app a small percentage of your profit, you stand a chance of increasing your sales when you start using a BNPL service. Besides, most BNPL services charge merchants an inconsequential percentage, as little as two to three percent per sale for Affirm, and $0.30 per transaction with a 4-6% commission rate per transaction for Afterpay.