Why you Should Start your Holiday Marketing in Q3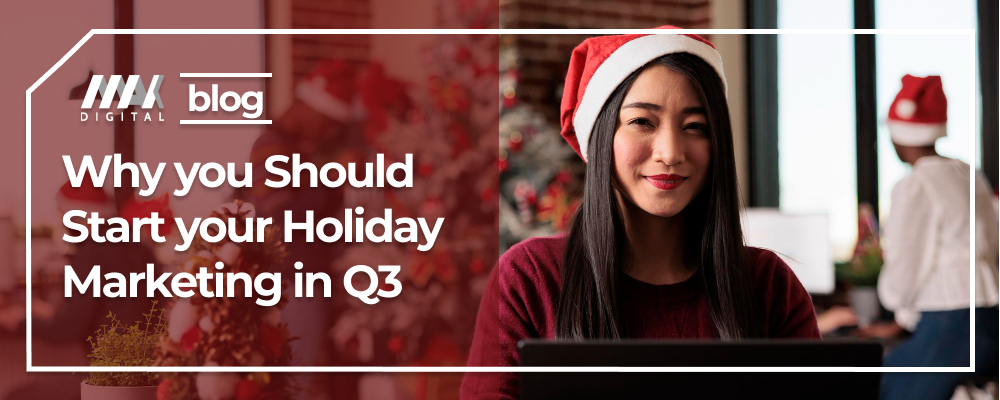 Digital marketing is always changing, sometimes due to circumstances such as pandemics and new technologies. As a business owner, one of your jobs is to stay up to date on necessary trends and utilize them to your advantage. This year, a smart marketing tactic that can help you is to start your digital marketing campaigns in Q3, just before the holiday season begins.
Why Should You Start Your Holiday Marketing in Q3?
In 2020 consumer behavior changed and the eCommerce industry recorded increased spikes in online shopping. Due to the restrictions and supply chain constraints, last year various eCommerce stores were forced to increase their delivery timeframes. This caused packages that normally would've only taken a few days to be delivered, possibly ending up taking weeks or longer!
2020 left a lasting impression on consumers. One of the largest takeaways from the 2020 holiday season was the delivery delays. It will come as no surprise to expect a good number of consumers will be starting their holiday shopping before the holiday season starts to not repeat last year. This isn't the only reason you should start your holiday marketing in Q3.
Building Trust with Consumers Takes Time
Online shopping is not the same as in-store shopping, in-store customers can see/feel/hear the product they want to buy before paying; online shopping requires some level of trust that is not necessary for offline shopping. As a result, consumers have learned to be picky about the vendors they buy from and the product brands they buy. Although most consumers have never been scammed by eCommerce vendors, they know about online scams, they see scam stories on social media, and they are careful not to fall victim.
The eCommerce industry currently has its largest population of vendors ever. Thousands of vendors sell the same or similar products at different prices with different shipping options, which makes it difficult for consumers to decide which vendor to buy from. Even still, people want good quality, the best priced deals, and favorable shipping options.
Some industries lead consumers to be more wary than they would other, for example, in health and beauty products consumers tend to be more cautious of new brands until details about business practices, ingredients and side effects become public knowledge. No matter how established, popular, and reputable a brand is, if a buyer doesn't know the brand, they won't engage. What if the brand uses Ads? The short answer is ads alone will not get consumer trust.
Your brand may have five-star ratings, impressive customer reviews, and awards, but if a potential buyer is just learning about your brand, chances are they won't buy from you just yet. Consumers need to see your ads multiple times, read about your brand on social media, and/or get word-of-mouth marketing to become comfortable enough to buy from you.
Ads Are More Expensive During the Holiday Season
Every vendor knows that the holiday season is a great time to build awareness through ads because buyers are more eager to engage. Compared to other periods in the year, this can cost you up to 25% more because it is more costly to produce and publish ads during the holiday season. We can blame the increased cost of Ads on the law of supply and demand.
According to Adespresso, the cost of cost-per-click (CPC) ads on Facebook fluctuates monthly, but usually any price you get in January will be the lowest throughout the year, and the price will be at its highest in Q4. If the cost per click is 37 cents in January, you can expect to pay up to 53 cents per click during the holiday season, this is about a 20% increase.
A MarTech Advisor report shows that the cost of Facebook Ads increased by 25% between last Black Friday and Christmas. Keep in mind that this is not unique to Facebook, all digital platforms that support paid ads record similar increases towards the end of the year.
That is why you should take advantage in Q3, because July, August, and September are close to the holiday season and consumers will already be preparing for their holiday shopping. Last year's pandemic will have many consumers shopping early, that way their orders arrive in time for the holiday, should there be any delays.
How To Develop An Effective Q3-Q4 Marketing Strategy
Instead of waiting until Q4 to start targeting holiday shoppers who might just be learning about your brand for the first time, start in Q3. Use Q3 to reach out to new targets, new potential buyers, and use this period to make them familiar with your brand. You will have a foundation to build on during the holiday season because many of your targets will become familiar with your brand, which will make it easier for them to trust you.
Collect and Highlight Customer Reviews During Q3
According to BigCommerce, 55% of buyers are worried more about online scams now than in previous years. Many of them will carefully check customer reviews to decide whether to buy from you. A great way to assure potential buyers is by highlighting customer reviews on your product pages. While you can highlight customer reviews with old timestamps, buyers will not be impressed to find old customer reviews from several months ago or even one or several years ago. Consumers want to see what the most recent buyers think of your products or services.
Review your Q3 sales and reach out to your old and new customers through email, SMS, and on your eCommerce app to collect their reviews. Give them multiple options; to review your products on your website and social media and allow them to upload images and videos of the product. You can also offer them incentives to do this.
Check Your SEO in Q3
It's common practice for buyers to search for products on Google, but most people do not engage ads on Google results. Most people would rather click on the third result on the Google result page if it is organic. While using ads can help get you to the top position in Google results, it's not wise to rely only on ads. Assess your SEO rankings, keywords, and revamp your SEO content in Q3 to prepare for the holiday season. You want to make sure that your SEO is top-notch to increase your chance of getting on the first page of Google results and possibly making it to the top four on the page.
You should also check your Google Seller Rating (GSR) during Q3 to see if you qualify for GSR in the country you're selling in. If you qualify and your rating is at least 3.5 out of 5 stars, then you can include it on your Google ads.
Over To You
If you have a marketing team, the best time to start working on your holiday marketing is before the holiday season, which is during Q3. The team gets enough time to put in great efforts without rushing.
We wish you the very best as you prepare for the holiday frenzy!