Digital Marketing Strategies for Every Small Business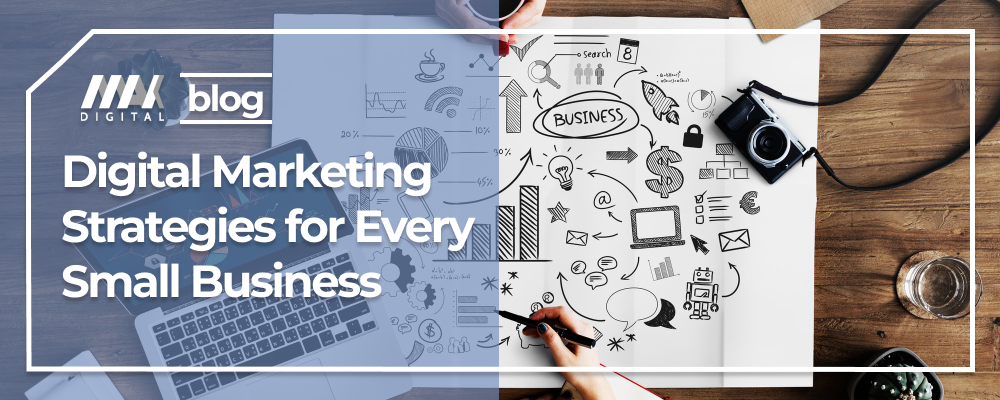 Small businesses fight many battles. They have bigger rivals, have to earn customers' trust, learn about their industry, worry about staffing, and more. They also have to fight to be seen by consumers. While small businesses can use digital marketing to create awareness, it is challenging and may not give the desired result if they don't get it right. And it is common for the digital marketing efforts of small businesses to waste, resulting in loss of time, money, and resources.
We will talk about how small businesses can master digital marketing and use it to increase their reach, generate more sales, and grow their brand. Here are five key digital marketing strategies you need as a small business.
Create a Strategy First
Before starting your digital marketing, take your time to think about your business, vision, goals, niche market, and create a strategy that will bring everything together. Here are three digital channels you can target;
Pay per click (PPC) platforms: PPC is a type of marketing where you pay based on the number of clicks, and you pay automatically each time someone clicks your PPC ad. You can run PPC campaigns on Google and other platforms. Your PPC campaign should redirect visitors to a landing page with content relevant to the PPC post, and it should have a call to action (CTA).
Social media: Most social media platforms are free, so you can run social media campaigns without paying. You can post videos and short text captions, use trendy hashtags, join social media challenges, conduct surveys, publish user-generated content, and generally interact with your target audience. You should be active on social media, so ensure you post at least once per day.
Search Engine Optimization (SEO): SEO is not a channel but a marketing strategy that can improve your digital marketing efforts across multiple channels. Conduct keyword research regularly to discover the keywords that can help you get more reach. Find out the keywords your competitors are using, keywords customers are using, the keywords that the Google algorithm favors, etc. You should also learn how to use keywords to generate the best result.
These are only three of the possible digital channels you can invest your marketing budget. Draw a plan that details how you will use them to increase your reach, traffic, conversion, and sales within a given time. Be mindful of your budget too. Digital marketing is not about how much you spend but about using the right strategies and tactics and how you implement them. When you start, ensure to monitor your performance and compare it with the initial plan you created. Update your plan or inputs as necessary.
Invest in Content Marketing
Content marketing is the most accessible marketing strategy that you can spend almost nothing to implement. As a small business with a small marketing budget, having a blog section on your website can do a lot of good. Regularly publish blog posts with valuable content on your website to attract potential customers. Content marketing also involves video content, so create short valuable videos that address the possible concerns of your target audience and share them on your website and social media pages.
Content marketing requires consistency and value, and value is not anything you deem valuable rather, it should be topics relevant to your customers that can solve their problems. But you can also make funny and entertaining videos, even big brands do it sometimes.
Here is how content marketing can help you attract customers; let's say you're a B2B logistics business, you can publish a blog post about supply chain management and drop shipping fulfillment. When people in the dropshipping business Google how to improve their drop shipping fulfillment, your blog post can come up in the search results. Content marketing will help you position your brand as an authority in your industry when you regularly share expert tips.
Use Influencer Marketing
One of the fastest ways to target your ideal customers is by using influencers in your niche market. Let's say you make and sell beauty products, you can research a few popular social media users with many followers who use their pages to talk about beauty. Watch out for influencers who are intentional about their niche, and pay attention to their engagement rate. A large following is useless if followers don't engage the influencer. Such influencers will not be able to convince their followers to carry out an action.
Because influencers have built a reputation and positioned themselves as an expert or renowned observer in a niche, they can convince people to support or not support things related to the niche. For example, beauty influencers make content about a new beauty product to review and tell their followers whether the product is good. Hence, you can partner with an influencer in your niche to push your brand or products.
Research
Before starting your business, you must have researched your ideal consumer and where to find them online. So, now, you direct all efforts at targeting them, and that's great. However, your customers expand beyond your idea of who they are and where they are. You might have been neglecting some of your potential customers.
You need to maintain a habit of researching to discover new consumer audiences. Some of your customers are hidden in the demographics you are not paying attention to, which is why you need to research potential audiences regularly. You can directly engage potential customers outside of your ideal audience to find out their opinion of your brand. You should also direct some marketing attention to other demographics from time to time.
Use Metrics
Expert marketers believe in numbers, which is one thing you should copy from them, whether you have an in-house marketer, outsource to a marketing agency, or do your marketing by yourself. Learn to create metrics and define your key performance indicators (KPI) before starting your digital marketing, but it's not too late to start now. Having metrics will guide your marketing journey and help monitor your inputs so that you don't deviate from your goals.
There are so many digital marketing options to explore, but you don't want to be jumping from one to the other without generating any relevant results. Focus on your plan, monitor your performance and results, and check whether you are achieving your definition of success.