Fraud Detection SaaS, What Are They, And Which Is Right for Your Business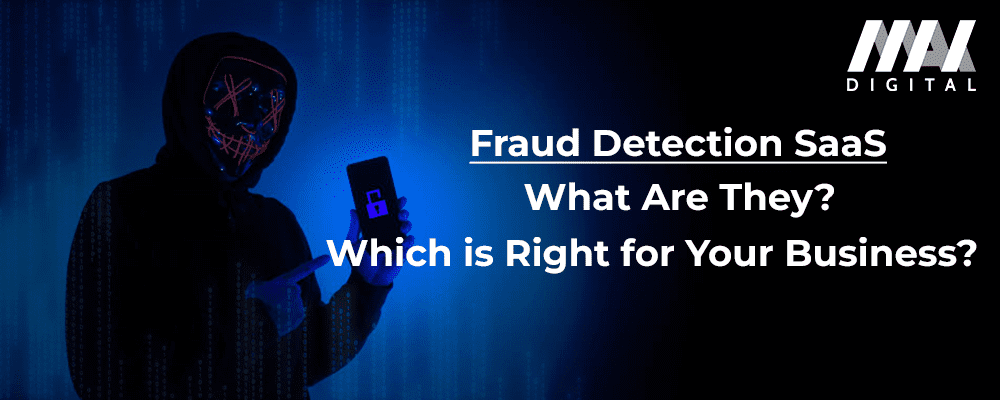 Fraud detection management is a security measure digital banking companies and other companies that collect or store delicate information on their servers use to guarantee security. Fraud detection management systems help these companies detect suspicious high-risk activities, protect against data breaches, and prevent fraud such as illegitimate transactions. Since eCommerce businesses also collect delicate customer information such as credit card details and shipping addresses, it is their job to set up necessary security measures to prevent cyber attacks.
When setting up your fraud detection system, consider factors such as pricing, installation, and maintenance, because there are different types of fraud detection management systems. Most big businesses prefer legacy fraud detection management systems that provide robust security levels but are generally more expensive and require technical installation. However, as an eCommerce business, besides cost and complex installation, a legacy fraud detection management system might come with extra features you don't need. Not to mention that legacy fraud detection management systems usually need an IT department of employees who know how to operate and manage them. Hence, the most suitable fraud detection management system for eCommerce businesses is fraud detection software as a service (SaaS).
What Is A Fraud Detection SaaS?
A fraud detection SaaS is a software service you can subscribe to monthly to enjoy the benefit of fraud detection management without necessarily hiring an IT staff or spending on custom installation. Fraud detection SaaS tools automatically work in real-time, monitoring your eCommerce business transactions and customers' activities to prevent fraud and data breaches. With a fraud detection SaaS, you can rest assured that your customer data and business data are safe and secure. A fraud detection SaaS subscription helps you meet necessary security compliance, such as Payment Card Industry Data Security Standard (PCI DSS).
Must-Have Features to Look Out for When Choosing A Fraud Detection SaaS
The fraud detection market is growing every day due to ever-increasing internet activities, eCommerce businesses, and continued reliance on the internet for storing data. On the other hand, cybercriminals are becoming more clever with every passing day. So, you see why it's no surprise that the fraud detection industry is forecast to reach $38.2 billion by 2025. As a result, companies may find themselves reviewing an endless list of fraud detection SaaS, which is why we will highlight must-have features to keep in mind.
Real-time Monitoring: a fraud detection SaaS must have a real-time monitoring feature, or it won't serve the purpose for which you are subscribing. Your security measure should be able to detect chargeback attempts before they occur and block suspicious actions before they cause any damage. Lastly, a real-time monitoring feature on your fraud detection SaaS helps you comply with anti-money laundering regulations.
Risk Ruling: this is an ultimate must-have feature because it helps you filter user actions based on relevant data to determine which ones your fraud detection SaaS should consider suspicious and address. For example, you can create a risk rule filter that IP addresses generated from a certain untrusted VPN should be stopped from performing a login attempt and blocked.
Machine Learning: good fraud detection SaaS tools have a risk ruling feature, but better fraud detection SaaS tools have risk ruling and machine learning algorithms. Machine learning works hand in hand with the risk ruling feature to suggest new risk rules based on historical data and patterns.
Risk Scoring: while the risk ruling feature allows you to create static risk rules to detect suspicious actions and mitigate them before they do any damage, the risk scoring feature allows you to evaluate risks and score from low to high. Hence, your fraud detection SaaS tool may detect a suspicious action but may not take any action against it because the risk is low.
Now, let's look at some of the best fraud detection SaaS in the market
Mind you, we researched and observed a bunch of fraud detection SaaS tools, and these are the top three fraud detection SaaS according to customers and industry standards.
Signifyd
Signifyd is arguably the best fraud detection SaaS tool for eCommerce merchants, protecting over 10,000 stores worldwide. It offers 100% chargeback protection and seamless integrations across multiple eCommerce platforms such as Salesforce, Magento, Shopify, and BigCommerce.
Pros
eCommerce centric: for eCommerce businesses that want an industry-standard fraud detection system that can meet all their security needs, save costs, and can manage well with small and large transaction volumes, Signifyd understands the assignment. Signifyd is tailored for online businesses and payment companies.
SCA support: a simple monthly subscription to Signifyd helps you meet compliance standards such as Payment Services Directive Two (PSD2) and General Data Protection Regulation (GDPR).
Automatic chargeback model: Signifyd provides 100% chargeback protection that optimizes automation and eliminates fraud liability, hence reducing chargeback admin fees. This feature also saves time.
Easy onboarding: Signifyd is easy to use, to integrate with other eCommerce tools and platforms, and most importantly, easy to set up. All the customers we spoke to about their use of Signifyd testify to a smooth experience, powered by its autopilot approach.
Cons
No control over chargeback: since Signifyd automates the chargeback process taking control away from human fraud managers, the chargeback protection model can generate false positives. Additionally, because it can automatically block good customers who perform a seemingly suspicious action, it can cause lost revenue.
Pricing: available upon communication with Signifyd and Signifyd partners.
SEON
SEON is a thorough fraud detection SaaS that provides a high sense of digital security through features like device fingerprinting and data enrichment, and screening of IP addresses, online networks, etc. SEON gives users complete control over their risk rules, although it may require users to know how to create risk rules. Customers also consider SEON a flexible tool for third-party integrations — it uses API calls that users can access via Chrome plugin and a few others.
Pros
Users have total control over risk rules
Free trial
Users can pick and choose SEO-specific modules
Cons
Lack of on-site integration for enterprises
SEON provides partial AML compliance
Doesn't verify customers based on their IDs
Pricing: $299
Sift
Sift uses blackbox machine learning to help businesses mitigate digital security risks and prevent fraud. Sift relies on building long-term relationships with its clients to gain insight into their clients' historical data mainly and real-time data to some extent. With that, Sift is able to provide robust cybersecurity measures to help businesses prevent fraud and cyber attacks.
Pros
Automation powered by AI
Caters to big enterprises with large transaction volumes
Sift addresses fraud and cybersecurity concerns, so you will be getting two solutions for the price of one.
Cons
Automatic AI risk rule suggestions without explanation
Pricing: Comes with custom contract offers.