Snapchat and Ecommerce Brands: Tips to Snap to It!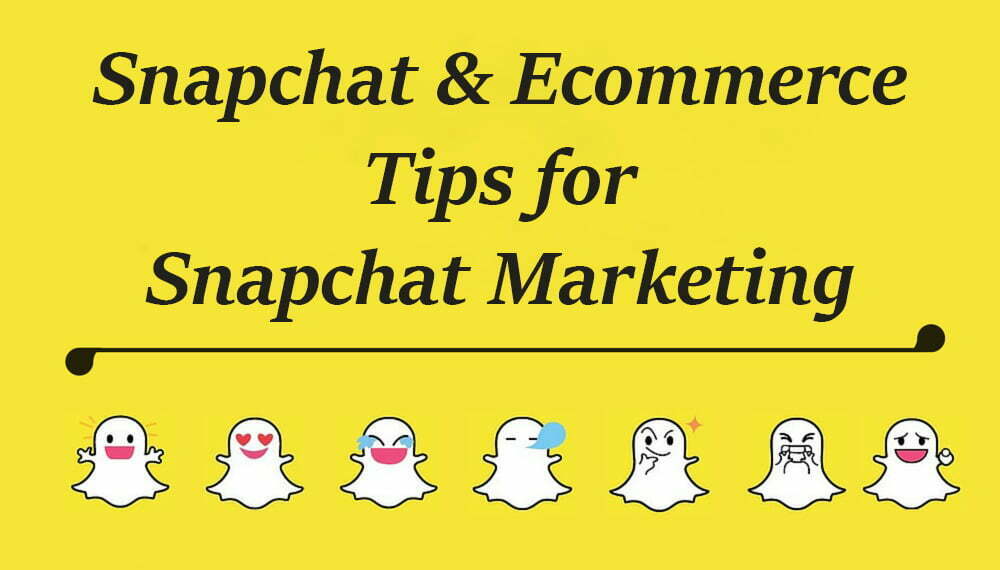 There's millions and millions of social networks, all networking at once. It may be a little overwhelming since new social medias are being created daily. As social media marketers, even we can be a bit overwhelmed by all the social networks that seemingly pop up out of nowhere. So if you haven't taken the time to learn about Snapchat, now's your chance!
Brief History
Created around 2011, Snapchat was originally created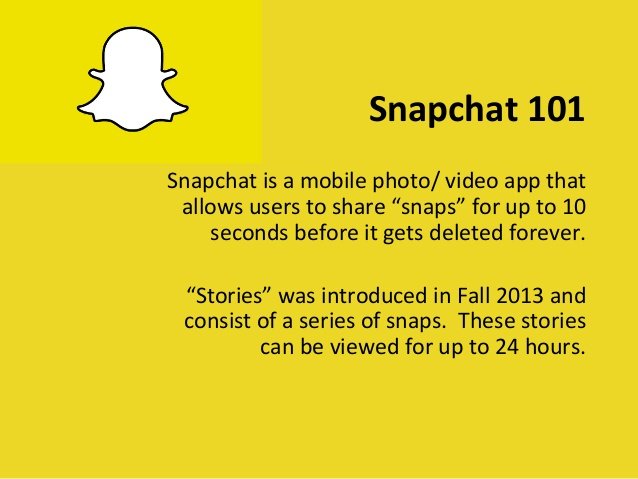 for a social media that allows you to send inappropriate pictures, honest! Nowadays, it has become a great tool to give your followers an inside look on your day-to-day activities. It has  significantly become more popular within the last two years. So, what exactly is Snapchat and should you create an account for your brand?
Snapchat is a social media that allows you to send pictures, messages, and/or videos. After viewing the items, they're erased. You can choose to send a Snapchat to your contacts, or post it on your story for everyone that's following you can view it as much as they wish, within 24 hours.
Layout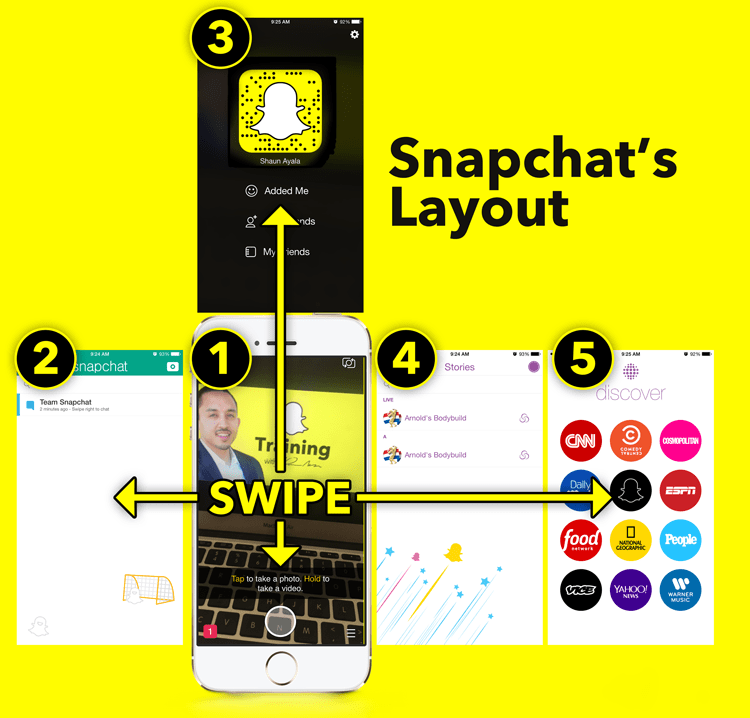 If you look at the picture above, it has the layout of Snapchat. The number 1 is your main screen, your camera. You can press the circled button to take a picture or hold it to recored a video. Number 2 is all of your personal conversations. Anyone you send or receive pictures, videos, or messages from will show in this area. It is only seen by the people you personally send it to (unless you send it to individuals AND post on your story). 2 is your conversations. Number three is your page. It contains your username and your unique snapcode (you can simply screen shot a snapcode and upload it or in camera mode (number 1) show the lense the snapcode for a quick add!) Number 4 is where all of your and your friends stories will be posted. Each picture/video will only be available for 24 hours from the minute you posted it. Here, you can see what your friends are up to and re-watch their stories as much as you please. You can screenshot their photos but they will be notified you screenshot-ed their picture. And number 5 is called Discover. Magazines, Networks, and more have a story daily for you to watch. Whether it's all the top headliners on CNN or a cool article on Yahoo!, you can discover so much on Snapchat!
How Brands Can Capitalize on Snap
Before setting up your account, ask yourself if you (or your social media department) are capable of spending the time needed on this social media. All Snapchat content must be in real-time. Alternatively, other social medias such as Facebook, Twitter, Instagram, Pintrest and LinkedIn, you can apply a content calendar to schedule your posts. Unless there is someone on your team that's able to handle the Snapchat account daily, it might be in your best interest not to hop on the "Snapchat" train. Instead, spend some more focus on the two or three social medias that are thriving, whichever ones your audience is active and engaged in-which you're seeing the best return.
Some brands create their Snapchat to show some cool shots of behind the scenes. Think: photo-shoots, dogs at work in the office, new product launches, or even some cool business meetings! Snapchat is also a great way to promote sales. Example: Let's say you want to show your new products and offer a coupon code. Simply take a picture or video of your new products (with possibly a release date) and add a caption "NEW *product name*! Save 20% with code 20Snap". This will engage your followers and may expand your contact followers from word of mouth. Your current customer followers may tell their friends and followers to follow your brand and mention if you regularly post discount codes. Another great way to gain followers is asking your followers to screenshot your snap and then tweet or instagram with a special hashtag for a chance to win a special prize.
Promoting Your Brand with GeoFilters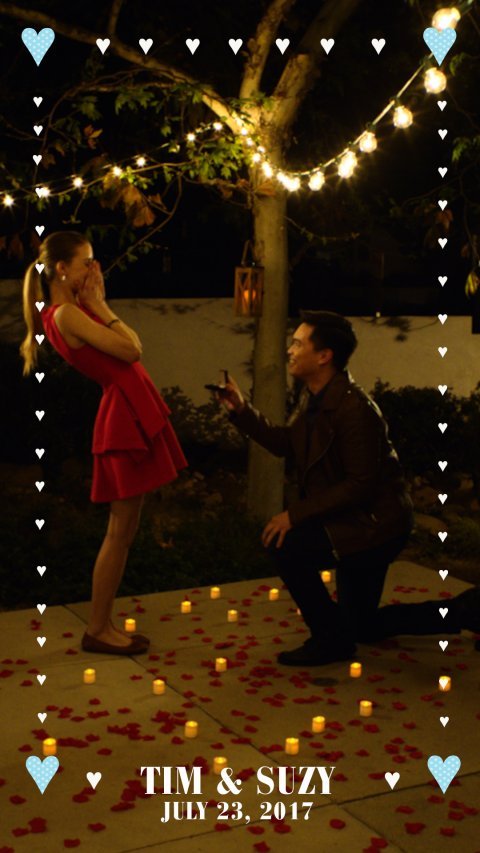 You can open GeoFilters as little as $5, thanks to recent changes from Snapchat. By opening GeoFilters to the public, Snapchat will be able to coin their platform – a reoccurring theme among social networks. GeoFilters can be a useful tool for your brand at times such as a large event going on. These filters are available to any Snapchat account holder. You can add one of seven filters to your photo/video, as long as the Snapper has their location service on. This is such a big deal because anyone that chooses to use your filter will share it with their contact. Hello brand exposure!
If you're going to join Snapchat, be sure to share your username across all of your other social medias to gain followers. You can screenshot a picture of your snapcode and set it as a profile picture across all networks. This will allow someone to take a picture of your snapcode and upload it to Snapchat to follow you without having to enter your username. Or you may want to tweet your username and ask your followers to follow you on Snapchat.
Snapchat may not work best with all companies, but it sure is another great social media that millions of people are using. Get your username out there and upload some behind the scenes action! Don't forget your story, for all of your followers to see, will only be available for 24 hours from the time you post it. After that, it gets erased. And make sure the timer of each photo is set to the right amount of time for your followers to read your captions!