BigCommerce Comes Close to Sweeping Paradigm B2B Combine 2022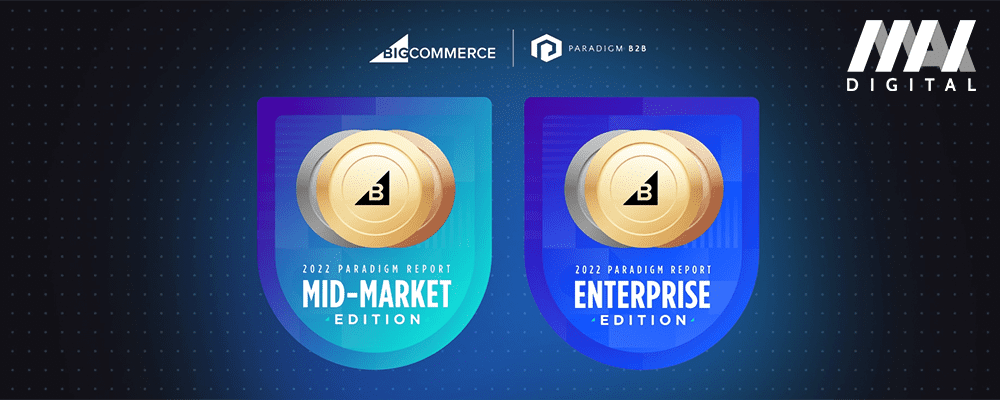 BigCommerce touted for being a leading SaaS eCommerce platform, supporting fast-growing B2C and B2B brands has once again surpassed analyst evaluations for the third consecutive year. BigCommerce recently received top honors at 2022 Paradigm B2B Combine (Midmarket Edition) and 2022 Paradigm B2B Combine (Enterprise Edition), collecting a total of 22 out of 24 possible medals.
Within the past year we have seen BigCommerce acquire long-term tech partners B2B Ninja and BundleB2B, expanding their B2B functionality and providing a more dynamic platform for B2B merchants. At a time when B2B commerce is exploding at unprecedented rates BigCommerce is doubling down, staking their claim as the leading B2B eCommerce platform for business.
"BigCommerce aspires to create the world's most flexible and usable SaaS platform for B2B. Our recent acquisitions of B2B Ninja and BundleB2B significantly expand our native B2B offering, enabling us to serve a comprehensive set of B2B selling use cases for businesses of all sizes," said Brent Bellm, CEO at BigCommerce. "This year's Paradigm B2B Combine recognizes our leadership in B2B ecommerce for both midmarket and enterprise businesses and reflects the strong progress in our offering in the last year."
During the Paradigm B2B (Midmarket Edition) BigCommerce received 12 medals out of a possible 12 medals. The Paradigm B2B (Enterprise Edition) hailed only 10 of 12 medals for BigCommerce including a Gold rating for Total Cost of Ownership and Partner Ecosystem.
Award Breakdown:
2022 Paradigm B2B Midmarket Edition:
• 4 Gold (Partner Ecosystem, Total Cost of Ownership, Promotions Management, Sales & Channel Enablement)
• 5 Silver (Ability to Execute, Customer Service & Support, Marketplaces, Site Search, Vision & Strategy)
• 3 Bronze (Content & Data Management, Transaction Management and Integrations, Operations & Infrastructure)
2022 Paradigm B2B Enterprise Edition:
• 1 Gold (Total Cost of Ownership)
• 3 Silver (Promotions Management, Sales & Channel Enablement, Site Search)
• 6 Bronze (Ability to Execute, Customer Service & Support, Marketplaces, Partner Ecosystem, Vision & Strategy, Content & Data Management)
"Developed and personally evaluated by Paradigm B2B CEO and B2B ecommerce expert Andy Hoar, the Paradigm B2B Combine assesses all vendor solutions on a five-point scale across 38 detailed and weighted criteria based on Andy's years of industry experience, as well as his nearly 80 recent interviews with B2B practitioners such as VPs of ecommerce and IT decision-makers. Medals were awarded based on composite scores in 12 distinct categories."