LinkedIn Post Ideas for Businesses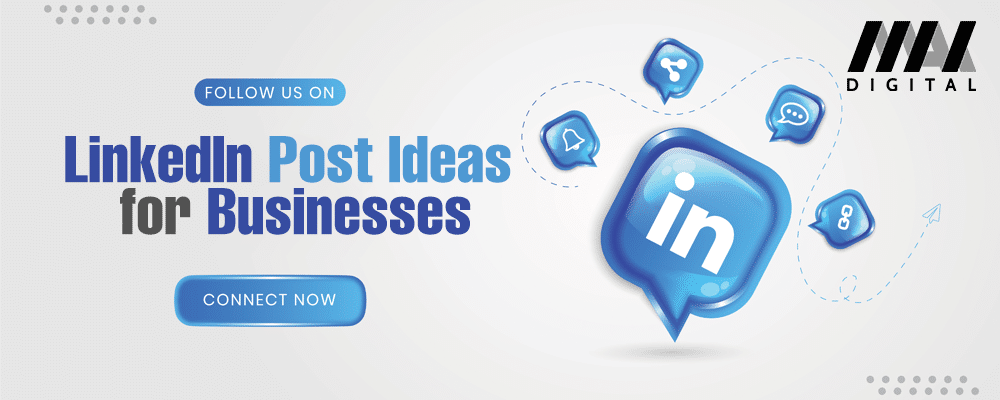 With over eight million C-level executives and almost 800 million users across 200 countries, LinkedIn is a paradise for entrepreneurs. You will miss opportunities to network and build healthy relationships with other B2B brands if your LinkedIn game is subpar. Whether you have an in-house LinkedIn content strategist or you're responsible for creating LinkedIn posts for your brand, use these 15 LinkedIn post ideas to boost visibility.
Industry Insights
How-to Guides
Personal Content
Brand Content
Success Stories
LinkedIn Polls
Share Tips
Funny Posts
Address FAQs
Tool Reviews
Resource Recommendations
Book Content
Employee Highlights
Before and After
Webinar Summaries
Industry Insights
You will never run out of LinkedIn content ideas if you keep up with industry news, industry reports, and trending industry concerns. Exercise your power as a thought leader and share your expert opinion on industry topics, addressing your audience's concerns one post at a time.
How-to Guides
It is not an exaggeration to say that other social media users may not appreciate educative content as much as LinkedIn users. The average LinkedIn user is a professional or budding entrepreneur, and they are always seeking ways to upskill and grow in their career path. You'll be doing them a favor by making how-to guides teaching them valuable industry hacks.
Personal Content
Can you tell us about yourself is a classic question that allows HRs to connect with job seekers on a personal level. Job seekers open up and show who they are as a person. Best believe your LinkedIn audience also wants to take a break from corporate stories all the time. They want to connect with your brand on a personal level.
Ensure to set boundaries to avoid revealing too many personal or privy details of your brand. Share lighthearted personal experiences, hobbies, and interests, or address pop culture topics in a way that leads back to your brand.
Brand Content
Update your audience about your brand. Talk about the lows and highs of your brand with warmth and hope, adding your personal touch. You can create posts using content directly from your website but talk about the journey and the excitement of working on the project.
Success Stories
Everyone loves grass-to-grace stories, even if it's about a business. So when you can't think of something else to post, talk about your brand's success stories, highlighting the struggles and how you overcome the challenges. Take it a step further and share success stories about other brands.
Linkedin Polls
When having a lazy day creating content for your LinkedIn page, create a poll. Polls are a creative and lazy way to generate massive engagement from your audience. Ask your audience to choose between two to four options to get their votes about an industry topic. The good thing about polls is that when a user votes in a poll, they can see the result, and their connections can see they participated in the poll.
Share Tips
Similar to how-to guides content is content for sharing tips. You can create posts sharing LinkedIn tips, job search tips, job execution tips, project execution tips, etc.
Don't limit yourself. If you discover effective ways of achieving the best or quick results from your efforts toward a goal, share the knowledge with your audience. Remember, when you teach effective tips that your audience tries and enjoys similar results as you do, they will hold you in high esteem.
Funny Posts
You can't go wrong with showing some humor. Try not to be corny, but who is the judge of that? Also, avoid making excessively dark-humor posts. If you are unsure what's jokes will pass the vibe check, share a few with your employees, friends, and family to see how they respond. That will tell you which jokes you can post on your LinkedIn page.
Address FAQs
Create posts addressing your audience's concerns and pain points. Take inspiration from your website's FAQs and reoccurring issues your clients share about dealing with your brand and provide detailed answers to their questions. Avoid addressing multiple concerns with a single post, or you will lose them in the overwhelming texts.
Tool Reviews
What tools or software products do you swear by that help you through your day or make work better? Guess what? Your audience will appreciate a tool review and recommendation from you, so don't hesitate to share your opinions and experiences as a user of the tools. Some ideas to explore include the top five tools for doing a task that appeals to your audience, a review of some tools highlighting the pros and cons of the tools, etc.
Resource Recommendations
Similar to tool review posts are resource recommendations. What YouTube channels, blogs, or podcasts provide valuable industry insights that may appeal to your audience? Create posts highlighting the resources you enjoy and value, stating your reasons. Many of your connections and followers hold your words in high regard and will check out the resources. The teams behind the resources you recommend will also appreciate your approval and shoutout, and that's a good way to network with industry experts.
Book Content
You can create different types of LinkedIn posts with books. A few book content types are book lists, book recommendations, book summaries, book reviews, and lessons from books. The only challenge with book content is that you have to be an avid reader so that you will always have book content to share with your audience.
Employee Highlights
Create appreciative posts about your employees for their role in making your brand thrive. You can create an employee's history post highlighting how they went from a new hire to their current position. Another idea is a post about an employee's personality. You will never run out of content ideas to explore because you will always have people on your team.
Before and After Content
Treat this like a mini case study and create posts showing how you addressed a client's concern and solved their problem. It's a self-promotional attempt that portrays your services and professionalism. So, highlight the process through the before and after lens.
Additionally, you can create before and after posts about you highlighting how you tackle the challenges you face with running your brand.
Webinar Summaries
Did you know that you can generate content ideas from webinars? Regardless of the number of signups webinars get, only half attend, and some drop off before the end. When you attend or host webinars that concern your audience, take note of the message and the names and status of the speakers. Use it to write webinar summaries and post with the right hashtags to increase reach.