All Sports Design
All Sports Design
We are excited about the recent work we completed for allsportdesign.com. Your website is the first impression a customer gets of your business. Your website says a lot about how you do business. A problem with a website can signal to a customer bad things about your your business. Informed business owners recognize a problem and handles it quickly. You don't want potential customers leaving your website with the wrong perception of your business because of a poorly designed website or one that simply makes it difficult for the customer to "seal the deal."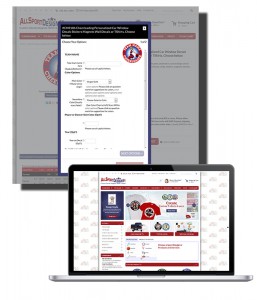 Our client, allsportdesign.com recognized such an issue. The client came to us with the problem of a website that was difficult to navigate. Customers had to navigate through a web of different options, and as we all know, this can lead to lost sales. The problem was customers had a long list of options. Customers had to scroll down and answer a lot of questions, before they ever even reached the "add to cart" option. One can easily see how tedious and frustrating this would be for a customer.
Part of the problem with web design, is that we have to get it just right. If not, customers get frustrated and your conversion rate goes down the tubes. Mak Digital Design recognized the problem this client was experiencing and we redesigned the site, thus enabling customers to navigate through the site with amazing ease! Our client was ecstatic!
We're proud to say this was done in a remarkable 3 day turnaround. We recognize the importance of designing your website the right way, and we value both your time and the time of your customers.
[go_portfolio id="flex3″ margin_bottom="50px"]