Introduction to Black Hat SEO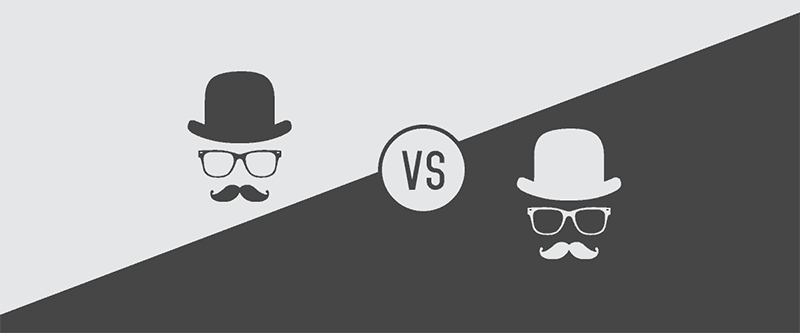 SEO is a huge part of the Internet world. Websites, blogs and e-commerce sites often depend on SEO to make their sites rank well on search engine pages. Search Engine Optimization (SEO) is the term used to describe actions and procedures that can make a site stand a better chance of getting on search engines' first page. As we all know, there are wrong ways and right ways of doing things. Sometimes, site owners and SEO experts use dubious means to make their sites rank high on SERPs. They use methods that are not accepted by search engines, deceiving the search engines to make their sites rank high. This type of SEO is called Black Hat SEO.
While black hat SEO can generate positive SEO results for the sites, sites using dubious unacceptable SEO methods often get penalized by search engines. Hence, the black hat SEO should be avoided. Here are some of the common black hat SEO practices you should avoid.
Keyword Stuffing
This practice involves adding irrelevant keywords in contents, sometimes using too many irrelevant keywords repeatedly such that the content sounds unnatural. Here's a common joke that explains this black hat SEO practice well; "an SEO copywriter walks into a bar, grill, pub, public house, Irish, bartender, drinks, beer, wine, liquor…". We can all agree that this sentence doesn't make any sense.
The key to using keywords in articles is to use them with moderation and have them sync naturally with the rest of the article.
Poor Quality Content
One of the most common SEO errors is publishing low and bad quality content, and it is a black hat SEO practice as well. Poor quality content includes copying contents from another website, plagiarized content, spun content and poorly written content. Some site owners and SEO marketers publish invisible content by using the same color for the webpage background and content. This allows them to stuff irrelevant keywords in the content. Another one is "bait and switch" which is quite common on the internet now. It involves crafting a topic using popular keywords but when users click, they find that the article is not about the topic because it has been switched.
The Google Panda was updated in 2011 to be able to detect poor quality content, therefore, your site can be penalized if you publish poor quality content. Instead of practicing this black hat SEO, publish high-quality content that will help your site rank well on SERPs while providing real value for internet users.
Paid Links
While this might seem like good business practice, according to search engines such as Google, it is not. Google prohibits the buying and selling of links and they penalize both the buyer and seller if caught. Don't pay any site money or give them a product or a free service in exchange for linking your content.
According to Google any attempt at such implies a link scheme intention to manipulate PageRank or the site's ranking in search results. It is, therefore, a violation of Google's Webmaster rules which are contained in the FTC guidelines. Let's assume that you have already paid for links, what do you do? Well, you need to remove the links using Google's Webmasters. Another method is to use a disavow links tool so that Google will ignore the links when calculating your site's Pagerank.
Blog Comments Spam
This involves writing the link to your site in popular sites comment section. It is an unprofessional method of advertising sites and a spammy way to get links. The good news is that Google's algorithm has been improved to fish out and disable such spammy comments with links. However, this practice hasn't stopped so if your site has a comment section, you can enable nofollow by default so that Google doesn't recognize any spammy links in your comments. You can also use Google's reCAPTCHA tool to reduce bots and spam comments.
Link Farms
A link farm is made up of a single website or a group of websites that were created for link building. Each website in a link farm link to a particular website they want to rank high on SERPs, hence, inflating the website's back-links. This is because search engines consider the number of links pointing out to a website one of the factors that determine the website's rank. You should also avoid using link farms to build your site's backlinks because search engines such as Google easily detect sites that use them.
Private Blogs Network (PBN)
Like link farms, private blog network is made up of a group of websites with each linking out to a particular website they want to rank high on SERPs. It differs from link farms in that sites on PBNs are expired authoritative domains, which means that they have passed a level of trust on search engines. SEO experts who practice this black hat SEO buy expired authoritative domains, publish similar contents that the sites used to have on the old sites, and then link each site to the website they are looking to boost for search results.
It is also advisable to avoid using PBNs because search engines easily detect them and invariably penalize sites that are building back-links with them.
Cloaking
This is when site owners or SEO experts show different content to search engines than they show to the users. They show quality content to the search engine so that it passes the search engine crawlers. On the other hand, they show users spammy content that is not valuable to them.
Cloaking can be used for good reasons such as tailoring your web content according to users local address on the internet. For example, showing your web content in different languages according to users' IP countries. However, cloaking should not be used to deceive users nor should it be used to manipulate search engines bots. One way to avoid cloaking is by using the Fetch as Google tool.
Sneaky Redirects
Sneaky redirects are like cloaking, it sends users to a different URL than they clicked while it sends search engine crawlers to another URL. This means the search engine won't see the low domain authority webpage with poor content. On the other hand, users who clicked on a link expecting a particular content won't see the particular content they're expecting because they will be redirected to an irrelevant webpage with irrelevant content.
301 redirect is used to transfer the authority of a webpage to another one and it violates the rules of search engines such as Yandex and Google. Redirects can be used for good reasons but when they're used to deceive search engine crawlers to manipulate search engine results and to deceive internet users then they should be avoided.
Abusing Structured Data
Adding rich snippets and schema to your webpage can improve how the page fares on search engines. For example, Hubspot added review markup to their product pages which generated a 10% increase in clicks to the pages. This is one of the recommended ways of using structures data. However, some site owners add fake data to try to generate the same results as Hubspot. For instance, they can go to a fake website to create 5-star reviews about their products or services and then add it to their page. The intention is to deceive search engines and users and to stand out in search results. It is a bad SEO practice and sites that do this end up getting flagged by search engines.
Use White Hat SEO Practices Instead
Another type of SEO practice to avoid is grey hat SEO. It is not exactly a black hat SEO nor is it a good way of doing SEO although it doesn't necessarily violate search engines rules. However, it is closer to black hat SEO and it should be avoided as well because grey hat SEO practices often eventually become categorized into the list of black hat SEO and you don't want to be caught off guard.
For your SEO practices, a general rule of thumb you can hold onto is to practice only white hat SEO. They are safe, they will help your site build a solid reputation and will be a good source of quality contents for internet users.