Effective Tips Top Marketers Use to Improve Domain Authority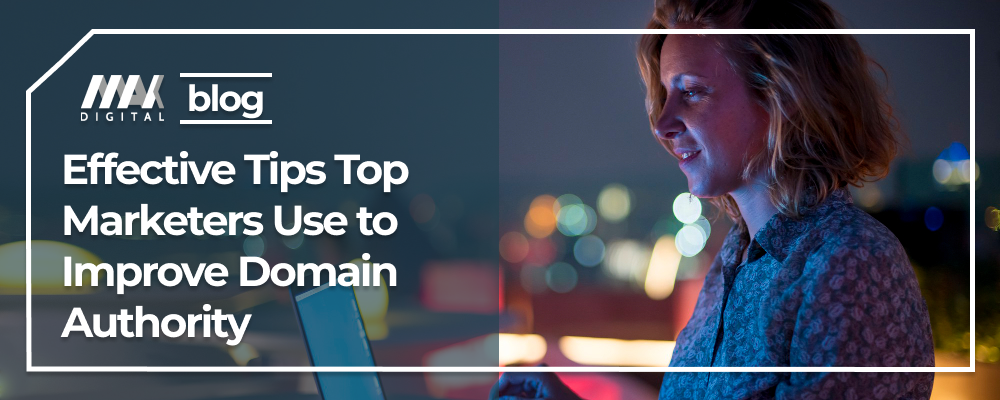 Every website owner dreams of the day their website will rank on Google's first page and other search engine result pages (SERPs). Not only does ranking on the first page of SERPs drives traffic to the website, but it also confirms that the website is an authority in its industry. As a result, website owners and managers put in consistent effort, or outsource to SEO experts and marketers to create a better chance for their website to rank high. While Google doesn't provide any defined method (or a calculator) to help websites determine their chance of ranking, Moz has created a domain authority concept to help websites know where they stand against other websites.
What is Domain Authority?
According to Moz, domain authority (DA) is a score from one to 100 that shows a website's chance of ranking on search engines — it represents the domain or subdomain as a whole. A lower score means a lower chance, and a higher score equals a higher chance of ranking high on SERPs. Moz calculates a domain's authority using data collected from its Link Explorer web index along with other factors and a machine learning model to increase accuracy. A strong factor that can impact your website's DA is the type of external links that link back to your site. The domain authority of reputable websites with high domain authority scores can rub off on your website positively.
Other SEO tools, such as SEMrush have also created similar search engine metrics to help websites determine how they rank on search engines against other websites in their industry.
Your domain authority won't remain the same all the time; it can go down or up, depending on the state of your website against industry standards and other websites. Discover the domain authority score of your website using Moz's tools; MozBar, Link Explorer, Keyword Explorer, and other SEO and digital marketing tools and platforms on the internet. You can check your website's domain authority right now for free here.
Effective Tips to Improve the Domain Authority of Your Website
Mind you, Google doesn't use domain authority, and your domain authority won't directly impact your ranking on SERPs, but it's definitely a proven element that can help you improve your website. That said, practice these five tips to increase the domain authority score of your website over time.
Publish Valuable Content
A surefire way to generate backlinks is by creating and publishing quality content your industry needs — no doubt your industry colleagues who need the content will link to it. You can manage a blog where you address industry concerns, a podcast, or a YouTube channel, as long as you provide relevant resources. Doing this will make your website an authority people can consult when they need valuable information. They will link back to your content, and cause your domain authority to grow.
Review And Update Your Content Regularly
Each page on your website can impact your domain authority, which is why you should audit your web pages and content regularly. You may find unindexed content or obsolete content; ensure to make the necessary updates to make the pages valuable again.
Acquire Quality Backlinks
Engage and build a healthy relationship with the key players in your industry, and partner with them on meaningful projects, so that you can generate quality backlinks. You can always check the domain authority of any URL, whether yours or that of your competitors. Don't be shocked if your attempts to build a relationship or partner with established brands with high domain authority don't work. The same way you want to grow your domain authority, so do websites with high DA scores want to maintain or grow theirs too. They are careful of the links to attach to their websites.
Another way to acquire quality backlinks is by guest posting on their blogs. Many websites with a high DA score will appreciate valuable content, especially if they haven't addressed the topic before. Research the blog section of the websites you are considering to discover possible topics their audience will appreciate but are not published on their websites. Email them with a detailed proposal addressing why they need to address the topic and how you will address the topic in an engaging way.
Don't limit yourself to your industry, you can acquire quality backlinks from any industry. Google doesn't care whether you are getting backlinks from the fashion industry or from the tech industry, what matters is that you generate backlinks from websites with high DA scores.
Audit and Analyse Your Backlinks
Ensure to audit your backlinks regularly. The goal is to generate quality links. It's not a game of numbers, it's a game of quality. That said, analyze your backlinks regularly to ensure they all have a do-follow link to your website. A do-follow link is an element that helps to transfer the DA of the origin website of each backlink to your website. So, don't forget to acquire do-follow links as you generate backlinks.
Pay Attention to Your Competition
Finally, you will learn a lot from paying attention to rival brands in your industry. Check their URLs on SEO tools to see their DA score, and make a list of those with a higher domain score than your website. Some SEO tools will give insights into how websites got their domain authority score; see what you can learn from the data. Take a step further to see whether you can see the backlinks of your rival websites with higher DA scores than your website. If you are successful, do you think you can get the same backlinks or similar backlinks? The logic is, if those backlinks boosted the domain authority of your rival websites, perhaps you can enjoy the same benefits.
Wrapping Up Domain Authority
You can't build your domain authority score overnight because it requires consistent effort. Top websites with DA scores of 70, 80, and more are working continuously to grow and maintain their domain authority. Your website is automatically in competition with those websites too. Well, your website is in competition with every website across the internet for DA, so don't let that discourage you, but don't expect any magical result overnight.