Sustainable Packaging Is A Competitive Advantage in 2021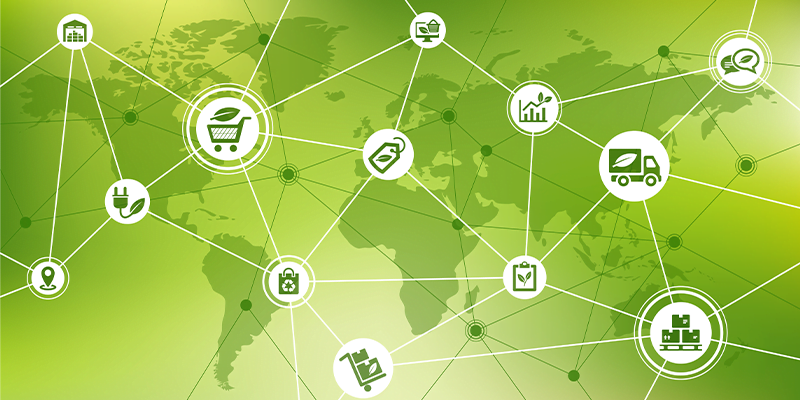 The Competitive Advantage of Sustainable Packaging
The concern for the environment has increased in the last decade, and consumer behavior is shifting towards the philosophy of sustainability. Consumers are doing their part by asking brands to adopt sustainability in their operations, or they will take their money elsewhere. For many manufacturers and merchants, being environmentally responsible may seem difficult because of the packaging methods they are already used to. But sustainable packaging can be cost-effective if you change your mindset on how packaging works and what it means to be environmentally responsible.
According to the Sustainable Packaging Coalition, these are the criteria for packaging must meet to be considered sustainable;
– Is beneficial, safe & healthy for individuals and communities throughout its life cycle
– Meets market criteria for performance and cost
– Is sourced, manufactured, transported, and recycled using renewable energy
– Optimizes the use of renewable or recycled source materials
– Is manufactured using clean production technologies and best practices
– Is made from materials healthy throughout the life cycle
– Is physically designed to optimize materials and energy
– Is effectively recovered and utilized in biological and/or industrial closed-loop cycles
Why Sustainable Packaging?
Humanity has come a long way from the era of the cavemen and survival of the fittest to the capitalist state we are in currently, but a change is gradually coming. We are learning that our actions, whether for industrialization or business purposes or human survival, affect the environment. Therefore, sustainable packaging creates an opportunity for businesses to be responsible and can also help reduce costs.
It is common among businesses to use big packaging even for small products such that there is plenty of space left in the product package. With sustainable packaging, business owners can use packaging to fit the exact size of the product and do the same for shipping products. Smaller product size-fitted packages and parcels reduce space, which means reduced logistics costs. One of the perks of sustainable packaging is that it can give you loyal customers.
Here are some hacks that can help you implement sustainable packaging:
Evaluate Your Current Packaging Method
The first stage is to assess where you currently stand; are your product parcels, boxes, bags, wraps bigger than the product? Is it possible to make the packaging smaller? Can you reduce the number of boxes in the packaging of each product? Make it a goal to use the smallest possible parcel to pack each product and don't overpackage each product with more boxes than the product needs.
Change your packaging designs, shapes, and sizes using software tools such as Tops Pro or Esko's Cape Systems, or any other one you know.
Reuse and Recycle Materials
There are already too many manufactured items in the world, the earlier we all started reusing and recycling items, the better for the environment. Not to mention that a habit of reusing and recycling is also guaranteed to save cost, so start today. Instead of newly produced plastic packaging, use paper, cardboard, bubble wrap, and cartons. You can also use recycled plastic containers.
Plant-based Packaging and Compostable Mailers Are Good Alternatives
As we mentioned already, sustainable packaging doesn't require sophistication as the media suggests. Any business owner can decide to start using sustainable packaging. One of our clients, goodstartpackaging.com is a strong believer in sustainable packaging that is aesthetic, safe for the environment, and budget-friendly. Goodstartpackaging.com uses renewable plant-based materials made from sugarcane, wheat fiber, and corn to make packaging boxes, bags, and more. These packaging materials usually last for 12 months before they decompose.
Reduce Your Use of Plastic Packaging
In case you didn't know, single-use virgin plastic, no matter how small or big, can take up to 1,000 years before biodegrading. Now, think about billions of plastics in the oceans and land yet to decompose. Some have spent decades still undecomposed even. At this point, everyone, including businesses, needs to take drastic steps to reduce their use of plastic. Of course, you can use biodegradable plastic that can break down when you apply heat or light, but because it uses petroleum to burn, the plastic is still non-compostable.
Air pillows made from recycled materials are a good alternative to using virgin plastic altogether. You can also recycle your packaging air pillows.
Make sure to go for natural and decomposable packaging materials first, and use plastic only when necessary.
What To Consider When Looking For Sustainable Packaging Suppliers
Sustainable packaging is gradually becoming popular, so you will find it easy to find online at the least. You should also be able to find recycled materials and sustainable packaging suppliers within your locality. Here are some of the factors to keep in mind when considering suppliers:
– Go with suppliers who use raw natural materials to produce biodegradable packaging materials.
– The supplier should also be committed to replenishing nature so that the natural resources they're using continue to flourish.
– Make sure to ask detailed questions about the materials they're using to manufacture the packaging, the process of producing the packaging, and their commitment to replenishing the environment.
– You need this information to be clear on how truly sustainable the packaging materials are to determine if it is good enough for your idea of sustainability.
– You also have to communicate your sustainability responsibilities to your customers, which means you have to be sure about everything that goes into the making of your packaging.
For example, our client, goodstartpackaging.com has been in the business of preaching sustainable packaging since 2009. They are known for using plant-based farm produce such as corn and sugarcane to make containers and packaging, to reduce the number of plastics in the oceans and the land. For Good Start Packaging, good sustainable packaging suppliers should use less pollution to manufacture sustainable packaging materials and containers.
Over To You
Consumers are more responsible than ever before, and that shouldn't come as a surprise because we have done a lot of damage to the environment. It's time to take some responsibility and have a change of mindset. A change of mindset is all it requires for you to go from using packaging materials that damage the environment to using sustainable materials.
If you found this blog to be an enjoyable read, consider checking out our other blogs!