How to Sell Guns and Firearm Parts Online Legally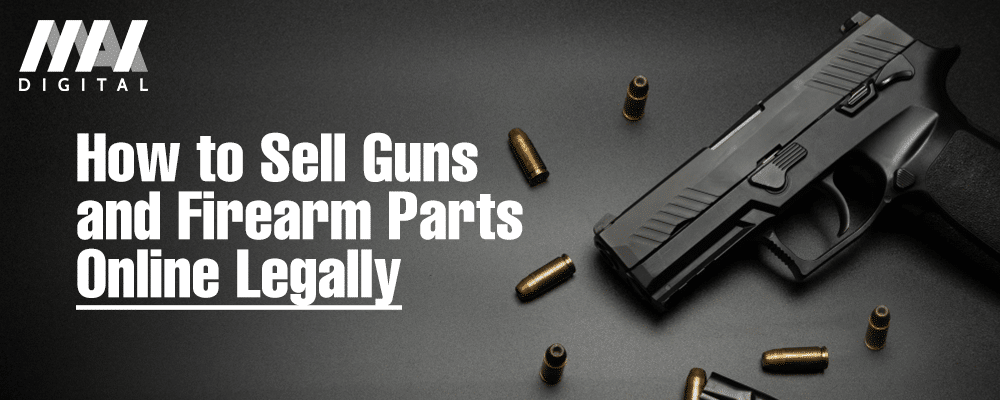 45% of American households own at least one firearm, and the firearm industry contributes over $70 billion to the US economy. Clearly, there's a large market for guns and firearms accessories, but a large percentage of the firearm industry is stuck operating offline. Why? Because the eCommerce space is not very welcoming to the firearm industry in comparison to other industries, and that's no fault of anyone. Guns and firearm accessories are delicate products. Firearm merchants looking to establish a digital storefront must meet legal requirements, find eCommerce tools that support selling firearms, and understand that eCommerce has unique challenges. The good news is, whether you're new or old to the eCommerce space, this article will teach you how to sell guns and firearm parts online legally and excel at it.
Check out what we can do for your firearms related businesses today!
How to Start a Firearm Business Online in 5 Steps
Step 1: Register Your Business
Decide on the name to give your business that represents your brand and vision. Research to be sure that you are choosing a name that is not associated with another firearm business — better if your business name is not associated with any existing business. Once you have a list of names, go to a domain registrar to see which name choices are available. Register a domain name, and register your business with your state.
Step 2: Choose a Business Structure
Every business onsite and online must have a defined business structure, so research business structures and consult a legal professional to decide on a business structure. Review the legal conditions and tax benefits of LLC, S-Corporation, and C-Corporation to determine the most suitable one for your firearm business idea and goal.
Step 3: Define Your Business Model
Before launching your business, think about your financial plan; costs, expenses, salaries, revenues, and profits, and develop a business model. Are you involved in the manufacturing process, or will you be reselling? What partnerships does your business need, partnerships with reliable suppliers and shipping carriers? What firearm niche will be the focus of your online gun business? How will customers receive their orders? Carry out in-depth market research to answer these questions and any other concerns that can impact your business model. Determine how you will operate your firearm business, and create a business plan to help you focus and attract funding.
Step 4: Meet Licensing Requirements
The firearm industry has a few mandatory laws every firearm dealer must meet, whether they are selling onsite or online. The first licensing requirement you must get as a beginner firearm dealer is the Federal Firearms License (FFL). As an eCommerce firearm dealer who wants to sell across state lines, you have to do an FFL transfer. Next, research the local and state firearm laws and policies where you live or operate your online gun business, and follow all relevant licensing requirements.
Step 5: Launch Your Firearm Online Store
Finally, you're ready to launch your online firearm business. This also applies to in-person commercial firearms dealers who want to transition online. Research and choose an eCommerce platform that supports selling guns online. Most eCommerce platforms don't support firearm sales, but BigCommerce, WooCommerce, Magento, and WordPress support firearm sales. Design your online firearm store with modern features that guarantee user-friendliness on desktop and mobile devices and provide a smooth experience.
Tips For Running a Successful eCommerce Firearm Store
Follow Standard Security Protocols
The eCommerce industry is an open field for all kinds of people, including frauds looking to take advantage of the security loopholes in your website. Protect your website and buyers with an SSL or TSL certificate that allows you to encrypt and secure customer data. Use SSL providers, such as Thawte, Symantec, GoDaddy, and RapidSSL. Additionally, ensure that your eCommerce platform, partners, software, and tools all meet standard security compliance.
Invest in Digital Marketing
Onsite firearm businesses can do without marketing because their physical stores already do the work for them. Whereas, online firearm businesses need digital marketing to survive. Digital marketing doesn't have to cost an arm and a leg. You can invest your time and effort in free and budget-friendly digital marketing practices, such as blogging, content creation, SEO, social media, and email marketing. As an online firearm dealer, you must have an open mindset and be willing to learn.
Use a Reliable Payment Processor
It's no news that the firearms industry is high-risk, but you might not know that most payment processors, especially the popular ones, don't support firearm sales. Research reliable payment processors that support the second amendment. If you are unsure whether a payment processor is 2nd amendment-friendly, contact them and ask to avoid getting a termination email after a few weeks or months of accepting payments.
The Customer's Local Laws Apply
As an online firearms dealer, you must learn about the local laws that apply where your customers live. These laws will determine who you can sell to, and the type of firearm they can purchase. For example, customers shopping from Illinois must be at least 21 years to buy a gun. Therefore, even if you operate from a state where 18 years olds can buy a gun, you can't sell to any buyer from Illinois.
Ship to a Local FFL
Even with a customer verification process on your website, there's no way to guarantee that online shoppers are legally fit to buy a firearm. As an eCommerce firearms dealer, you must partner with local FFL dealers and stores and ship to them. They will help you run background checks and verify, for a small fee, whether the customer can legally acquire and own a firearm. It is illegal to ship directly to customers.
Ship With Private Carriers
eCommerce platforms tend to use carriers that are under the US Postal Service (USPS). Most cheap carriers eCommerce businesses use don't support firearms shipping because the USPS restricts the shipping of handguns. Research private carriers that support the 2nd amendment and learn about their specific requirements for shipping firearms. Partner with a few private carriers that operate with an arrangement that aligns with your business.
Create a Return Policy
Provide a detailed process for authorized and unauthorized returns on your website. A return policy assures customers that you are not trying to force them to keep items they don't want, which helps build trust. Your return policy should cover details such as the paperwork buyers must complete and who incurs shipping costs.