10 Ways to Offer Discounts Without Eating Deep into Your Profits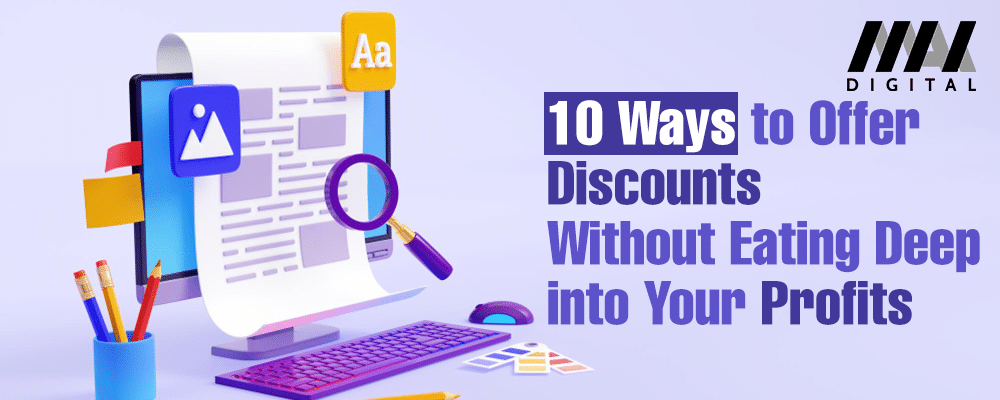 Everyone loves freebies, even billionaires, heck, especially billionaires. That's why they don't pay their taxes, but let's not get carried away. As an online or onsite retailer, you might have heard about how offering discounts can help boost sales. Perhaps, you have offered discounts a few times yourself. But you see how rival and established businesses are killing it, and you wonder when it is your turn to enjoy the numerous benefits of discounts. Look no further. Use these 10 discount ideas to create multiple discounts to enjoy the same and even better opportunities than rival businesses.
10 Discount Ideas You Can Use to Boost Sales
Buy One, Get One Free (BOGO)
A BOGO discount encourages shoppers to buy one or more products from your store to get one or more products of lesser price value for free. BOGO discounts are more effective if the free products complement the products buyers purchase. Buyers complete their purchase feeling like they got more value for their money. For example, if you sell smartphones, you can offer customers tempered glass, phone cases, and headphones for free in return for buying a phone. Offer higher-value products for free as they add more big-ticket products to their order so that big spenders can enjoy a better value than average shoppers.
You can use the old products in your inventory for BOGO discounts.
First-Time Shopper Discounts
Use this discount to welcome and encourage new customers to make their first purchase. Create a popup welcome or a box design on your website with a message urging first-time shoppers to make a purchase to get a percentage off their purchase. You can provide first-time shopper discount codes so that old and new customers can share the code with others. Another way to offer this account is by sending emails telling new customers about the discount. Include a clickable design in the email that will redirect to your website's product page.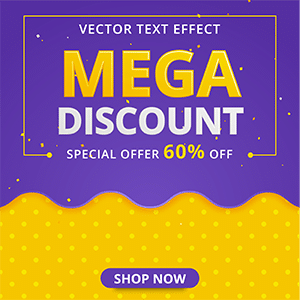 Percentage Discounts
One of the sales methods to offload old stocks is by having sales, and you can offer percentage discounts during sales. The secret about percentage sales is that while buyers generally think they are getting more value for their money, businesses are actually creating an illusion. For example, instead of saying $10 off the price, you can say 30% off the price because it makes it seem like you're offering a lot more than usual.
Use percentage discounts to get shoppers to reach a purchase value milestone before concluding their orders. Create this discount strategy around your average order value (AOV), assuming it's $70. Set three order value milestones, the lowest being a little above your current AOV, say $85, the next being $120, and the highest being $250. Offer three percentage discounts, the lower percentage for the minimum milestone and the highest percentage discount for the highest milestone.
Early-Bird Discounts
Encourage your customers to buy a product immediately after it launches by offering early-bird discounts. Many shoppers are already happy to buy a product immediately after it launches to feel special, so a discount that encourages them is welcome news.
Another way to offer this discount is to reward customers who make early payments for your services.
Abandoned Cart Incentive
The abandoned carts problem is one of the villains every eCommerce merchant has to battle with, no matter how much sales they generate. 60% of eCommerce shoppers abandon their carts because of unforeseen extra costs. Create a strategy to encourage customers to go back to their abandoned carts and complete their purchases. Include a discount based on each buyer's abandoned cart value; a higher order value attracts a higher discount.
Product Bundling
Create a cross-selling strategy and offer varying discounts based on each buyer's order value. Product bundling cross-selling is a sales method that encourages buyers to buy complementary items of varying value and spend more. As buyers add more complementary products to their orders and increase their purchase value, their discount value increases as well.
Bulk Pricing
Bulk pricing discounts encourage shoppers to buy a bulk quantity of a product to activate a discount offer. Start from at least 10 quantities per order to activate the discount, and increase the discount value for higher quantities in an order.
Seasonal Discounts
If you want to thrive during competitive buying seasons during the holidays, you have to offer mouth-watering discounts. Rival and established businesses will offer an ocean of discounts during these seasons, and buyers will even get overwhelmed with shopping. So, create a seasonal discount plan before each season and make your customers anticipate by sending them periodic reminders about the discounts you will offer.
Loyalty Program Discounts
Another villain businesses should be mindful of is complacency. Avoid taking your loyal customers for granted. As you offer new customers first-time shopper discounts, remember to offer your loyal customers discounts they can access through your loyalty program.
CTA Reward Discounts
People need the motivation to do things. For example, we eat because we want to refuel, for pleasure, etc. Offer incentives when asking customers to carry out an action, whether asking them to share your website on social media or asking them to join your email subscription. And when they do, give them discounts they can use within a limited time. Since you got them to carry out an action, chances are you will also get to buy within the given time.
Three Main Reasons Why You Should Offer Discounts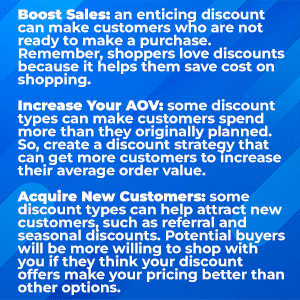 While marketers generally see discounts as investments, business owners tend to see them as a charity, as if they are giving away money with nothing or not enough in return. The truth is that discounts can you different results depending on your discount strategy and execution.
If you create an effective discount strategy to meet a set of business goals and execute them well, businesses can use discounts to:
Boost Sales: an enticing discount can make customers who are not ready to make a purchase. Remember, shoppers love discounts because it helps them save cost on shopping.
Increase Your AOV: some discount types can make customers spend more than they originally planned. So, create a discount strategy that can get more customers to increase their average order value.
Acquire New Customers: some discount types can help attract new customers, such as referral and seasonal discounts. Potential buyers will be more willing to shop with you if they think your discount offers make your pricing better than other options.
Over to You
Remember to research shopper demographics to learn about their interests and use the insights to determine the type of offers that can impress customers based on their interests.