The Rising Popularity of No-Code Apps; Benefits and Negatives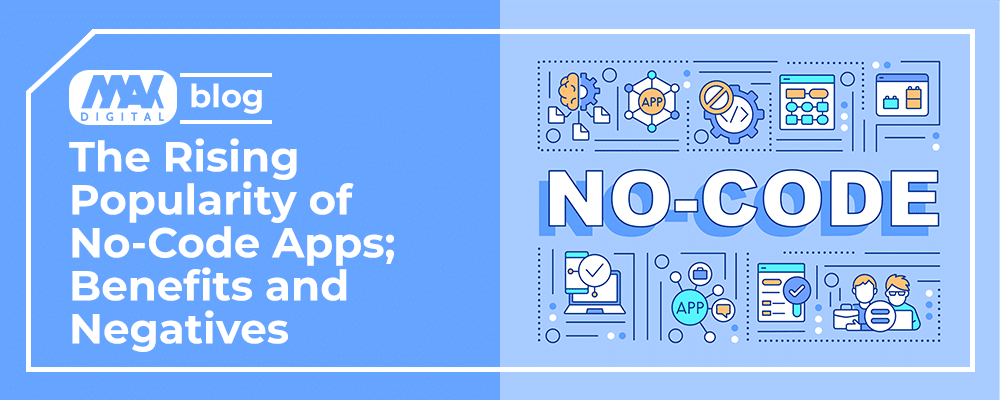 If someone had asked software developers in the 80s and 90s if software development will take a no-code approach in a few decades, they'd probably say yes. Tech professionals and enthusiasts are no skeptics of technological advancement. They saw it coming. Startups are enjoying the benefits of how far software development has come and are building tech products with limited budgets and time. With popular no-code platforms like Webflow, BigCommerce, Wix, and Bubble and the can-do spirit of the new tech generation, custom software development is gradually taking the back seat. This is not to say that custom software development is no longer relevant, but we can't deny the rising popularity of no-code apps. And in this article, we will discuss the pros and cons of no-code to help you decide if it's the right software development approach for your business.
What is No-Code
No-code is a software development approach that allows the creation of software products like a B2B website or B2C eCommerce store with limited code or no code. No-code allows people to drag and drop templates, themes, and other visual elements of a proposed software product instead of writing HTML, CSS, and JS codes or alternatives. No wonder many small businesses and startups prefer no-code to custom software development. They can research no-code platforms, choose the best one for their project, and build a software product with almost no tech skills.
Pros of No-Code
No Coding Knowledge Requirement
While founders and owners are usually idealists with potentially innovative products, many of them don't have enough coding skills to build their products from scratch. Instead of learning multiple programming languages or seeking funds to hire software developers, they can use a no-code platform. Additionally, no-code eliminates regular maintenance coding to fix bugs and glitches after product launch.
Reduced Cost
Software development used to cost an arm and a leg, and custom software development still does, but no-code is budget-friendly. Because it is affordable, new businesses can experiment with business ideas, create minimum viable products (MVPs), and enjoy up to an 80% reduction in development cost. In fact, you might find a free no-code platform to start with before paying for a premium version. No-code also reduces maintenance costs since you will not spend on hiring software developers or outsourcing to software developers for regular code maintenance.
Fast Development Time
Another reason why no-code is gaining prominence fast is because of the fast development timeframe. Today, you are a budding startup founder with a brilliant idea, and a few days later, you have a working product you can launch and show investors. Custom software development takes time because the development team writes proprietary code from scratch. Not to mention the number of tests custom code needs to confirm that it works. No-code platforms already wrote the code you need to install and drag-and-drop — you probably will see only visual templates, not the source code.
Accessible Support and Update
The upgrade and modification of custom software products are generally complex and costly, in addition to the slow timeframe. No-code allows you to upgrade your product with the alternative features provided by the platform. Oftentimes, new feature releases on no-code platforms mean you can easily upgrade or modify your software product within a few minutes. It eliminates the downtime phase that occurs during the time it takes to write code to upgrade or modify a custom software product.
Cons of No-Code
Limited Functionality
One of the reasons custom software development can go on for months is that developers are writing unique code for the specific business model. The code covers specific product features to meet business goals and customer needs with unique solutions. In other words, custom software development allows you to write code for all the functionality your business needs from scratch. On the flip side, no-code doesn't provide brand-specific functionality. No-code is a one-size-fits-all software development approach that applies to businesses in a similar niche or any business model. Therefore, finding the right features to provide brand-specific functionality can be challenging.
Platform Dependent
Another challenge businesses face when using no-code is relying on a third-party entity. You can't make any software development decisions for your business without considering your no-code platform. You'll have to wait until your no-code platform offers new features to add new functionality. And if your no-code platform suddenly changes terms of service or pricing, you can't do anything about it. Although the pricing change may still be more affordable than custom software development, the point is that your business will be at the mercy of an external party.
Lack of Customization
No-code also reduces the freedom to customize your software product with brand designs. Instead, there is a number of pre-installed templates and themes to choose from for your business. Sadly, similar brands will also use the same templates and themes, which removes your chance of standing out in the competition.
Security Risks
The most daunting issue about this software development is the security risks because you have no control over the codebase. Ironically, no-code platforms make the source code public so that businesses can use it to build no-code products, which leaves the code vulnerable to hacking. Cybercriminals are getting bolder by the day. Any loophole in the source code can expose your business and customers to a cyber attack.
Factors to Consider When Choosing a No-Code Platform
In addition to pricing, ease of use, and the onboarding procedure, consider these two factors when choosing a platform.
Vendor support: some businesses have staffed IT departments and still use this type of platform for their open-source product. While businesses with IT departments can fix technical issues as they arise, small businesses have to rely on vendor support from their platform. So, choose a platform with round-the-clock vendor support.
Technological capabilities: define your business model and goals to identify what you want from the platform. Consider the UI/UX capabilities of the proposed software product, data storage, business logic, APIs and integration, hosting, etc. Create a list of must-have technological capabilities for your software product, should-have, and nice-to-have, and use it to decide on a platform.
Over to You
The good thing about using this approach at the initial stage of your business is that it lets you see whether you have a viable business model. You can upgrade to custom software development after raising funds.