Staples to Close 225 Stores; Thanks To the Amazon Effect! Half of Staples Sales Are Online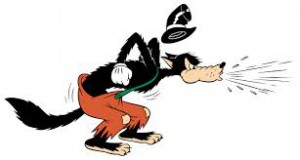 The Big Bad Wolf continues to to huff, and puff and blow down brick and mortar stores. Nowadays, bricks will join the houses of straw and clay from the old fairy tale, not safe at all, thanks to: THE AMAZON EFFECT!
STAPLES, the office supply superstore has recently announced that it would close 225 stores by 2015. That's about 10% of its worldwide presence. It continues to move more of its business online, now half of its total sales. STAPLES disclosed this during its companys Q4 and full year earnings, which notes full years sales figures of $21.1 billion for 2013, working out to $11.5 billion in online sales for the year.
Staples focused on it's online sales to compete against the Amazon giant, but that's not the full story. Overall sales at Stapes were down 13% for the quarter and 5.2% for the full year, partly impacted by 46 stores closing in 2013. This is a part of a bigger trend of stores selling electronics and other goods that continue to feel the pinch. Radio Shack, shortly thereafter, announced it will be closing 1100 stores.
Ron Sargent, Staples' Chairman and CEO, recently announced in a statement "a plan to fundamentally reinvent our company." "With nearly half of our sales generated online today, we're meeting the changing needs of business customer and taking aggressive action to reduce costs and improve efficiency."
Amazon and Walmart will have their domain encroached upon by many others, as is now Staples. E-commerce isn't the complete domain of these two giants anymore, Staples, like many other companies, are working to change that.
Staples claims to sell 500,000 products online now, compared to 100,000 a year ago. It recently acquired Runa, a speciialist in e-commerce personalization technology to help enhance the customer experience on its platform.
Runa, which was based in San Mateo, was Staples first acquisition in Silicon Valley, and became the basis for a new Staples lab, a part of the company's R&D network with additional locations in Seattle and Cambridge.
In improving it's profile as a purveyor of new and shiny things, Staples now sells 3d prints and other gadgets, but it also has developed its own Staples Connect hub in partnership with smart home tech company Zonoff: this is a device, powered by Linksys, that lets consumers connect "smart" products in their home and control them via a single app.
This isn't the first draw of blood between Staples and Amazon. In the past year, Staples butted heads with Amazon by teaming up with Radio Shack in deciding to remove Amazon lockers from their retail stores, after a year-long trial hosting them. Moreover; Staples' co-founder, Thomas Stemberg has been talking about and speaking in any forum he can, about how smaller companies like his could fight back better, specificially against the online behemoth: AMAZON. Stay tuned……
[go_portfolio id="flex3″ margin_bottom="50px"]