Product Search To The In-Store Experience unveiled at Walmart
Search Engine Land
Walmart Brings Product Search To The In-Store Experience

Upgraded mobile app points toward future of brick and mortar retail.
Walmart has updated its android app (and it's iOS app) to offer an improved in-store experience with search at the center. The new Walmart "Search My Store" feature offers a view into the future of in-store app usage.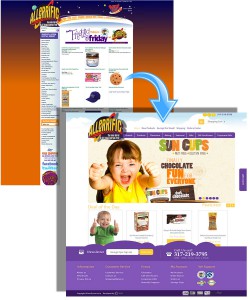 The combination of real time online inventory and indoor location is making possible new types of in store, digitally enhanced experiences for shoppers. Payments and personalization will be added into the mix in the near future.
Mobile is the bridge between the digital and in store worlds. And retailers that get it right will have enormous advantages over pure e-commerce players.
Walmart's search My Store allows in-store shoppers to use keywords or product names to search real time investors, which then returns a list of products pricing and the precise in store location where the products can be found. The company claims in store product search "puts Walmart light years ahead of other brick and mortar retailer apps."
Reportedly the ability to locate and search for products on shelves was a highly requested feature among Walmart app users. Walmart said in an email that "within the first few weeks of launching on Android, more than 99 percent of Walmart stores had been searched by Search my Store."
This feature, if you haven't already noticed the obvious, sets up paid search advertising in the app. We haven't spoken to Walmart about their intentions but it looks like Walmart could start selling ad units in these search results. They could be native or similar to AdWords and appear at the top of results.
I suspect this is written in stone in Walmart's future.
Just think about a query for LED light bulbs. GE or Phillips could buy an ad at the top of those results featuring a brand message or coupon or both. The future effectiveness of such ads could be enormous, especially since this would be a search result and not simply a push notification or display ad. The amount of purchase behavior that may be influenced in the store is limitless. Potentially worth billions of dollars in the US in the aggregate.
Smart retailers like Macy's and Walmart are starting to build new capabilities into their apps that make them effectively shopping assistants for in store experience. Search My Store at Walmart will allow shoppers to find products without seeking out a staff member on the floor for product locations.
Millions in sales are lost annually by brick and mortar retailers simply because people can't find products that are on the shelves. The search data that Walmart will glean from its shoppers will also be valuable to indicate product demand by store and region, and can be factored into operational decisions as well as traditional and digital marketing.
Retailer apps originated as small screen versions of their e-commerce sites. The more enlightened approach offers an in store mode with content offers, lists and product finding features that will boost loyalty and basket size. Beyond executing against the promise of indoor features such as Search My Store the only barrier to success is getting users to download retailer apps.
Walmart's Search My Store will probably influence many other retail giants to introduce similar product search capabilities in their apps as they fight for every competitive advantage available.
[go_portfolio id="flex3″ margin_bottom="50px"]