BigCommerce Merchants Can Now Sell on Pinterest

We're excited to announce that Pinterest now offers Buyable Pins on Pinterest that provide shoppers with the ability to browse and purchase products directly on Pinterest. The feature has already rolled out to all stores in the U.S. and will appear in the control panel when you login to your account.
Using Buyable Pins to Improve Mobile Conversions and Reach Customers
Buyable Pins, that were announced last year, enable more than 100 million monthly active Pinners to purchase eligible products directly from Pinterest's mobile applications providing a seamless checkout experience without the need to leave the app. We've seen Buyable Pins help businesses reach new customers, drive incremental website traffic and even improve mobile conversion rates.
Just like Regular Pins,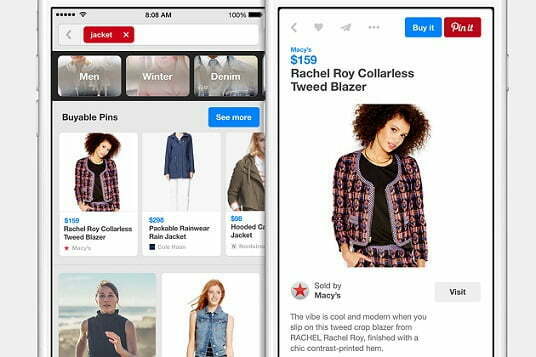 Buyable Pins show up right in Pinners' feeds based on their interests and also include pricing information making them instantly identifiable. Pins with prices get on average 36% more engagement than those without.
Once selected, Pinners have the option to save the product or click the blue 'Buy It' button to purchase in as little as two clicks. Buyable Pins also appear in Pinterest's dedicated Shop section, which you can find by clicking the explore icon, then clicking Shop.
According to a broad survey of consumers in the U.S. conducted by BigCommerce and research firm Kelton Global, 30% of all online shoppers say they would purchase directly on social platforms if given the opportunity. More than 1 in 5 consumers are now following and engaging with brands on Pinterest. According to research, younger shoppers are fond of using Pinterest for both product discovery and shopping.
Using Buyable Pins with BigCommerce
To begin using Buyable Pins, you'll need to connect your store to Pinterest in the BigCommerce control panel using your Pinterest business account. If you don't have a business account, you will either need to create one or convert your existing account. Creating a business account has the added benefit of providing access to other great tools such as Pinterest Analytics and Pinterest's ad product, Promoted Pins.
Once setup is complete, you will be able to send your BigCommerce product catalog to Pinterest along with your listing application. Be sure to note that the application process can take up to a week (five business days).
After your store has been approved, your Pinterest profile will automatically update with a "Shop Pins from" button and existing product Pins will begin appearing blue, showing customers they can now purchase them directly on Pinterest.
Orders that are generated through Pinterest Buyable Pins will appear in the control panel alongside those from your online store (designated by a Pinterest logo), and inventory is synced automatically allowing you to use existing workflows for processing and fulfillment.
Requirements for Buyable Pins
For now, Buyable Pins are only available to merchants selling in the U.S. that meet Pinterest's policies and
advertising guidelines for merchants. You'll also want to review other requirements for Buyable Pins, such as eligible payment gateways (Currently, Buyable Pins are limited to merchants using PayPal powered by Braintree; Support for additional gateways will be added in the coming weeks.