5 Ways Small Businesses to be Competitive in the Facebook News Feed
Small Business Can Still be Competitive with New Facebook Algorithms
There are ways that a small business can still be competitive in the Facebook News Feed.
Facebook harbors a wealth of information that advertisers and brands are dying to get their hands on with their 1.4 billion daily active users all over the world.
Small Businesses Use Facebook to Promote their Brand
Small businesses has been using Facebook as the "go-to" when looking to increase their visibility and brand recognition on a budget. Why? Because Facebook ads are cheap in comparison to traditional advertising. This enables small businesses a way to compete with huge brands in the News Feed.
As a result, Facebook's success has skyrocketed and created its identity as a cheap, effective advertising platform.
Facebook Algorithm Update
However; Facebook has done a recent algorithm update. This update can cause small businesses worry.
In recent months, Facebook has decided to focus more on the interactions between friends and family. As a result, they will show less content from business and brands in the News Feed. Thereby, making the stakes much higher.
So be prepared to pay more for ads. This is a foregone conclusion.
This drives home the fact that SMB's need to create more engaging content. It also translates to the fact that the price of prime New Feed real estate is going to go up. Expect to pay more for ads in the coming weeks.
Facebook Announcement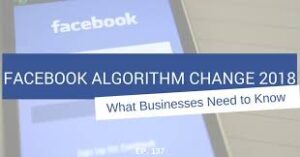 According to Facebook: "The impact will vary from Page to Page, driven by factors including the type of content they produce and how people interact with it. Pages making posts that people generally don't react to or comment on could see the biggest decreases in distribution. Pages who posts prompt conversations between friends will see less of an effect."
Wow! We thought we had this thing down to a science and Facebook throws a monkey wrench in our marketing plans. But, there are still some ways small businesses can compete in the News Feed with this algorithm change.
Share engaging real content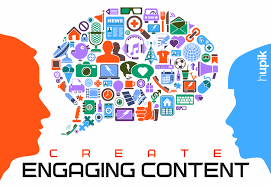 Content Matters!
Content that looks natural and feels authentic, is the best kind of content you can post on Facebook. Actual photos of real people and videos of people doing real things, in real places, is what drives conversions. So why does this matter?
It means user generated content is going to be your saving grace. Shoppers want to see these types of videos and photos. It is also what beckons them to react to the post or even shop your store.
This means your content has to be good enough to garner those engagement events since Facebook is ranking content based on how many reactions and comments it gets. Collect user generated content from your customers. You can use that content in your big campaigns.
Increase Your Budget
You cannot make any more excuses. You must increase your budget! This is a must in order to learn the ins and outs of Facebook Ads Manager. You must dig deeper and promote your best content to highly targeted audiences. This ensures your ad dollars are being effectively utilized.
Focus on your local angle.
Another change that Facebook has announced is that is would be prioritizing to local news and content from publishers. Therefore; if you have a brick and mortar location, this will be a new opportunity to try to get involved in local events. You will be able to promote local new mentions on your Facebook feed to our businesses geographic area. This may help your content get more local engagement. Thereby benefiting your overall Page reach and engagement.
Embrace going Live!
You may hate being in front of the camera, however; it's time to start thinking about live streaming. Facebook Live is ideal for showcasing the behind-the-scenes clips of your business. You can use it to introduce new products as well as hold contests. It can be used to even host discussions with your followers.
It allows you to also showcase the behind-the-scenes clips of your business using Facebook Live. Facebook Live is ideal for this as well as introducing new products. Because Facebook tends rank its newest tools, especially video, higher in the News Feed, going Live is a great way to get in front of your audience and engage with them without wasting money.
Consider starting a Facebook Group
Mark Zuckerberg, the brains behind Facebook, has decided to push users to participate in more meaningful dialogue through building communities. Since Facebook allows businesses to create communities, there is never been a better time to start one to engage with your customers.
Try to invite customers, followers and like-minded individuals to join your group to talk with them about a topic that relates to your business.
A perfect example would be if a business that sells organic baby clothes could create a group for moms that want to know more about organic products recommended for their kids. Now there's a great idea!
You can increase your engagement by starting a conversation, while growing your audience at the same time. This will help boost sales.