5 Simple Steps to Turn Holiday Returns into New Year Revenue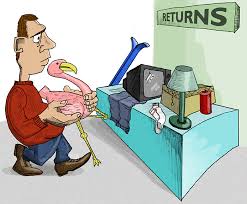 "Tis the season of those dreaded holiday returns." In fact, some estimates say that up to one third of all online holiday purchases are returned by shoppers in the following month. So, as a store owner, you have two operations: are you going to let your business lose sales or are you going to turn those return into revenue generations for your online store?
The manner in which you handle returns, whether they are over the phone or via email, is a huge opportunity and can go one of tow ways: 1) boost sales and create a loyal customer who advocates for your business on your behalf or 2/poor fuel on what is likely a pretty hot and vocal customer, and then reap the aftermath of their wrath.
"Roughly 95% of customer will buy again once they've experienced a positive return from a brand.
Roughly 95% of customer will buy again once they've experienced a positive return" Your website helps to begin this process by utilizing a returns FAQs page and an easy and obvious Contact Us option that helps guide customers down an action funnel. For example, Gina King, brand manager of online store Veppocig, prepared a standard set of frequently asked questions regarding her store's returns and exchanges process. Doing so helped to alleviate call and email volume, and helped to keep the conversations that couldn't be answered with an FAQ page more focused on the specific problem itself.
Once you have your online return information ready to go, you'll need to get a plan of action in place for more difficult exchanges. This week, in our #SellMore video series, we'll be diving into the processes, best practices and actionable takeaways many online stores implement during the holiday return rush to generate a green revenue stream and kick off a new year.
[go_portfolio id="flex3″ margin_bottom="50px"]