BigCommerce Blueprint VS Stencil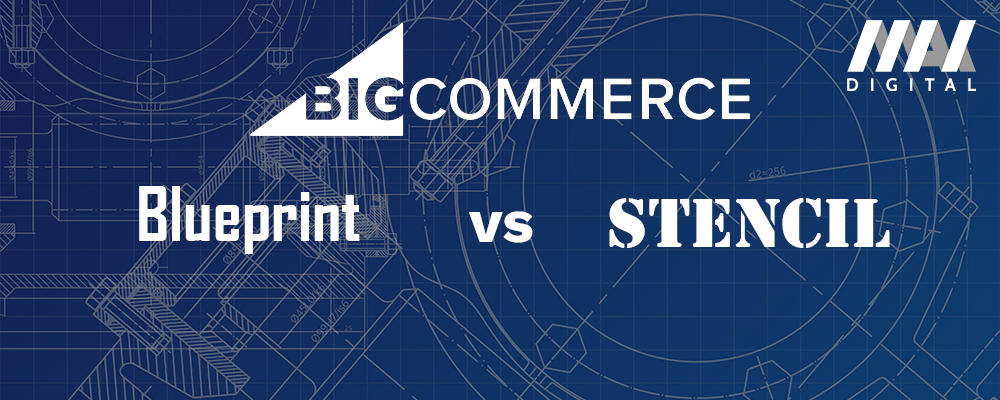 BigCommerce has two main store theme frameworks, BigCommerce Blueprint and BigCommerce Stencil. Whether you're an old or new BigCommerce user, you've probably come across both frameworks. Blueprint is a BigCommerce legacy theme framework because it has been around for longer, while Stencil was released in 2016. However, businesses have started switching from Blueprint to Stencil. Why are businesses switching to BigCommerce Stencil, and why should you consider upgrading your website with BigCommerce Stencil?
Why Switch From The Legacy Blueprint Framework to the Stencil Framework
Blueprint lets businesses create a custom design structure for their eCommerce store using HTML and CSS. Users can customize page colors and fonts in the Style Editor of the Blueprint framework. But they have to edit the template files to do complex customizations such as adding 3rd-party scripts and making payment icons display in the footer, which may require coding. Blueprint framework was built on a proprietary codebase that makes it hard to modify or widen its functionality, and has limited features. BigCommerce storefronts that still use Blueprint will deal with slow loading times, mobile incompatibility, complex lines of code, and other issues you can avoid using Stencil.
Although Blueprint lets your website work with low resolutions on mobile devices and old desktops, your website may not be compatible with the high resolution on the high-end devices available these days. We can go on and on about how Blueprint has only 58 theme variations, unlike Stencil which has 160 theme variations and other drawbacks, but the point is that the Blueprint framework is outdated. And that's why BigCommerce released Stencil to meet current eCommerce standards.
BigCommerce Stencil makes it easier for businesses to create custom designs for their BigCommerce storefronts. Stencil is built on a non-proprietary codebase. You can do most of your customizations regardless of their complexity in the Page Builder without any coding. Stencil offers 21 themes with over 83 variations that meet the latest design, technology, and SEO standards. Stencil also improves customer experience by increasing the loading speed of the web store and providing other optimal functionalities that are lacking on Blueprint.
Benefits of Stencil Framework
Let's talk more about the benefits of using BigCommerce Stencil. These features are only available in the Stencil framework, not in the Blueprint framework.
Stencil Makes It Easy for Developers to Work on Your Website
BigCommerce is an open-source platform, so it makes sense that the Stencil framework makes it easier for developers to edit, develop and redesign sites. Using CSS preprocessors, developers can code fast using abbreviations.
Stencil has a BrowserSync preview feature that lets developers view changes they make on the storefront on any device in real-time. They can make necessary edits that will reflect on the relevant device and avoid making edits for mobile that affects desktop view or vice versa.
Stencil also lets developers use a command-line interface (CLI) to view, test, develop, and update locally without affecting the live website. Another reason BigCommerce Stencil is developer-friendly is that developers can do a lot of work on their storefronts without messing with the production version.
Stencil Will Make Your Site Mobile-Friendly
It's old news that about half of internet activity happens on mobile devices. Businesses today are always trying to optimize their sites to provide a robust mobile experience; mobile devices in 2022 are more advanced than five years ago. Hence, the goal isn't just to make your storefront mobile-friendly but be mobile-responsive on low-end and high-end mobile devices.
That said, the Stencil framework supports Google's AMP, which will give your site fast load times and optimized mobile responsiveness. The attention span of Internet users is on a decline. So you have to seize any chance you get with them by avoiding slow load times and reducing your bounce rates. Stencil also has its native accelerated mobile page (AMP) on Cornerstone to give sites fast page speed and a robust mobile experience.
Stencil framework also has Akamai Image Manager, an automatic image optimization feature that modifies the size/type/format/resolution of images on your site to match the client-side. Simply put, the feature resizes the published images on your site to make them compatible with whatever device your site visitors use. Besides the chance to improve your site load times by 70%, this feature will give you the freedom to use high-quality images without worrying about devices that are compatible with high-resolution.
Stencil is Better for SEO
The features we highlighted in this article about the Stencil framework will improve your SEO, mobile optimization, image optimization, fast load times, etc. But there's more. Stencil support search engine rich snippets, and you know how rich snippets are effective for SEO these days.
Additionally, stencil themes support localization, which allows you to translate your eCommerce storefront to any language to target customers in different language regions. Using the predefined schema, you can make other customizations on your storefront stencil theme using the predefined schema, such as colors, fonts, etc.
Stencil Cornerstone Will Ensure that You Always Have Latest Industry Features
Unlike BigCommerce Blueprint, which is now outdated, the stencil framework will not be going obsolete anytime soon. BigCommerce updates Stencil with necessary upgrades and new features to meet users' needs. For example, Stencil didn't support Apple Pay or Google AMP before, but both are now available on Stencil because BigCommerce updates Cornerstone regularly to introduce newer and better functionalities to meet market demands.
Over To You
There's no better time than now to upgrade your eCommerce store by switching to BigCommerce Stencil. And you can depend on Mak Digital Design to help you migrate your eCommerce store from Blueprint to Stencil without hassle. We are a trusted BigCommerce partner and have helped many clients upgrade the ever-modern BigCommerce Stencil framework.