Why Custom Web Development Is the Right Approach For Businesses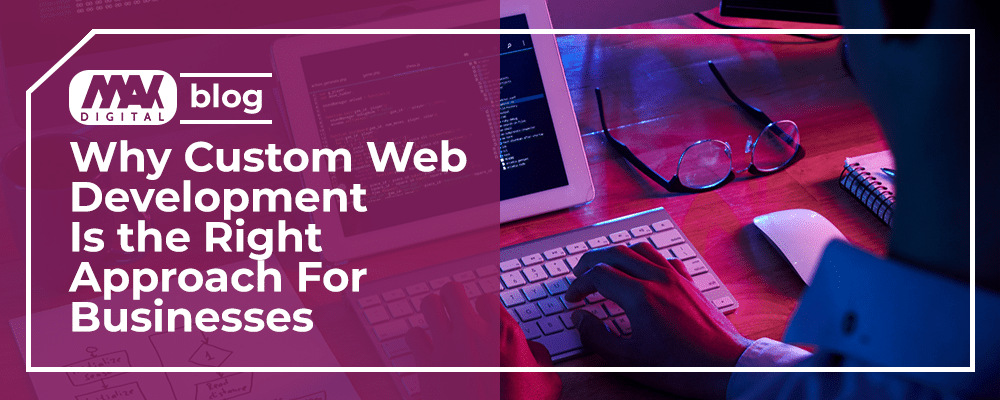 In the last few years, startups have had to choose between no/low-code and full-code for web development. Low/no-code is the complete lack of or limited use of code for web app and website development, and full-code is similar to the traditional use of code. The rise of no/low-code websites and web apps shows businesses can avoid the arduous journey of custom web development and still have a functional website. People are beginning to ask why use custom web development if website builders can do the same job faster and cheaper. But if you ask any web developer today, they will tell you that custom web development trumps building your website with website builders. Are you planning to launch a website or web app and are unsure what approach to take? Let's discuss why custom web development is the right approach for businesses.
What is Custom Web Development?
Custom web development is the process of building a website or web app from scratch with proprietary source code. Custom web development allows you to build a website or web app tailored to your brand's unique needs.
What Are the Benefits of Custom Web Development?
Improved Website Security
Security is one of your top priorities as a business owner. You want to protect customer data from prying eyes, be in the good book of Google and other search engines, and avoid lawsuits. Sure, you will find no/low-code website builders promising standard website security, but the only way to guarantee website security is by using custom web development.
Web developers build custom websites with proprietary source code which is only accessible by permissioned parties. On the flip side, no-code website builders share their code with customers, making the code accessible to the public, including cybercriminals who can cause data breaches. Web developers also build custom websites from scratch following standard security measures, for example, installing a security socket layer (SSL). Since you will host your custom website on a hosting provider of your choosing, you can rest assured that the hosting provider will improve their server security periodically.
Flexibility and Scalability
Web developers leave room for future changes when building custom websites. The code is flexible and scalable, allowing businesses to modify their websites to add new functionalities as they see fit. You can continually change or upgrade your website to keep up with the ever-changing digital world. Custom web development gives you complete control over your website code and architecture, enabling your website to grow as your business grows.
Building your website with a web builder leaves you stuck with whatever templates the web builder provides. Although website builders can provide changes periodically, they will not be enough to restructure your website's architecture. Not to mention that you have to wait for a website builder before you can take any decision towards improving and restructuring your website.
Optimized Functionality
With no/low-code website builders, you will get whatever features and functionalities they offer. While you can tweak open-source CMS functionalities to make them more fitting for your unique needs, they come with unnecessary complications.
Since custom web development takes account of your unique business needs, your website will have in-built functionality and features that address those needs. Custom website development allows you to integrate vital features like POS software and CRM system, connect an internal stock-keeping tool, and optimize them according to your website needs. And remember, you can always change or upgrade a custom website to further optimize its functionality.
Better User Experience
Instead of going through hundreds of website templates and design themes to find the best one to provide a smooth user experience, build a custom website. Website builders may never have the accurate design themes that will create a welcoming environment for your customers because of other factors. For example, a website builder with a suitable design theme may not provide good security and vice versa. But developing a custom website from scratch will incorporate insights about your customer base, allowing you to include necessary elements that will guarantee a smooth user experience.
Best for Building Complex Websites
If you are planning to launch a complex website, perhaps a B2C or B2B eCommerce store, website builders will not suffice. There are not powerful enough templates to manage the traffic load, transactions, and technological complexities of eCommerce stores. Not to mention other complex websites such as forums, social networks, and trading sites.
Before looking for a website builder, be sure that your business model is not too complex for a template-based approach. Custom web development supports custom integrations, plugins, and third-party APIs, making it the right approach for a complex website.
Faster Loading Times
Studies show that the average internet user spends five seconds on a website to decide whether they should stay on or leave the website. Additionally, Google uses bounce rate as a factor to award search engine ranking. So, if you want success for your website, you must take the attention span of your target audience seriously and create an environment that encourages them to stay.
Website builders and CMS tools load up many in-built functionalities in their templates and themes to target different types of businesses. Now, that's great because businesses in different niches can find something to their needs. But the remaining functionalities are obstacles to your website speed. The good news is that building a custom website with specific in-built elements and functionalities eliminates obstacles that can reduce your website speed.
Improved SEO Support
Every eCommerce business follows SEO practices to give their website a fighting chance to rank on search engines. Ranking on search engines offers numerous opportunities, such as increased reach, traffic, and sales, and a higher domain authority score. However, many businesses don't know that Google favors custom websites over websites that were developed with a website builder. Why? Because custom websites generally have better quality — enhanced speed, optimized functionality, a smooth user experience, and heightened website security. These are factors Google measures to reward or flag websites depending on performance.
Bottomline
Using a no-code website builder to develop your website is no doubt a faster and budget-friendly approach that doesn't require you to be tech-savvy, but it has no long-term advantage.