What is the Impact of a Poorly Designed Website on Your eCommerce Business?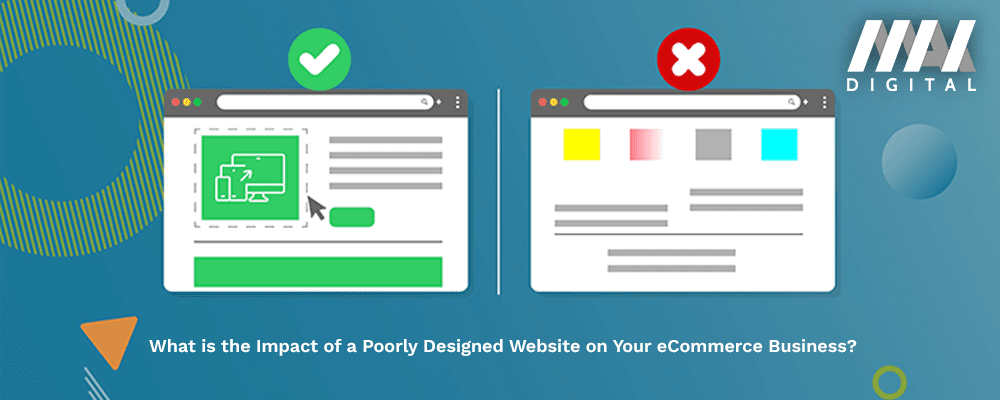 Many elements contribute to the success of eCommerce businesses; market trends, changing consumer behavior, implemented marketing strategies, etc. But one element eCommerce business owners often overlook is their website design. We see eCommerce businesses that provide top-notch products and services at the best prices with poorly designed websites, yet they wonder why only a tiny percentage of their traffic converts. If your website drives huge traffic numbers but your conversion rate is ridiculously lower in comparison, we have good and bad news for you. The good news is that your marketing strategies are effective, but the bad news is that you have a bad website design.
How can you tell if you have a bad website design, what is the impact on your eCommerce business, and what can you do about it?
How To Know If Your eCommerce Website is Poorly Designed
Nothing beats watching your actual target audience use your eCommerce website to see their reaction. You will know everything about your website design and more. If you can't reach any of your customers, take advantage of your friends and family, ask them to use your website, and give honest reviews about their experience.
As experts in the industry, we can't namedrop the exact features and elements on your eCommerce website that are poorly designed because that requires a proper inspection. But we can tell you the challenges your target audience might face that suggest you have a bad website design.
5 Issues Buyers Experience When Using a Poorly Designed Website
They Have Problems Navigating: if your eCommerce website visitors struggle with navigating your website, perhaps they can't see the search button, search filter, FAQ page, customer support page, or worse, your product page, you have a bad website design. To you, your eCommerce website may appear beautiful, easy to use, and clear to anyone, young or old, but you might be experiencing an ownership bias.
Your Website Loads Slowly: you can probably tell if your eCommerce website is slow or fast, but you can confirm by asking people to use different types of devices to load multiple pages on your website. The goal is to determine whether the speed changes depending on the device the visitor uses and if broadband width affects its speed. If your eCommerce website loads slowly on some devices, you have a bad website design.
Your eCommerce Website Doesn't Respond Well on Mobile: if your target audience struggles with using your website on their mobile devices, you have a bad website design. Your website should be adaptive on high-end mobile and desktop devices and low-end mobile and desktop devices. And it should respond well on all operating systems, otherwise, you need to improve your website design.
Visitors Find the Colors and Fonts Uncomfortable: hobbyist website owners can experiment with colors and fonts and put any extra elements on their website, but you don't have that freedom to go crazy with your eCommerce website. So, if your website colors and fonts make your target audience uncomfortable or confuse them, that's a bad design. Your eCommerce website font and color should be clear, moderately bright, and legible for everyone to see and read — even people who are color-blind should be able to use your website.
Your Target Audience Can't Find Relevant Information: This is a loaded challenge visitors face when using a poorly designed website because it can be caused by at least one of many possible issues. For example, if you have broken links, a user might click one of the broken links expecting to be redirected to another page, but they receive error 404, error 403, error 410, error 301, or any other broken links error code. Other reasons:
Poorly written content
Obsolete content
Crammed up web pages
Poor product description
False advertisement — yes, if your PPC ad talks about one thing, but upon clicking the link, it redirects to a page about something different, that's a bad design.
These are only a handful of challenges people experience when using a poorly designed website. A technical website audit can help you discover specific poor design elements on your website. If you think you can overlook your poor website design, that decision can put you out of business.
How Does a Bad Website Design Affect Your eCommerce Business
Of all the possible impacts a poor website design can have on your eCommerce business, these three can put you out of business.
A Bad Website Design Trumps Your Marketing Efforts
Google, the number one search engine, favors websites with fast load speed, low bounce rates, and that are mobile-responsive. If a poor website design makes your website slow, unresponsive on mobile devices, or causes high bounce rates, Google crawlers will penalize your website in some way. Hence, a poor website design might stop your website from ranking on search engine result pages (SERPs).
A Jab at Your Credibility
After implementing a few marketing strategies hoping to attract your target audience, a poor website design can convince them that you are not trustworthy. Think about it. Imagine you find a nice restaurant on Google maps and decide to visit, but you find overfull trash boxes littered everywhere, blocking the front door, and the stench chokes you as you walk in. Will you eat there? When your target audience visits your website, they want to see a sign of professionalism in its design. As vain as it may sound, aesthetics can impact your eCommerce business positively, so don't joke with it.
Low Conversion Rate
We highlighted five issues buyers experience when using a poorly designed website, but we didn't tell you how your target audience might respond. Buyers typically bounce upon experiencing a slight inconvenience, aka, poor user experience. For one, the average internet user expects a web page to load in three seconds or less else they might leave. It's one of the reasons you see increased website traffic in response to your marketing efforts, but most don't end up buying, joining your email list, or carrying out any action in your CTA.
Finally, if you think your eCommerce website is poorly designed, you are probably right. But the only way to confirm is by conducting a technical website audit. A website audit will let you know whether you can make a few modifications to fix your website design or if you need to create a new website design from scratch.