eCommerce Website Essentials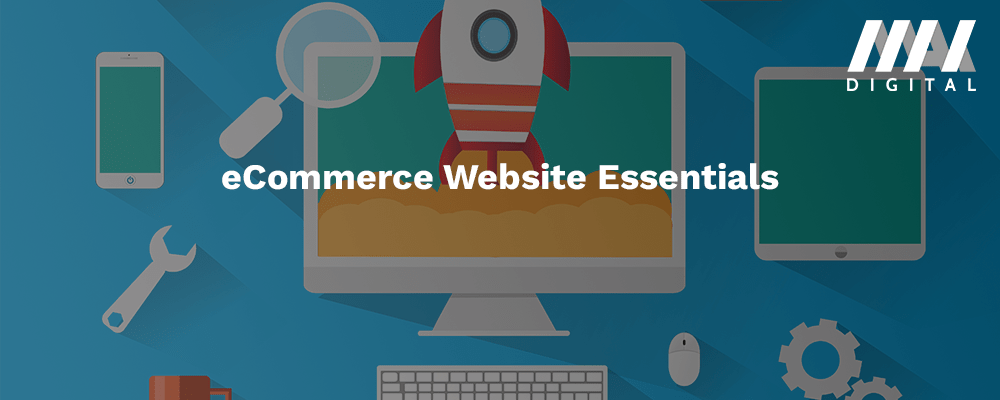 If the 2010's taught us anything it is that eCommerce is consistently reaching new heights. Offering lucrative opportunities makes now the best time to transition into the space. According to Statista, more than 230 million buyers now shop online in the US alone. However, the eCommerce industry has many unique challenges that can hold businesses back. Here are some eCommerce website essentials we deem necessary for success.
Six eCommerce Website Essentials
Security
You do not want to be running a compromising eCommerce website. The public will not trust you and you will most likely get into trouble with the law. The least you can do as you build your site is to add necessary security measures to gain the trust of potential customers when they visit your website. Your eCommerce website should give them a level of security and safety that will make them comfortably share their sensitive data with you. When customers see terms like "Your connection is not private" or "Not secure", sharing sensitive data is already out of the question. They usually do not want to remain on the site for another moment.
In addition to not being secure, poor security measures in an eCommerce website suggest that the business is illegitimate and unprofessional. Most potential customers will conclude on not engaging such eCommerce website any further.
Here are the necessary security measures you should add to your eCommerce website to increase security.
-Install an SSL certificate
-Enable 2-factor authentication
-Have a privacy policy page
-Have a refund and return policy page
FAQ Section
Customers will always have concerns whether they are shopping online or offline. Offline, customers can ask any staff about their concerns, but this is almost impossible with eCommerce shopping. In place of direct access to staff, provide a frequently asked questions section. This should answer all the common questions potential customers have about your products, services, and brand.
A buyer that is reading the FAQs on your website is closer to making a purchase, and a detailed FAQ section can help them decide quickly in your favor. Hence, make sure the FAQs provide the needed clarification.
If you don't know the concerns to address on your FAQ page, go through your email boxes and support ticket to note the recurring inquiries. You can also check rival brands' FAQs. No better way to know your customers' concerns than to hear from them directly. Go through your social media pages to note the issues customers keep talking about, and you can also initiate conversations about their concerns.
Your FAQ section will only benefit your customers if they can access it. That means you have to write it in simple terms and avoid unnecessary complications. Lastly, make sure that customers can open the FAQ section from any page on your website.
Display Related Items
Sometimes when someone visits an eCommerce site, they have no plan to buy anything because they probably came to window-shop, read reviews, and whatnot. Even though these visitors are not ready to make a purchase, they still offer an opportunity for you to sell to them. You can cross-sell to them by displaying related and similar products to the ones they are engaging on your eCommerce site. The pictures and prices of the products can trigger their impulse buying instinct or remind them to buy a product they need or want.
Many giant eCommerce sites practice this; Amazon is a good example. Avoid displaying only products within the same price range. You want to increase the chance of getting them to make a purchase, so the more affordable, the better. If they are window-shopping and can't afford a product they want yet, at least they can buy a related product that is cheaper.
Blogging
Ads have become more expensive in the last two years because of the surge of new eCommerce of businesses, and this year is the beginning of increased data privacy. Henceforth, eCommerce businesses will have to do more to reach their target audience. In all of this, blogging remains accessible, and it's possibly the most affordable way to reach your target audience without using third-party data.
Blogging is beneficial in many ways if you consistently publish high-quality articles that can add value to your target audience. Blogging can boost your website's domain authority, create awareness, and get your website on Google's snippet section, among others.
If you haven't been blogging, today is the best time to start. Thankfully, you don't have to write your blog posts by yourself. You can always outsource to content writers or hire a content writer.
User-Generated Reviews
When buying items in-store, you can see, touch, and perhaps try out the products before paying. You decide whether the quality of the product is good enough. But when shopping online, there's only so much a buyer can do to confirm the quality of an item before receiving it. As a result, customers rely on reviews from other customers who have bought and used the products.
According to a report by Econsultancy, 63% of buyers are more likely to buy from a website if it has customer reviews. You can use user-generated reviews to generate more sales by placing reviews where customers can easily find them.
It is common for buyers to be reluctant to share their reviews, but you can encourage them by letting them know that you want honest opinions and will improve your services where lacking. Word of mouth marketing remains the best kind, so take advantage of user-generated reviews to give your potential buyers that experience.
Search Bar
The search bar is an essential element every eCommerce website needs. There's no alternative for the search bar. Buyers should be able to search for items, categories, features and filter products easily. Make the search bar visible on all your web pages so that buyers can conveniently search for items from any page.
Over To You
This is not an exhaustive list, rather, these are six features that newbies in the eCommerce industry often lose track of when launching an eCommerce site. Let this article serve as a guide or a reminder to create a thorough eCommerce website for your business.