10 Key Features of a Good Product Page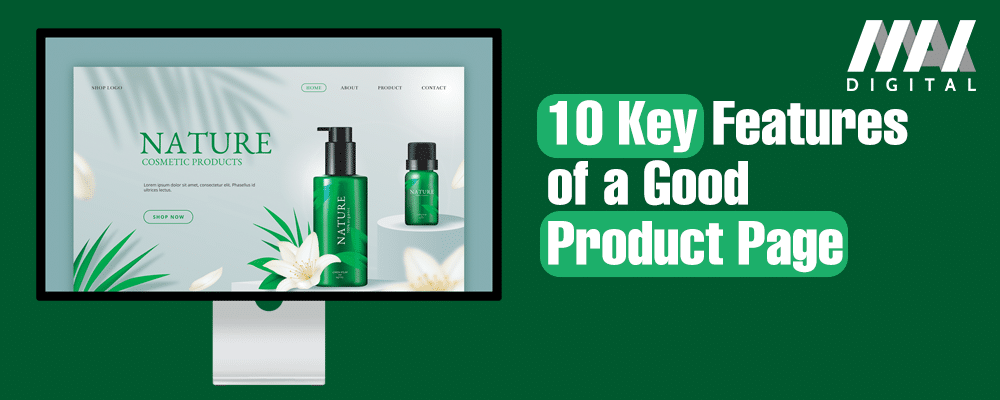 Of all the factors that contribute to the success of eCommerce stores, the product page is arguably the one that matters the most. Regardless of pricing, customer service, and marketing, if buyers land on a product page with a disappointing design, they will be discouraged. Except they are your family and friends, there's no reason to endure a poorly designed product page when they can get the product from rival brands with better product pages.
Let's discuss 10 key features a product page must have to provide a smooth shopping experience.
Descriptive Title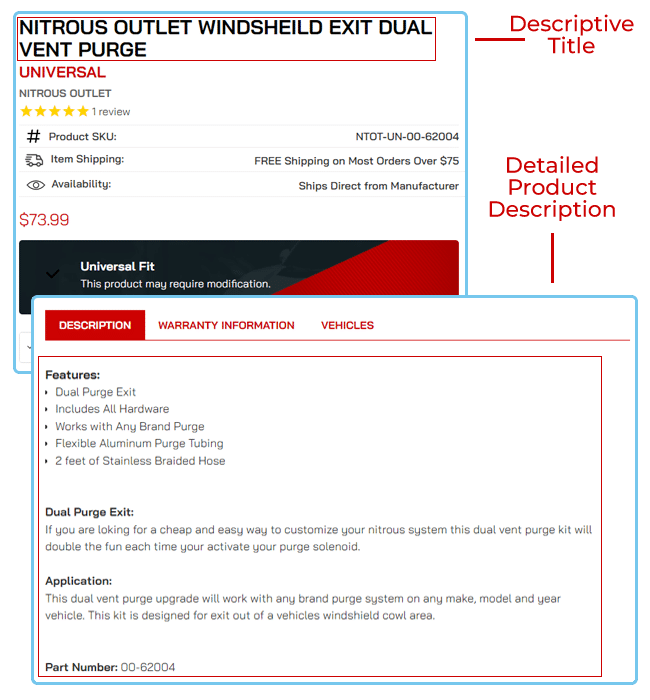 Give each product page a descriptive title that matches the product on the page and informs potential buyers about the product. For example, if you want to add a corset-back maxi dress to your product catalog on your online store, the product page title should include "corset-back maxi dress." That way, buyers know what they are getting as soon as they see the title, and the descriptive title can also serve marketing purposes. Buyers who google the keywords "corset back maxi dress" are likely to find your product because of the title.
Use the product attributes, such as size, color, and other significant elements buyers associate the product with, to coin descriptive titles for each product.
Detailed Product Description
The product description copy gives you an opportunity to sell the product, so always include a detailed product description on each product page. Explain how the product works and how buyers or the end user can use the product using catchy and engaging words and phrases. While the product description should have detailed information about the product, avoid using excess words that don't have any marketing impact.
You can use a journalistic approach to write product descriptions by answering these six questions; what, who, why, when, where, and how. Take it further and write a creative story with the product description.
High-quality Visuals
Be professional with product photography and use high-resolution images with a white, neutral, or off-white background. You can use a smartphone with a good camera if you don't have the budget for a product photographer. Get multiple angles of the product and its packaging; front or top, back or bottom, sides, zoomed in and zoomed out. You can also include a gif or video of the product to show more depth about the product.
Remember, not all buyers will visit your product page with a high-end device that can access heavy high-quality media. Ensure to make your product images and videos accessible on different types of devices.
Product Options and Features or Specifications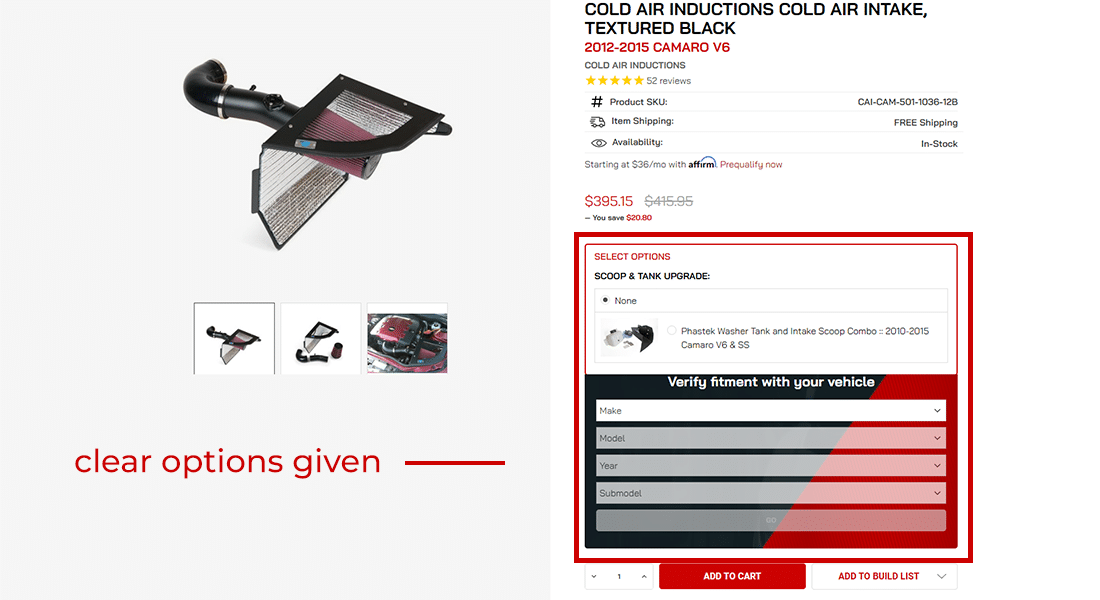 Have a product features or specifications section on the product page to write the facts and figures of the product features or specifications. There's no need to be creative here. List the technical product details, such as model, version, color, etc., informing buyers of the available product options. Always include details of the packaging and items in the box with the product. For example, a smartphone specifications section might have the following in the features section;
Available in blue, black, and white
Storage sizes of 128GB, 256GB
12-mega pixels camera
8000mAh battery
5G support
20 Watts charger
This section also has a marketing advantage by highlighting new features buyers are anticipating.
Product Availability
Always give buyers an idea of how many quantities of the product is up for grab by adding a small section addressing the product availability. You can state the exact number of available products or use a vague term like "running low." Adding product availability will create a sense of urgency that can motivate buyers to buy right away before the stock runs out. Also, use this section to inform buyers of any limited offers applicable to the product stating when the offer will run out. You can add a digital time design to indicate seconds ticking away like a countdown.
Price
State the retail price of each product and include other related charges, such as VAT, so that buyers know what they are paying upfront. If you are running a sale, offering deals, or buyers apply any coupon code, cross out the original retail price, and put the new applicable price. Include a "request price" button for products with custom pricing.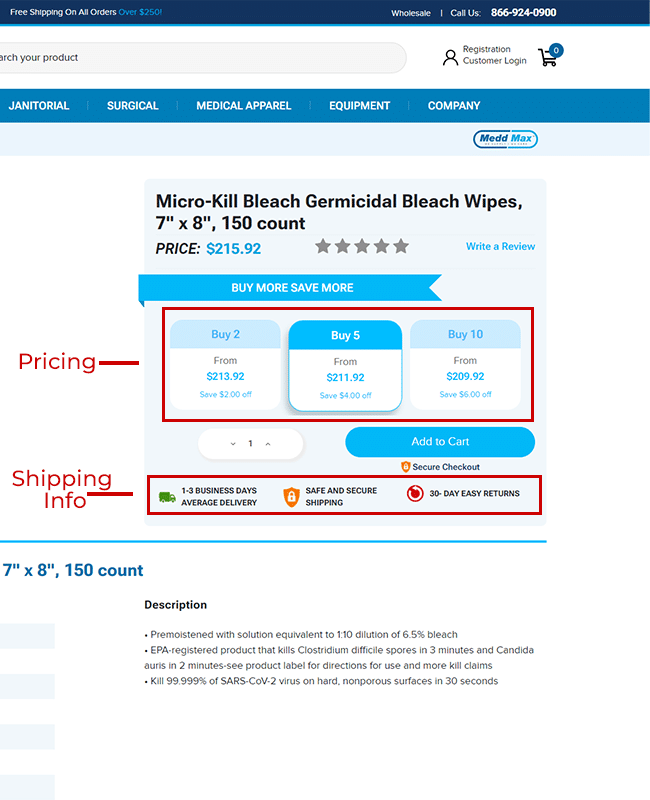 Shipping Information
Buyers should not have to leave a product page to read shipping information about their order on another page. Whether they are buying an item right away or adding more items to their cart, show the shipping information on each product page. Indicate if buyers can get free shipping and the requirement to access it. For example; free shipping on orders over $100. If the buyer's location affects their shipping experience, put a box where they can enter the zip code of their shipping address and provide applicable shipping information in real time.
Wishlist Element
Buyers might be doing a little window-shopping or unsure whether they want to go ahead with a particular product, now what? A good product page should have a wishlist element that lets buyers pick products to 'save for later' or 'add to favorites.' The wishlist feature can encourage buyers to come back when they are ready to buy some of the saved items.
Make the wishlist feature available to guest shoppers. Your website should have functionality that recognizes the guest shopper's IP address and device as the guest shopper's identity. And save their wishlist to that identity until they come back.
Customer Reviews
Regardless of how convincing your product description is and how enticing the rest of the product page features is, customer reviews will impact buyers more. Shoppers value customer reviews because they are the opinions of buyers who have already bought the product they are looking to buy. Not to mention that modern eCommerce shoppers tend to research the product they want to buy on multiple platforms before visiting the eCommerce store selling it. They are well-informed about the product, and what customer reviews do is confirm their bias about the brand and product, whether negative or positive. So, encourage your customers to leave reviews about the product and their shopping experience.
You can also use the customer reviews section to showcase excellent customer service by engaging customers and addressing negative issues raised by customers who had a poor experience.
A Simple Design With Section and Page Labeling
Design your product page using simple elements — white space, clear font, bright colors, limited colors, and a contrasting background. The rest of your website might have a distinct and complex design, although not advisable, your product page should have minimal design expression.
A no-brainer design to include on your product page is labeling. Make it easy for shoppers to navigate your product page and website in general by labeling your product page sections.
Summary: product page design essential features
Descriptive title
Detailed product description
High-quality visuals
Product options and features or specifications
Product availability
Price
Shipping information
Wishlist element
Customer reviews
A simple page design with section and page labeling