15 Instagram Post Ideas to Boost Engagement in 2023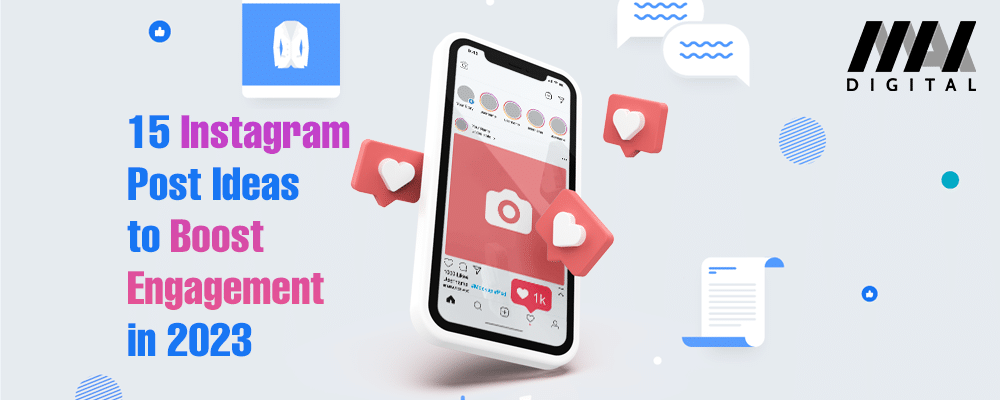 If you have a business page on Instagram, then part of your customer base is on Instagram, and they have high expectations for brand content. With TikTokers showing that content can be captivating even if the topic is supposedly boring, brands are ready to bring their A-game to content creation in 2023. So if you ever run out of content ideas, here are 15 post ideas that will boost your engagement on Instagram.
User Generated Content (UGC)
Employee Spotlight
Celebrate Milestones
Highlight Community Involvement (CSR)
Content Creation With Influencers
Have Q&A Sessions
Video Tutorials
Participate in Trending Challenges
Run Flash Sales in Stories
Interview Guests in Stories
Behind The Scene Content
Timelapse and Hyperlapse Videos
Address Industry Myths
Share Testimonials
Brand Throwbacks
User Generated Content (UGC)
Let your happy and eager customers sell your brand to other customers. Encourage your customers to create content about your products, services, and brand. Offer incentives, a little motivation to make customers more eager to send their UGC.
Repost with exciting captions, tag your UGC creators, and use hashtags to increase reach. One thing's for sure, if the reposted UGC gains massive views, engagement, and impressions, or better yet, if one goes viral, more customers will send in their UGC.
Employee Spotlight
Celebrate the humans that help your brand thrive. Make an employee spotlight post; talk about their personality, approach to life, and the vital role they play in your brand. Post images and a sneak peek video about them at work — a day in the life would also suffice. Employee spotlight posts humanize the brand.
Celebrate Milestones
Carry your audience along when you achieve new milestones. It makes them feel like they are in the team, which they are since your brand won't survive without your customers. Create visually gripping content to celebrate your milestones with your customers. What milestones? Your 100th customer, 1000th order, 50,000 Instagram followers, fifth years anniversary, expansion, etc.
Highlight Community Involvement
Let your customers see the good you're doing to make the world better. Besides the motivation you will give onlookers, your customers will see that you're not only after profits. Show them the side of you touching lives, saving the environment, reducing carbon emissions, or saving the oceans. Whatever cause you believe in, do it, and create posts with images and videos showing your commitment.
Content Creation With Influencers
Influencers and content creators have mastered the art of content creation that brands may never reach. So, research nano and micro-influencers in your niche, and ensure that their philosophy and work ethic align with your brand. Pay attention to engagement and impression rate, and not a huge following. Discuss your content goals, ROI, and budget with them, and partner with the influencer with the best ideas and work history.
Have Q&A Sessions
You can use Q&As and AMAs to kill two birds at once, break the ice between you and your audience, and address consumer and industry concerns. Use the Instagram Questions Sticker for your Q&As to collect questions from your audience, and make posts with videos and images, if necessary, answering each question in detail. You will be surprised how stoked people get when a brand makes a post answering their question.
Video Tutorials
Make video tutorials teaching your audience how to use, set up, and care for your products. Even if you think your product usage is a no-brainer, some people watch video tutorials because it gives them ASMR. There's a TikTok teaching people how to use a kitchen knife to cut food, and there are people in the comments appreciating the new information. So, make short video tutorials from 30 seconds to three minutes showing usage ideas about your products.
Participate in Trending Challenges
Show the goofy side of your brand by joining fun challenges on Instagram. Find a lighthearted challenge that resonates with your audience, and create a meme, gif, image, or video to participate. Use the right hashtags to increase reach and engagement. Challenge your followers, influencer friends, and brand neighbors to submit their versions.
Run Flash Sales in Stories
Take advantage of the fleeting nature of Instagram Stories and run flash sales once in a while. Sell off limited stock products, or offer discounts and giveaways in Stories. Besides being a content idea to try out, having flash sales in Stories can boost sales. Buyers will also start looking forward to more surprises in your Stories in the future, which will boost engagement.
Interview Guests in Stories
Give your audience a show by interviewing guests in Stories. You can interview anyone, an employee, influencer, buyer, partner brand, industry expert, etc. Spice up the interviews by having Q&A sessions with the guests using the questions you collected from your audience with the Questions Sticker.
Ensure to build anticipation by informing your followers who you want to interview and when.
Behind The Scene (BTS) Content
From movies to vlogs, we can see that people love BTS with bloopers and whatnot. As a brand, your audience would love to see the behind the scene of making your products and services and running your brand. Make videos showing how you get your hands dirty to provide beautiful products and services to your customers.
Timelapse and Hyperlapse Videos
The magic of time-lapse and hyper-lapse videos is that you can post long mundane content without losing the attention of your audience. Instead of posting part one, part two, etc., of a long video, download a free timelapse app that allows you to speed up videos and add music or voiceover.
Address Industry Myths
As an expert in your niche, there's no better person than you to unpack industry myths for your audience. Debunk common myths for the average consumer. Don't overwhelm your audience with information overload. Instead, address one or two myths per post. You can make a video or use visual illustrations.
Share Testimonials
Because of the risks of shopping online, for example, buyers can't touch products before purchase, online shoppers are warier than onsite shoppers. They need social proof to determine which brand can be trusted. There's no better way to assure your target audience that you provide customer satisfaction than by showing testimonials from customers who engage with your brand.
Encourage your customers to share testimonials, pick out a few and create a post about them.
Brand Throwbacks
Enjoy the benefits of nostalgia by posting throwback posts about your brand. Explore ideas such as a throwback to our first-ever pop-up event, a throwback to product launches, a throwback to customer loyalty reward celebration, etc.
Share old media of your brand to evoke a reminiscent feeling from your audience about the old days. Use high-volume hashtags such as #FlashbackFriday and #ThrowbackThursday.