2023 Guide to Creating Shoppable Instagram Content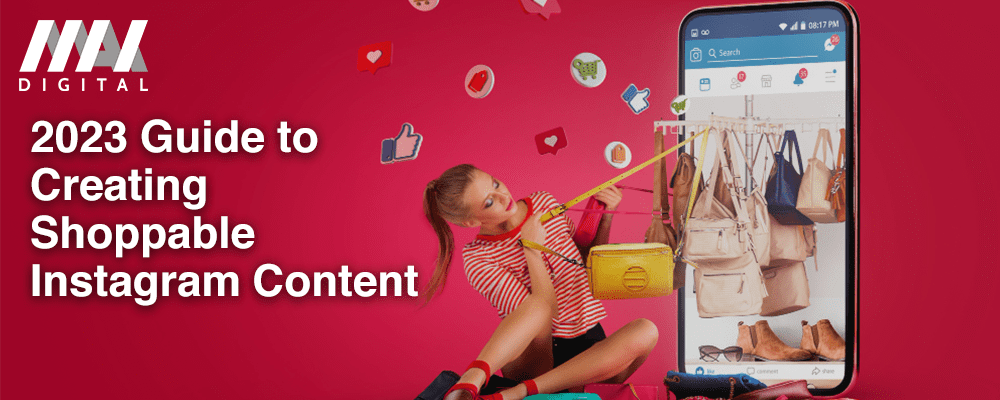 Never has there been a time in history when shopping was this easy, accessible, and diverse. Buyers have multiple shopping options to choose from, and it gets overwhelming sometimes. We have the good old in-store shopping, pop-up stores, buy online pick up in-store (BOPIS), and multiple eCommerce shopping channels, including the trendy social commerce. Now, it's understandable if brick-and-mortar stores don't know how to take advantage of social commerce, but for an eCommerce business in 2023, you have no excuse. Yet, many eCommerce businesses, especially small-to-medium-sized businesses, still struggle to sell on Instagram.
It's not enough to set up an Instagram Shop for your eCommerce business, do you know how to use shoppable Instagram content to reach more buyers and boost sales?
What is Shoppable Instagram Content?
Shoppable Instagram content is any content you post on Instagram with the purpose of getting buyers to engage your business Instagram Shop and end up shopping on your website. Shoppable Instagram content allows you to tag products from your website to regular Instagram posts with the aim of leading Instagram users directly to the product page on your website to buy the tagged products. If you want to have a successful social commerce experience on Instagram as a business, you must post shoppable Instagram content regularly.
The good news about creating shoppable Instagram content is that you don't have to spend a dime to post since most channels where you can post shoppable Instagram content are free. But there are more benefits to creating shoppable Instagram content than affordability.
Why Create Shoppable Instagram Content
It Makes the Buying Journey Short: shoppable Instagram content makes the purchase journey super short. Buyers can go from an image or video of a product on Instagram to the product page on the website with just one tap. Hence, shoppable Instagram content help to reduce the steps required to shop online.
It Improves Customer Experience: shoppable Instagram content saves buyers unnecessary hassles such as researching reliable eCommerce stores to shop from, comparing pricing from different stores, checking out the product page on at least one eCommerce store, etc. Buyers don't have to choose from multiple similar products, they only have to see a product on Instagram, and if they like it, they can get it immediately. Shoppable Instagram content eliminates distractions making it easier for buyers to make quick decisions. As a result, they get a smooth customer experience.
It Boosts Conversions and Sales: shoppable Instagram content reaches buyers who are ready to shop. While all kinds of buyers may see your products on Instagram, most of the people who end up on your website have a strong intention to buy. Instagram is curated for potential buyers; 90% of over two billion Instagram users follow at least one business page.
Since shoppable Instagram content make the buying journey short and the customer experience smooth, you can expect many active buyers to conclude their purchase. As a result, shoppable Instagram content can reduce your abandoned cart rates, boost conversion, and increase sales.
Where Can You Share Shoppable Content on Instagram
Now that you know what shoppable Instagram content is and the benefits of posting shoppable content on Instagram, let's look at where you can post shoppable Instagram content.
Feed Posts: you can post shoppable Instagram content on your main feed. You can tag up to five products in one image on your Instagram feed. Users will be redirected to the product page of any product they click on your website.
Instagram Stories: you can post shoppable Instagram content on your Instagram Stories using the sticker feature to tag one product per story.
Reels: Reels is a combination of Reels, IGTV, and Instagram Videos, and potential buyers can go check out your Reels from the Instagram Video section on your profile. You can use Reels to post explainer videos, how-to videos, UGCs, videos showing your products in use, and more. Reels lets you tag all the products and add a "View Products" button allowing Instagram users to expand the products in the Reels by clicking on it.
Instagram Live: with Instagram Live, you can directly speak to your customers in real-time, telling them about your products and tagging your product page. Buyers can click the Add to Bag button at the bottom of the Live broadcast to buy the tagged products in Instagram Live.
Ads: you can use paid ads to share shoppable Instagram content. You can rely on Instagram's algorithm to share your ads with people who are interested in the content.
Best Practices for Creating Shoppable Instagram Content
Show Your Products in Use: buyers want to see your products in use, it creates a similarly immersive experience they get when shopping in-store. So, make videos of someone using your products and post them tagging the product. For example, if you sell fitness wears, have someone wear them and do a little workout emphasizing how comfy they are when working out.
Use Creative Storytelling: the competition on Instagram is tight, and for obvious reasons; it's too many brands, and buyers engage and buy items off Instagram. But you can stand out from the competition by perfecting your storytelling craft. Get creative; write touchy stories, fun stories, and unique experiences. Tell memorable stories your customers will find relatable.
Use High-Quality Media: you need to bring your A-game when creating media for your business Instagram page, especially when creating shoppable content. Whether you use a mobile device or a pro camera for making your product images and videos, ensure that your shoppable Instagram media is high-quality and professional.
Write Detailed Product Description: help your buyers make quicker purchase decisions by writing detailed product descriptions, including size, quantity, color, weight, packaging, specs, features, etc. So what if you have the same details on your website? Write them on your Instagram too. Buyers won't have to go read the product description of a tagged product on your website before they can make a decision.
Post User Generated Content (UGC): there's no better marketing than the marketing done by actual customers. Encourage your customers to make videos and images of them using your products, unboxing videos, etc. Share UGC and tag the products, and tag the creator as well.
Use Tags and Hashtags: tags and hashtags can help you increase reach, so always research relatable tags and hashtags that can generate more traffic. Don't stop there. Experiment with different relevant tags and hashtags in your shoppable Instagram content to discover what works best for you.
Collaborate with Micro-Influencers: you can reach your target audience and sell more by partnering with micro-influencers. They are creative, have a devoted following, and have the charisma to influence buyers, so what's not to love? Look out for influencers with high engagement rather than a large following, traffic that doesn't translate to sales is pointless.
Measure Input Against Results: finally, use analytics tools and features on Instagram to monitor the performance of your shoppable Instagram content. As you experiment with different things, learn about how they perform to discover ways you can achieve better results.