Why is Shopify interested in Pop-up Stores?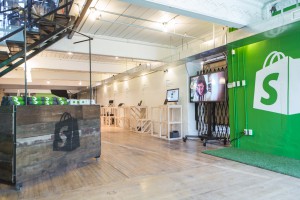 Why is Shopify interested in Pop-up stores? Well, it's estimated to be an $8 billion dollar industry. It's a great way for business owners who have been selling online to test the waters and see if brick-and-mortar is good for them. Pop-up stores are especially popular during the holidays for boosting sales.
Many eCommerce and point-of-sale software companies like Shopify want to use pop-up stores to educate their clients who have only sold online about opening up another revenue stream without signing a long-term lease. There's something to be said about selling to customers face-to-face and having that interaction as opposed to selling online to a nameless and faceless person.

John Lawson, CEO of ColderICE and eCommerce expert says some of the key differences between face-to-face and online transactions are in how personality, education, and likeability are translated to customers. He tells Small Business Trends:
"Get engaged with your shoppers and find the connections. Also think about the opportunity to get real world feedback from prospects that will help make your online interactions that much better."
Of course the draw back to pop-up stores is that you have to promote much more to draw the customers in while you can. The key is to create urgency to let customers know you are only there for a limited time and maybe offer some promotional incentives. For example, offer a gift with purchase or discount. The other draw back is that you will be 'building out' a space only temporarily. You want to stay true to your brand but keeping in mind that whatever you build up will be torn down in just a matter or weeks or months.
[go_portfolio id="flex3″ margin_bottom="50px"]