Should You Hire a Digital Marketing Agency in 2022?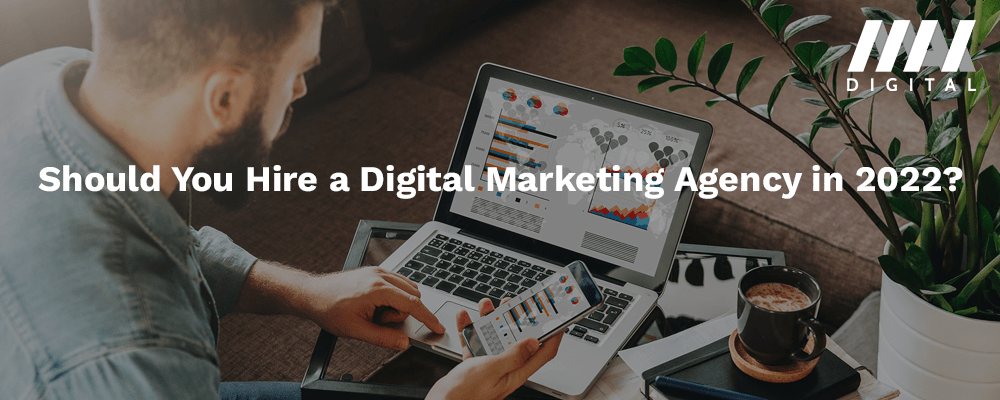 Digital marketing has changed so much in the last two decades that it is no longer sufficient to approach it like a mere alternative for old-fashion offline marketing. In today's world, business owners pay more attention to digital marketing. Although digital marketing is the norm, many business owners, especially small business owners, are still clueless about it, and those who have a good understanding of digital marketing don't have the necessary skills to do it by themselves. As a result, business owners have been asking for years whether they should hire a digital marketing agency or attempt their digital marketing by themselves.
And now in 2022, business owners are still asking the same question, which is why we decided to discuss the topic in this article.
Small businesses are usually reluctant to hire a digital marketing agency for various reasons such as small marketing budgets and underestimating the impact of digital marketing. As a result, small business owners with a handful of staff or no staff at all usually do their digital marketing by themselves. Some employ one or two digital marketing employees to do all their digital marketing practices, which can sometimes get overwhelming. Many business owners believe that in place of marketing, businesses only need to offer good products/services that provide real value.
In 2022, digital marketing is more diverse, complex, and dynamic than ever before, so it takes more than the simple practices businesses have been using for the last decade to achieve desired results. The job of a digital marketing agency is to keep up with trends to learn the best ways to develop marketing strategies that will take advantage of relevant trends to help small businesses grow. Their expert knowledge and experience with search engine optimization (SEO), pay-per-click (PPC), social media marketing, email marketing, and new trends such as web 3 and NFTs will come in handy.
Choosing a Digital Marketing Agency
When choosing a digital marketing agency, there are three sizes of digital marketing agencies to consider; big, small, and medium. And the experience with each size is different.
Big digital marketing agencies usually offer affordable rates and provide diverse services which cover different niches. They are usually faster with their digital marketing inputs, but you may not get their full attention as a small business. Usually, they will assign a team of experts to your company, and you may have access to one or two people on the team. As a result, you may not get an opportunity to learn a few digital marketing hacks from them because they are not easily accessible.
On the other hand, small digital marketing agencies have fewer employees and usually charge higher rates for their services. They also don't have enough experts to attend to diverse digital marketing fields like big digital marketing agencies. But you will get specialist niche services that will help your business grow in your industry given that their niche expertise is what your business needs. Another benefit you will enjoy is their full attention; you will find small digital marketing agencies easier to reach, which provides an opportunity to learn.
Medium-sized digital marketing agencies are your best bet as a small business owner; they have more diverse teams and niche services. They are also relatively more affordable, and they have robust expertise and experience because they have been around for longer than small digital marketing agencies. And because they don't have many big clients like big digital marketing agencies, they tend to have more time to give their full attention, which also makes them easily accessible. Unlike small agencies where all the employees in the agency work on your digital marketing demands, medium-sized marketing agencies typically assign dedicated teams to their clients.
You have to choose a digital marketing agency that matches your budget, has expert knowledge of your niche, and is easily accessible. As a small business owner, you need to pick up a few digital marketing tips from experts so that you can solve some problems by yourself without waiting until your agency is available to attend to you.
Perks of Hiring A Digital Marketing Agency
If you take your time to research top medium-sized digital marketing agencies before settling for the one that fits your business, you will enjoy some benefits. Outsourcing your digital marketing to a team of experts will give you room to focus on other aspects of your business, knowing that your digital marketing will always come through. Because medium-sized digital marketing agencies are at a stage where their growth is important to them, they tend to take their clients' businesses personally. As a result, they will put in their best efforts to see that their clients' businesses achieve desired results.
We mentioned above that digital marketing is dynamic, therefore as a business owner, you can't catch up with how fast digital marketing is changing because you have other commitments. Digital marketing agencies make it their duty to comb the internet for trends, continuously learn about consumer behavior, and keep up with new technologies. For example, this year is all about web 3, aka, the metaverse, which is still at its early stage, but most businesses know very little about it. Meanwhile, digital marketing agencies have already started learning about the metaverse, which will allow them to create strategies that will help businesses establish their brand in the metaverse.
Another advantage of outsourcing to a digital marketing agency is that you skip the trial and error phase many small businesses pass through. Digital marketing is broad, and some of the best practices are like hidden gems for people who are new to digital marketing. As a result, businesses often invest their money, time, and resources in the wrong things while neglecting their actual digital marketing needs. With a reliable digital marketing agency like MakDigital Design, you will not go through such a phase because they will assess your business needs and objectives in contrast with the current market and your niche industry before developing a custom strategy that will work for you.