How To Promote Your Manufacturing Business Utilizing Digital Marketing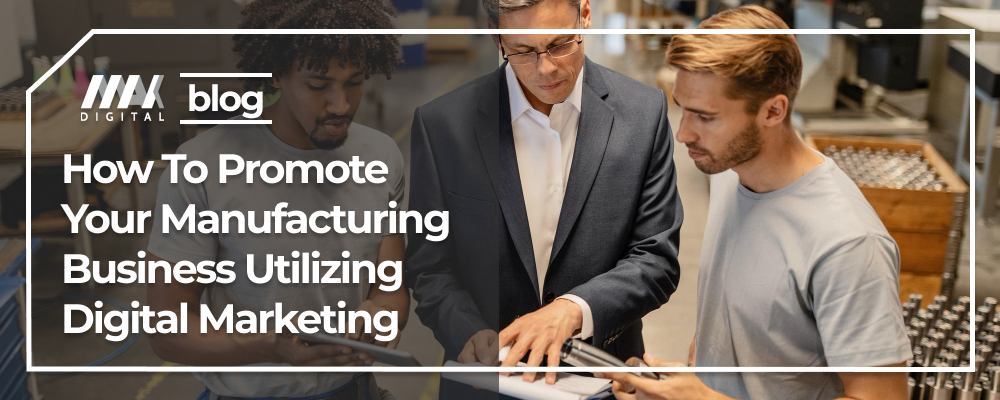 Let's assume there is a person called Tom who communicates with friends, family, and everyone else only by writing and sending letters to them. Tom knows that there are other ways to communicate with people; he can call them on the phone, reach out to them on social media, or send them emails. But Tom chooses letters because that's all he is familiar with. There are delays, but his messages get delivered to his recipients eventually, and Tom still achieves his aim. Tom is not using the methods that are faster and more efficient because he doesn't know his way around them.
Tom is the average manufacturing business owner who still spends all their marketing budget on traditional offline marketing in 2022. Traditional marketing is not bad. People exist in the real world, so they will still find your business, but it's the same situation as our Tom above. Digital marketing is faster and more efficient, and it is no longer sufficient to see it as an alternative choice. And like Tom, many manufacturers stay away from digital marketing because they don't understand how it works. So, we will teach you how you can market your manufacturing business with digital marketing.
Understanding The Purpose of Digital Marketing

The goal of any marketing, in the long run, is to acquire new customers and keep old customers in order to increase sales. In digital marketing, everything you're doing is to acquire new customers and retain your old customers. Both have to go hand in hand, and you can't afford to ignore anyone, or it will be hard for you to get the kind of results that will encourage you to keep going.
Here are some effective hacks that we give our clients to achieve their desired results with digital marketing.
Marketing is an Investment

Digital marketing can take many forms, video content, podcasts, email campaigns, pay-per-click (PPC), social media, etc. One of the challenges digital marketers face is the complexity of directly measuring the ROI of digital marketing strategies. When a business spends money to create an explainer video or a how-to video to put on its website and YouTube, it can be hard to determine how many people watched the video and then bought the product in the video. But you have to know that all digital marketing strategies work together to influence the buyer's decision.
Typically, buyers don't see a product for the first time and immediately buy it. Instead, they get to see the products multiple times before making up their mind. For example, a buyer sees and engages your product on Instagram, but they don't buy it for whatever reason. Another time they watch a video about it on YouTube. Finally, they find the product on Google via PPC and buy it immediately. All three channels influenced the buyer's decision about the product. If you focus on whether you can directly measure the ROI of all your marketing strategies, then digital marketing will seem like an expense that is not generating immediate results.
See digital marketing as an investment that will gradually establish your manufacturing business online, help you gain more customers, increase sales, and grow your business in the long run.
Help Your Buyers in Their Purchase Journey

The internet is more complicated now than ever before, and as a manufacturing business, most of your buyers are not very familiar with the present-day internet. According to Gartner, 77% of B2B buyers say their recent purchases were complex.
Don't let that be a problem that will affect your buyers' purchase journey. Make the purchase process of your manufacturing business easy and straight to the point by making your website user-friendly. Always create demonstrative content pieces that make it easier for buyers to complete their purchase journey. You don't want them abandoning their carts or leaving your website when they are at the product page.
Prioritize content marketing that makes it easy for potential buyers to connect with your manufacturing business. One of the aspects buyers miss about on-site shopping is getting to see the product and possibly seeing how it works before buying it. So, ensure that your content marketing shows how your products look and work.
Be Transparent About Your Manufacturing Processes

Since the pandemic, consumer behavior has shifted towards products that improve their wellbeing. For example, buyers are more interested in skincare, fitness, healthy eating, etc. Buyers are also more interested in the production process of their favorite companies; if they are encouraging sustainability, replenishing the environment, and reducing their carbon footprint. Hence, as a manufacturing business, be ready to show aspects of your manufacturing process for your buyers to see.
Let your digital marketing show your transparency as a brand. Don't worry about your competitors stealing your unique approach. They also have to be transparent to their buyers anyway, or they will be losing their customers to you. Besides, Elon Musk shares his production process yet no one has copied SpaceX, that should tell you that revealing your production process to your buyers won't necessarily help your competitors.
Combine Digital Marketing With Traditional Marketing

Now that you have an insight into how you can use digital marketing to promote your manufacturing business, don't throw away old methods that work. While digital marketing is effective because everyone has a smartphone and we are all online, there's no denying that traditional marketing has worked for you for years. Those trade shows, print ads, commercials on your local radio stations, etc have taken you this far, which means that they are also effective. But the best way to optimize your traditional marketing tactics is by combining them with digital marketing.
Let's say a buyer engages Tom's manufacturing business at a trade show, but the buyer is not ready to buy any product. Tom gives the buyer a flyer with information about his products, location, and contact to use when they are ready to buy. Weeks or months later, the buyer is ready, but they have lost the flyer. All they remember is the name of the company. So, the buyer goes online to search for the company, but they find nothing.
That's a shame because even though the buyer learned about the company offline, having an online presence would have helped Tom make the sale.
You have to combine digital marketing with traditional marketing. One approach is not necessarily superior to the other when you remember that the goal is the same.