9 Types of Influencer Marketing Campaigns for eCommerce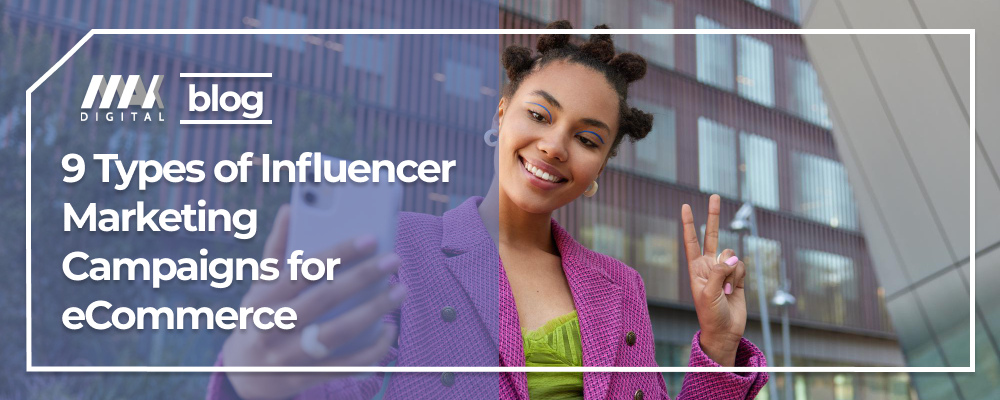 So you have been hearing about the benefits of using influencer marketing to create awareness for your eCommerce business, products, and projects, and you want to know just how to use it. Look no further. Here are nine types of influencer marketing campaigns you can use to create awareness for your eCommerce business.
Giveaways
Everyone enjoys freebies, even if they have to work for it by following a social media page and tagging friends to generate the most likes in order to win a freebie. Giveaways are effective for generating leads and driving traffic to the brand. You can hire micro-influencers. It doesn't have to be big-time influencers who might charge you a lot.
Research micro-influencers in your niche market, considering their engagement rate because that's more important than their number of followers. Create a simple plan that will make it easy for your target audience to participate in the giveaway with a possible chance of winning. The plan should include a simple CTA asking them to engage your brand, perhaps to follow your social media page, submit their email address for your newsletter/email or subscriber list, etc.
When you pick your winner for each giveaway, publish their social media handle and price on your page and ask the influencer to post the same thing. This will show that you have integrity.
Brand Ambassadors
You are familiar with big brands hiring celebrities to create awareness for their brand for months or a few years, and it works. Look at how Nike is more popular compared to Puma and Adidas. Nike finds the best people to partner with to make ambassadors, and it works. You can also partner with influencers and make them brand ambassadors.
Social Media Takeovers
A social media takeover is an influencing marketing strategy that gives an influencer temporary access to your brand's social media to post and manage your social media feed as they see fit. Of course, everyone will know that your social media is temporarily being run by the influencer because they will announce on their page before the takeover. They will also mention it as they post. Social media takeovers create a more trusting ambiance that introduces new audiences to the brand and helps to drive more engagement.
Social media takeovers are only effective when you partner with a credible influencer with a loyal following.
Event Activations
If you have an event, whether virtual or on-site, you can partner with influencers to promote the event and get people to attend the event. Find credible influencers who have built a solid reputation in your niche to talk about your event, and you can also invite them so that their followers can look forward to meeting them at the event.
Always provide a CTA in your campaigns to collect details of people who engaged with the campaign. Their engagement shows that they are interested in your brand. Send them more details about the event to make it easier for them to attend, because people will definitely have questions, and influencers won't have the time to answer all their questions.
Pre-Release Campaigns
The fear of missing out (FOMO) is a psychological feeling someone gets when there's a thing many people are talking about but the person is yet to partake in the thing. For example, when Game of Thrones was the biggest name in pop culture, several people started watching it to join the bandwagon. You can create a FOMO experience with your unreleased product so that it can convince people to jump at it when it is finally released.
Partner with many influencers to talk about your upcoming product or project consistently for a long time, usually; days, weeks, or a few months to create anticipation. Influencer marketing is great at creating a buzz around a topic, so let them tease the product gradually until the release day and watch their followers and non-followers go crazy.
Sponsored Social Media Posts
If you want to promote a product or a project, you can partner with an influencer with a high engagement rate who knows how to create intriguing content. A creative social media post from an influencer with high engagement can help create awareness for your product or project fast. Make sure you partner with an influencer in your niche. It will be out of place to ask a fitness influencer who shares content about the benefits of eating meat to promote a vegan product.
Sponsored Blog Posts
As you know, good content can help you achieve your marketing goals, but you have to know how to write in an appealing way that resonates with your target audience. Influencers have mastered the art of relating with their target audience. They are familiar with customers because they are customers themselves, and they often share the same experience with regular customers. This gives them an edge where they don't have to imagine how customers feel because they understand their pain points and can write content that addresses their pain points in an assuring way.
Instead of publishing blog posts that read like a sales pitch all the time, partner with influencers to create blog posts for your brand.
Guest Blog Posts
Guest blogging gives you the power to reach a bigger audience leveraging the reputation of a renowned website. You can write whatever blog post as long as it provides the host website real value that their readers will appreciate. So, think big. Reach out to popular generalist websites such as Forbes and Inc and popular niche websites such as Wired, which publishes technology topics, and Business Insider, which usually publishes business topics. Find out topics they have not written about and send them an email pitching the topics to them, then write an engaging piece about the chosen topic. Voila!
Unboxing Videos
If you go to YouTube, you will find millions of unboxing videos talking about the same products, and many of them have lots of views. Unboxing videos are so satisfying that people often watch different unboxing videos of the same item. People even say that unboxing videos create an ASMR feeling. Research and partner with an influencer who knows how to make great unboxing videos, because the edits, background music, and detailing of the product must be perfect and relaxing.