The Core Features of a Successful B2B eCommerce Store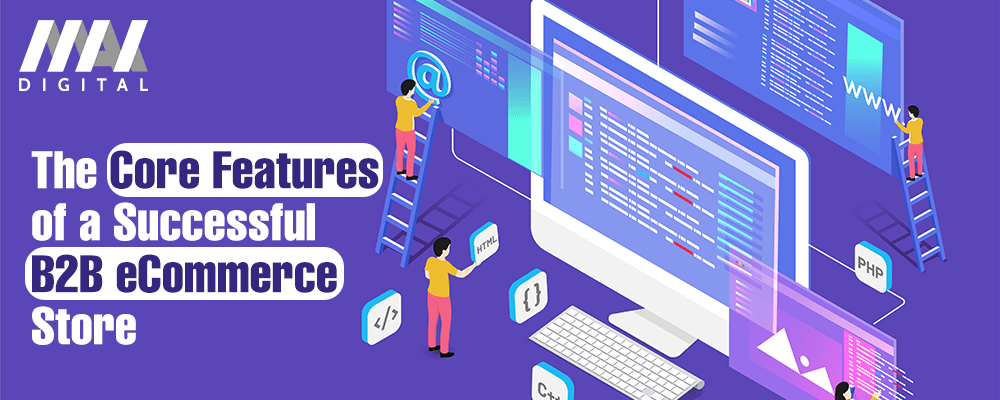 Although eCommerce enthusiasts have been emphasizing the advantages of going digital for the B2B industry, only a few B2B companies paid attention. It took a pandemic for most B2B companies to recognize the need for a digital storefront. By 2022, nearly two-thirds of the B2B industry, spanning all sectors, had adopted eCommerce capabilities. According to Forrester, 93% of B2B buyers now prefer online shopping. Whether you're a newcomer or an industry veteran in business to business eCommerce, this article will guide you on the essential features every B2B eCommerce store should have to provide excellent customer service, boost sales, and foster growth.
11 Must-Have Features of a B2B eCommerce Store
B2B Request a Quote
Every B2B eCommerce store should include a 'request a quote' form that allows potential buyers to submit requests for custom products or services. This feature is crucial because standard product/service packages might not meet the unique needs of every B2B company. Instead of making visitors navigate through complex processes on your website, simplify the experience by providing a form for them to submit their specific requirements and receive a personalized quote.
Easy Reordering for B2B Buyers
Unlike B2C buyers who frequently switch between online stores, business to business buyers tend to establish long-term relationships with specific business to business stores. After thorough research and bureaucratic decision-making, they choose a reliable business to business company. Given this loyalty, it's essential to facilitate the reordering process. Implement a one-click reorder system that utilizes their purchase history to streamline the process and make it more rewarding.
Flexible Payments
To reduce abandoned carts, it's crucial to offer flexible payment options at checkout for B2B buyers. They not only need multiple payment options like B2C shoppers but also require flexible payment methods that accommodate traditional and modern payments. Some of the flexible payment options you should provide include:
Cash on delivery
Purchase order
ACH
Trade credit
Instant credit
Paper checks
Credit card
Mobile wallets
Complex Pricing
Implementing complex pricing in your business to business eCommerce store is a traditional practice worth adopting. Consider different client types, their specific needs, budget, staff size, and customer base when developing a pricing structure. Utilize this data to create pricing levels and tiers, offering additional benefits in each tier without compromising your profit margin. Each pricing tier should have specific conditions, including applicable minimum order quantities (MOQ).
B2B Customer Registration Functionality
Add customer registration functionality to your business to business eCommerce store, allowing new clients to create accounts. While supporting guest shopping, encourage users to create an account for a more personalized experience. Unlike B2C shoppers who may get discouraged by forced account creation, B2B buyers appreciate the professional touch and recognize the benefits of building a long-term relationship with the B2B company.
Corporate Account Management
A business to business buyer typically represents a company, and as employees change over time, the company continues purchasing from your store. Instead of renegotiating prices and product/service packages each time, enable clients to utilize their corporate accounts seamlessly. Provide corporate account management that allows buyers to make, track, and manage their purchases. B2B buyers can use their corporate accounts as a single entity or create multiple employee accounts with hierarchical permission levels.
Real-time Inventory Updates for B2B Clients
B2B buyers value reliability and avoid disruptions that could affect their own customer base. Keep your business to business clients informed and prevent disappointment by sharing real-time inventory updates. This feature enables them to monitor their supplies and make timely decisions about stock replenishment. Moreover, real-time inventory updates can serve as a marketing tactic, encouraging business to business clients to make larger or earlier purchases.
Live Chat Support for Seamless B2B Shopping Experience
When business to business buyers visit your eCommerce store, they often arrive with the intention of making a purchase. Unlike impulsive B2C buyers, B2B buyers have conducted extensive research, read business to business review sites, and consulted their teams before reaching this stage. However, they may encounter bottlenecks or obstacles that can hinder their purchase decision. To ensure a smooth shopping experience and address any concerns promptly, provide live chat support for both new and existing customers.
Customer Groups for Targeted B2B Marketing
Similar to price tiers and levels, you can utilize customer groups to categorize business to business buyers based on their needs, preferred product/service packages, and other criteria. Customer groups help you gain a better understanding of your customers and enable you to create targeted segmentation strategies. Additionally, you can provide customized services to each customer group, ensuring they access only the content and services tailored to their requirements.
Customer groups can complement pricing tiers and levels, further enhancing personalization.
Efficient Catalog Management for B2B Buyers
Catalog management plays a vital role in helping buyers find products easily. Utilize the purchase history of each customer group to create a product catalog that aligns with their specific preferences. Implement search functionality with a search box and filters to facilitate the discovery of new items.
Bulk Ordering
B2B buyers often place bulk orders covering various product types. To accommodate this, incorporate a bulk ordering form that allows B2B buyers to add products using SKUs or part numbers, specifying the desired quantities for each product. Once they complete and submit the bulk ordering form, direct them straight to the checkout page.
B2B Site in Summary
In summary, these are the essential features of a B2B eCommerce store:
Request a quote
Easy reordering
Flexible payments
Complex pricing
Customer registration
Corporate account management
Real-time inventory updates
Live chat support
Customer groups
Catalog management
Bulk ordering