Forrester Wave Names BigCommerce "A Strong Performer" in B2C and B2B Commerce Solutions in 2022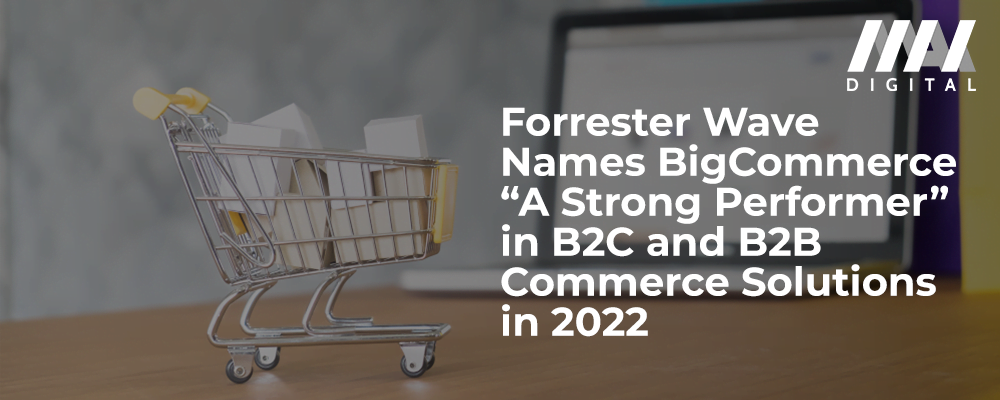 On April 28th, 2022, Forrester Wave released two reports; The Forrester Wave: B2B Commerce Solutions, Q2 2022, and The Forrester Wave: B2C Commerce Solutions, Q2 2022. BigCommerce came out top three in both reports.
Forrester Wave named BigCommerce a strong performer for topping the scoreboard for the following 11 criteria for B2C commerce solutions:
Role-based access management
Customer success and support
Promotions management
Practitioner UX
Architecture
Extensibility and integration tools
Product vision
Performance
Innovation roadmap
Partner ecosystem
Commercial model

Forrester Wave named BigCommerce a strong performer in B2B commerce solutions for the following six criteria:

Promotions management
Third-party channels
Architecture
Extensibility and integration
Performance
Commercial model

This is not the first time BigCommerce will emerge as a Strong Performer in Forrester Wave B2C and B2B reports. In 2020, BigCommerce scored the highest in six criteria. The new 2022 report shows that BigCommerce keeps growing over the years to meet customer needs better, and well, to top more industry reports. But bragging aside, let's discuss why BigCommerce remains a leading player in eCommerce and B2B solutions.

Why BigCommerce Is a B2C and B2B Commerce Leader

Forrester Wave evaluated many B2C and B2B commerce solutions providers using 27 criteria while factoring customers' opinions, and BigCommerce came out top three.

BigCommerce Adopts a Modern Approach to Building for the Cloud

BigCommerce adopts the MACH approach to enable its users to build for the cloud. It is not enough that B2C and B2B businesses can migrate their existing infrastructure to the cloud, they should be able to build directly on the cloud from scratch. The MACH approach includes;
Microservices architecture: BigCommerce enables businesses to build a single ecosystem with multiple unique systems independent of each other. Each system in the unified commerce ecosystem can be deployed and maintained independently. Hence, the business will continue as usual if one of the systems is not functional.
API-first: BigCommerce allows users to integrate third-party APIs with ease, and in fact, users can build seamlessly from scratch with APIs.
Cloud-native SaaS: all MACH components foster building for the cloud, but cloud-native SaaS takes it up a notch. Technology licensing is arguably the most limiting challenge small-to-medium scale businesses face because technology licensing is often costly. Besides making it easier to build directly to the cloud from scratch, BigCommerce also takes care of technology licensing with its Cloud ERP offering.
Headless: BigCommerce allows businesses to separate their website's front-end from the back-end while retaining functionality.
BigCommerce Offers Optimized Architecture that Enables Usability
The MACH approach also equips BigCommerce to offer an optimized architecture that increases usability. Businesses that use BigCommerce enjoy a unified commerce ecosystem, but at the same time, each unit that makes up the system is independent of the other.
The MACH approach gives each department in the organization freedom and autonomy to implement changes. The marketing department can make content edits on the front-end layer without requiring access to the back-end layer, and it won't affect the back-end such that the website suffers downtime. Hence, this increases usability for the business because customers will always access services/products whenever.
Additionally, BigCommerce offers multiple industry-specific mobile-optimized themes businesses can choose from to build their eCommerce website. In doing so, BigCommerce ensures that businesses build websites that run on a smooth user interface.
Conclusion
The main reason BigCommerce is a leader in B2C and B2B commerce solutions is its constant improvement over the years. For example, BigCommerce started with its Blueprint framework but developed and introduced the Stencil framework upon seeing that the industry has outgrown the Blueprint technology. Hence, the main reason businesses choose BigCommerce over others is because of its understanding of the eCommerce industry. eCommerce is constantly growing, and BigCommerce grows with it to give businesses the technology they need to thrive and trump competition.
Until the next Forrester Wave reports, if you're in the BigCommerce family, relish the fact that BigCommerce is a strong performer. And if you're not in the BigCommerce family, this is your cue to consider re-platforming and migrating to BigCommerce — your B2C or B2B will be the better for it.