Business to Business (B2B) eCommerce Trends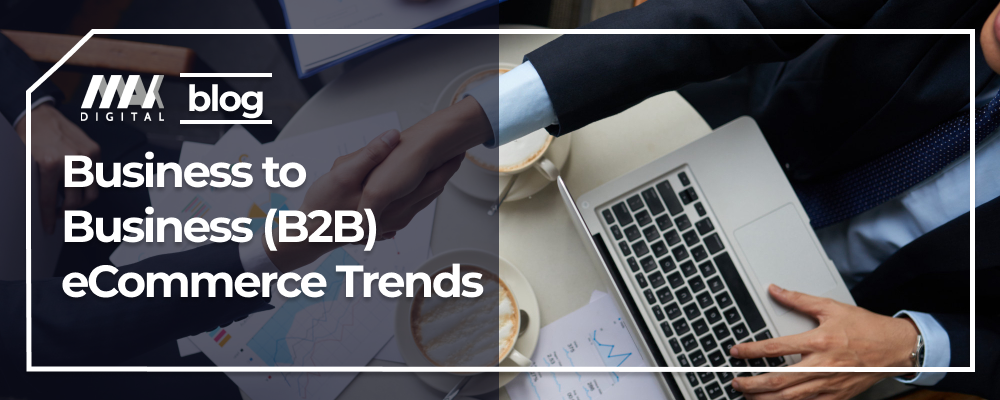 In the last three years, eCommerce has gone from a nice-to-have system to a must-have. The COVID-19 pandemic and lockdown in 2020 have even intensified the growth of eCommerce worldwide. In addition, the growing demands of consumers for eCommerce businesses have intensified the need for B2B businesses to embrace eCommerce. However, many B2B companies still face challenges in leveraging eCommerce in their B2B business. Digital commerce 360 found that 42% of B2B companies face a challenge with building a sophisticated website to meet the needs of their customers.
Why You Should Adopt eCommerce in Your B2B Operations
B2B eCommerce is not a new or an upcoming trend (eCommerce is here already). Digital commerce 360 reports that B2B online sales increased by 17.8% to reach $1.63 trillion in 2021 alone. Also, according to Statista, the B2B eCommerce industry in North America is expected to surpass $4.6 billion by 2025. The B2B industry is now more digitized than ever, and more B2B companies prefer to trade online than in person. According to McKinsey & Company, about 65% of B2B companies now offer eCommerce services in 2022 (up from 53% in 2021).
If you are wondering why this is so, the simple answer is that eCommerce boosts revenue growth. According to the same report from McKinsey & Company, eCommerce contributes directly to about 18% of revenue in B2B companies. Wunderman Thompson reports from 2021 also showed that 49% of B2B trades across China, the US, and the UK happen online.
With the ongoing transformation of the B2B industry from in-person operations to eCommerce operations, more B2B eCommerce companies now consider having more sophisticated websites and offering quality online customer experience.
It is no longer enough for B2B companies to have just any website, as 52% of B2B customers say they get frustrated if they don't enjoy a sophisticated online experience. On the other hand, 90% of B2B customers say they will turn to another eCommerce B2B company for a better experience if a supplier's website cannot meet their needs.
As you plan to adopt eCommerce in your B2B business operations, focus on how you can fully digitize your transformation. Below are the top B2B eCommerce trends to adopt in your business that will bring you success.
Forgo Legacy Systems
One of the most important things you need to do in 2022 as you digitize your B2B company is to let go of legacy systems. However, a Digital Commerce 360 survey shows that upgrading legacy systems will be a challenge for up to 36.6% of B2B businesses in 2022. Notwithstanding, you need to put the right systems in place if you want to offer your new and existing customers an improved experience. You need to completely upgrade your system so it will be easy for you to integrate other technologies rather than upgrading on an as-needed basis.
Invest in eCommerce Platforms
Prioritize investing in your B2B eCommerce platform as you unveil your digital transformation strategy. Indeed, investing in eCommerce platform technology is a major trend to consider. 35% of B2B companies in the US revealed that they prioritize investing in eCommerce platform technology, making it the center of their digital ecosystem.
In doing this, you will realize that not all eCommerce platforms offer the same benefits for your B2B business.
Many eCommerce platforms only function as a singular unit solution, thereby reducing the flexibility you can have in choosing the best features for your business. Some other platforms do not offer complete B2B eCommerce support but just a few features that cannot meet your entire business needs. Instead, find the best reliable eCommerce platform that offers full B2B eCommerce solutions you can easily integrate with your other business systems.
Create A Personalised Online Shopping Experience
Research shows that up to 50% of B2B customers consider improved personalization a must-have feature their online suppliers should offer them. Customers of B2B eCommerce also say they will spend 48% more when they enjoy a personalized experience on their B2B suppliers' websites. Personalization will help you to create a valuable shopping experience for your customers, which allows your customers to have seamless interactions with your brand on your website.
Consider implementing the following strategies to offer a more personalized shopping experience for your customers:
Personalize your product recommendation. Don't just recommend your products randomly to customers. Recommend based on the pages the customer visited last or the pages they visit most.
Use personalized remarketing strategies to persuade your customers to buy from you if they are hesitant.
Create personalized cart abandonment ads to remind your customer to complete their purchases.
Prioritize Product Discovery
One of the major challenges B2B eCommerce customers face is finding the products they need. Sometimes they still struggle with finding reliable and up-to-date information about the product, even after they find the product. Hence, one of the B2B eCommerce trends you should adopt is prioritizing your product discovery and information for your customers for easy access.
There are many methods/technologies you can use to create adequate product awareness for your customers so they don't have trouble finding products or updated product information. One of the technologies you can use to solve this challenge is product information management (PIM) software. PIMs help collect, manage, distribute, and update product information across different channels, thereby creating adequate awareness for your products.
Use Social Media Platforms More For Your B2B Company
B2B companies now use social media more since most of their customers are active on social media platforms. It is now time for you to start exploring social media platforms more as you strategize on digitizing your B2B company.
Gartner reports that 46% of B2B customers use social media to find a B2B solution, 40% use it to compare the available solutions, and 35% use it to find information about a B2B solution before making a purchase. Gartner also reports that 54% of B2B companies have already set up an online store through social media commerce.
As you start B2B eCommerce digital transformation, look for result-driven social media platforms based on your target market. Use them to showcase your products and build a healthy relationship with your target audience.