What Is New Media Marketing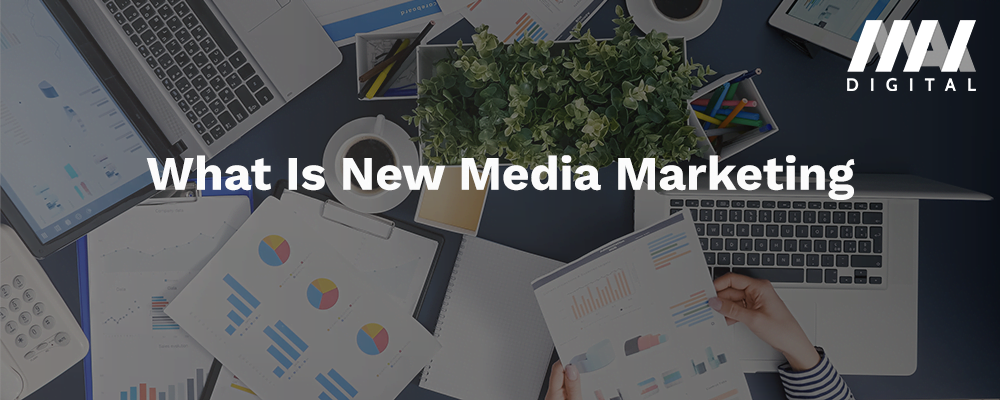 Nowadays, there's no hold back on where businesses explore to market their brand and products. When you spend a few hours on social media platforms such as TikTok and Instagram, you will come across subtle ad videos that paint a lifestyle picture of brands and products. And it goes beyond social media platforms; search engines, online forums, email newsletters, podcast shows, and more are marketing playgrounds for businesses. Flyers, radio, tv, and print ads are taking the backseat because new media marketing is cheaper, more accessible, and experimental.
So, What is New Media Marketing?
New media marketing entails promoting and selling products, projects, and brands on the internet since the average buyer now spends more time online than consuming traditional media. As we mentioned above, new media marketing covers multiple online channels, all with a unique and dynamic culture. The ultimate goal of marketers in the new media marketing era is to make buyers interact with the brand and not only buy the product. Hence, the marketing approach in new media marketing is not as rigid and "salesy" as traditional marketing. Instead, new media marketing seeks to be relatable or to present a lifestyle.
What Can You Achieve With New Media
Collect Customer Data: Unlike traditional media, new media allows you to integrate with software tools to measure your progress using customer relationship management software, analytics software, etc. You can easily collect customer data, monitor your ad performance, and measure your ROI. So, as you engage your target audience across the internet, collect data about them, interpret it and create marketing strategies using the data.
Build Relationship With Your Customers: There's a reason why brands would rather sell a lifestyle these days than sell their products, buyers know what they want, and they often decide on a purchase before they reach out. They don't particularly need any convincing at that point, so you have to get them to be interested in your brand and everything your brand stands for, whether you have a new product or not. Samsung and Apple are good examples of brands that present brand lifestyles so well. New media allows you to build a relationship with your target audience.
Sell: new media allows you to sell your products too. For example, buyers can click on a product on Instagram to buy instantly without calling any number or visiting any store, this wasn't possible with tv ads. Yet, buyers see too many ads that they tend to zone out from all ads when using their smartphones. The key to marketing in the new media is to know when to sell, don't overfeed your customers with salesy content. Instead, learn to be creative and stand out.
How to Excel With New Media Marketing
Content Marketing
You can't achieve the right results with new media marketing without acing content marketing. Content marketing is the ammunition you need to make your target audience see your brand as you want. Video marketing is arguably the easiest way to get consumers to consume your marketing campaigns. Everyone is lazy these days and can't be bothered to read, so invest in videos. Ensure that your videos are creative, and you can experiment with videos, make how-tos, explainer videos, fun videos, etc.
Use Social Media
We talked about interacting with buyers and building a relationship with them. Social media is the key to achieving this goal. Create an account for your brand on popular social media platforms and publish content regularly; share your video content, keep up with hashtags, and jump into interesting conversations.
Social has a lot in stock for you. You can run ad campaigns and PPC ads, and display your customer service/support, so don't limit yourself.
Search Engine Optimization (SEO)
Everything you do with new media, you can optimize for the best result with SEO. Learn about the principles of SEO and implement them on every online channel. Instead of doing your SEO practices manually, you can use analytics tools and other SEO tools for segmentation, reduce human error and automate repetitive processes. SEO is broad; using the right keywords, generating reputable backlinks, and making your website mobile responsive are some SEO practices you must get right to achieve your desired results.
Be Transparent
While new media marketing is impressive with all you can do with it, it also comes with a dose of responsibility traditional media marketing doesn't have. Customers can talk back, and sometimes what they have to say about your brand, product or staff might be undesiring. Well, the first step to reducing negative comments or opinions about your business is to give your customers a superb experience. That said, you can't escape hurting a few customers once in a while, and they can express their grievances on social media. How do you handle that? Easy, be genuine, and try to address their concerns with transparency.
Generally, the new crops of consumers value brands that practice transparency, which is part of selling a lifestyle and building relationships with the consumers we talked about earlier. Don't hesitate to show your brand behind the scenes.
Prepare for Change
We had Facebook 10 years ago, but no TikTok or social media Stories. Now, we have Stories, Clubhouse, Twitter Spaces, etc. The point is that new media is dynamic, and you must keep up with the trends. You will learn that new media is more fast-changing than traditional media. Even when there isn't a significant change happening, there will be new challenges and trends to follow to maintain relevance and show that you are relatable to your audience.
So, sometimes, when you conclude learning a technology to make content for a trending challenge, you will realize that there's a new trend to focus on instead. Prepare for change.
Finally, Measuring New Media Marketing ROI
Whether you're a B2C brand that believes in the supremacy of Facebook or a B2B brand that believes in the supremacy of LinkedIn for new media marketing, you can measure your ROI. For Facebook, you have a bunch of tools including native Facebook Insights, and you can use third-party software tools on all new media platforms to measure traffic, bounce rates, etc.