The Impacts of eCommerce on Freight Transportation and Supply Chain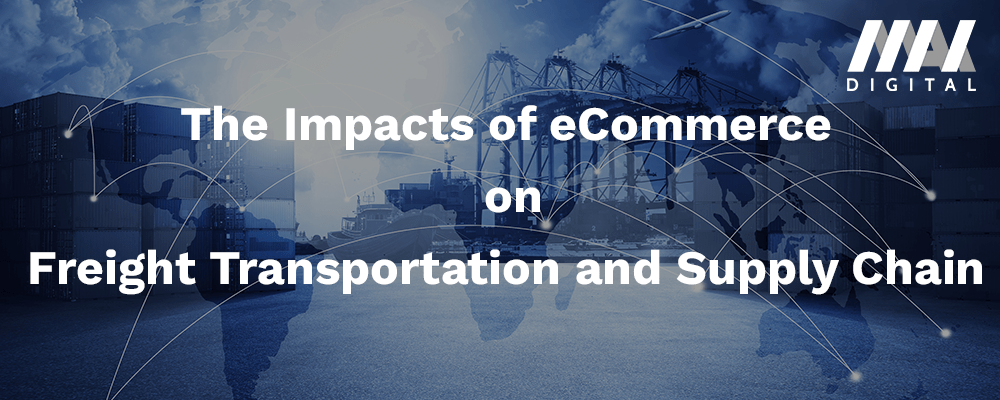 As we joke about the last two years' events on social media while juggling the pandemic with other significant events, such as the West Coast wildfires, the world is going through a historical change. And when you look back, you will find that every significant event in history impacted commerce. Although commerce in today's world covers retail, wholesale, onsite, online, business-to-business, business-to-customers, and everything in between, the pandemic didn't spare any aspect. Now that we are gradually getting some normalcy back, the freight transportation aspect of commerce is still saddled with unfamiliar challenges that are bound to affect its future. However, it should not come as a surprise to you because everyone can attest to the fact that the pandemic affected transportation generally, which includes freight transportation.
Another impact of the pandemic on commerce is the shift from business-to-business (B2B) to business-to-customers (B2C), causing home deliveries to increase. More people are now working from home; one in seven jobs is remote, unlike the previous ratio of one in 67 jobs before the pandemic. Because more people are at home, consumers shopping has increased, particularly for homely items such as wellbeing, health, fitness, food, and kids products.
So, while home deliveries are surging, which requires businesses' supply chain management to cater to that, the pandemic impact on freight transportation is not making it easy. Shippers are finding it increasingly difficult to navigate the new shipping conditions where they have to manage a tight capacity, shipping backlogs, increasing fees, and surging home deliveries. Amidst all, stakeholders want to know whether the freight transportation industry will recover soon and what the future holds for the industry.
Parcel
In the last two years, parcel shipping has received the most impact due to increased home deliveries. Because of the exponential growth of online shopping, B2C parcel shipping grew from 20% in 2000 to more than 70% in 2020, and it will keep growing. Now, almost 70% of parcels weigh below five pounds because people are ordering online little things they typically visit the stores to buy. The shift to B2C brings with it a dynamic that disrupts shipping, in the sense that shippers have to ship numerous varieties, unlike before when shippers only had to focus on the same types of products.
So, shippers are dealing with the challenge of numerous residential addresses and the challenge of varieties of products that come in small parcels. In 2021, almost 30% of total shipments were sent to residential addresses. Not to mention that shippers have to compete with the likes of Amazon, which provides its customers free shipping. Since consumers know that they can get free shipping and a shipping experience that pays attention to details, they don't have to order from businesses struggling to meet the standard.
As expected, where there is a problem, there is also an opportunity. Hence, the growth of direct-to-customer shipping created an opportunity for many to provide last-mile shipping solutions. Another thing to note in the parcel shipment space is that customers expect fast shipping. To provide that, businesses are placing their inventory in different local facilities and creating local fulfillment centers to meet consumer demands. Businesses are shifting from a one-stop large distribution center to multiple local and micro distribution facilities.
On the flip side of B2C shipping is customer-to-business shipping. As more customers shop online, many will have to return items which means that there will also be an increase in return shipping. And customers want the return shipping to be fast as well.
Trucking
The new eCommerce dynamic also affects trucking. For one, the number of drivers available to drive trucks has reduced since COVID. There are more introductions of regulations for commercial trucks, such as those that require commercial trucks to meet emission standards by 2023. But one of the notable impacts on trucking is the increase of less-than-truckload (LTL), which is a result of eCommerce middle-mile shipping.
As we established above, because businesses want to meet consumer shipping demands at all times, they are operating multiple local distribution facilities. As a result, more truck drivers are driving around trucks with less than a truckload of products to store in local and micro warehouses. By the fourth quarter of 2021, LTL rates reached a record high of 32.3%.
Another factor causing LTL rates to spike is the increasing number of eCommerce businesses venturing into shipping operations, which they used to outsource before the pandemic. They are solving the problem by creating e-fulfillment operations. A few eCommerce companies are helping to finalize e-fulfillment services by providing onsite resources.
While most eCommerce businesses struggle to meet order fulfillment demands, Amazon has about 160 fulfillment facilities.
Air Cargo
It's no secret that air travel has reduced since the pandemic due to COVID restrictions, working from home, and inflation. As a result, air cargo is struggling with two types of challenges. One is increased cargo shipments because of the shift to B2C. In November 2021, international cargo ton-kilometers (CTKs) increased by 11.4% for North American-based carriers according to IATA. Secondly, there are fewer air travelers, which means that the cost of air capacity that used to be split between air travelers and air shippers now falls largely on air shippers.
Amazon has entered the air cargo industry on a large scale, starting with a fleet of freighters (about 100, and possibly more today). Amazon also has warrants to buy a minority stake in Atlas Air Worldwide Holdings.
How Can Shippers Thrive with The New Conditions?
Shippers need to embrace partnerships. Instead of attempting to build a self-sufficient shipping empire all by yourself, leverage your networks and form partnerships with other shippers in different supply chain segments. Shipping will be less challenging if it involves real-time end-to-end collaborative networks working together to achieve the one goal of shipping products fast at low costs. Additionally, shippers need to keep evaluating their service networks to increase their chances of getting enough capacity at the best prices. And they can only do this by using optimized support technologies that make it easier to access real-time network intelligence and performance analytics.