Are Third-Party Local Delivery Services Worth It?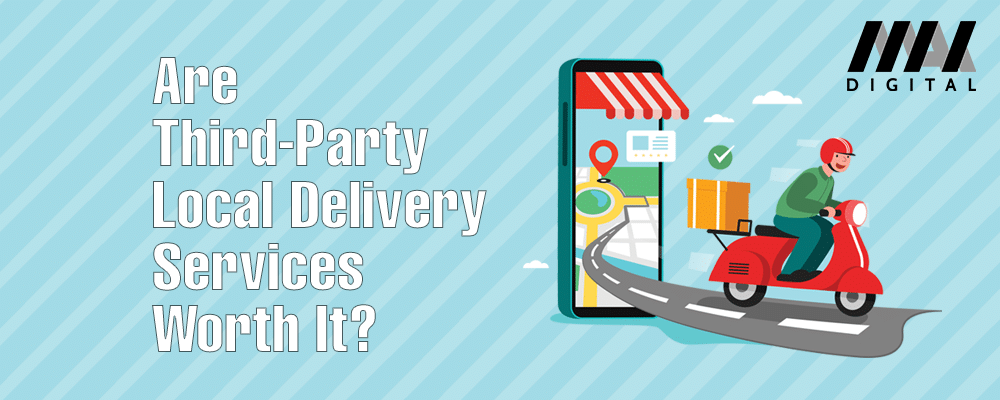 Online shopping will only keep growing, especially now that buyers who used to shop in-store were also introduced to the convenience of eCommerce shopping during the pandemic. While the eCommerce boom translates to more sales and profits, businesses might struggle with managing the challenges surrounding deliveries. Online shoppers near and far see no reason they can't shop from any eCommerce store, but they have high expectations for eCommerce shipping and delivery. Hence, many businesses rely on third-party delivery services, which allows them to focus on other business aspects while their delivery partners ensure that customers enjoy efficient delivery services. However, some businesses still choose to handle delivery by themselves to avoid the hassle of dealing with external parties. In this article, we will see whether third-party local delivery services are better than managing an in-house delivery system.
Benefits of Using Third-Party Local Delivery Services
Simplified Delivery Process
When you use a third-party delivery services provider, your delivery burden reduces by half. Your delivery partner comes daily to deliver orders to customers, and that's it for you. You don't own any delivery vehicle, have no delivery staff, and need no in-house delivery maintenance. Depending on the third-party delivery services provider you choose, you can ask to use your brand packaging to create unique delivery experiences and market your brand.
High-quality Delivery Experiences
Since the entire business model of third-party delivery service providers is to provide delivery services, many of them excel at it far better than small businesses would ever. They have hundreds to thousands of trained staff and hundreds to thousands of vehicles and are usually more professional because they don't have other business commitments, unlike small businesses. When your only delivery staff falls sick, forcing you to send out apology messages to your customers for the delay, a third-party delivery services provider can just send another staff.
Brand Exposure
Restaurants are the main benefactors of this opportunity. Third-party delivery service providers such as DoorDash and Grubhub showcase the restaurants that partner with them on their platforms, allowing more customers to see them.
You Can Focus on the Core Aspects of Your Business
When you outsource your delivery services to reliable delivery partners, you can rest assured that they will provide top-notch services to you and to your customers. It allows you to focus your energy on the core aspects of your business, such as manufacturing and engaging suppliers. Your money will work for you and give you more time to make more money. What's not to love about third-party local delivery services?
Why do some businesses prefer in-house delivery systems to third-party local delivery services?
As a small business, the most enjoyable thing about running an in-house delivery system is that you can avoid profit margin losses. Since you have only a handful of customers, you or another person in your team can manage and provide delivery services without paying any money to external parties. In fact, you can ask your customers to pay a small delivery fee, and they will pay because they understand that they are supporting a small business.
Another reason partnering with a third-party delivery provider doesn't favor businesses is the lack of control over customer delivery experiences. Instead, you rely on the delivery structure of your third-party delivery partner. Third-party delivery services provide the same delivery experiences to customers of all the companies that partner with them. Businesses can use their unique delivery experiences to market their brand, but partnering with a third-party delivery provider eliminates that privilege.
Why Businesses Avoid Running In-House Delivery Systems
These are enough reasons to set up an in-house delivery system, but the third-party delivery services industry is growing. Obviously, because many businesses prefer partnering with them to running an in-house delivery system. So, let's look at four reasons why businesses avoid running in-house delivery systems.
Set Up Cost
You can start a small business from the comfort of your living room, set up a website, or open a merchant store on Facebook or Amazon, and it suffices. But the moment you choose to manage your delivery services by yourself, you have to do some spending. You must buy one or more delivery vehicles and hire delivery staff if you are unavailable to run all your deliveries yourself. And invest in a reliable tracking system to monitor deliveries. If you don't have enough space in your garage for extra vehicles, you have to pay for a parking space. What about packaging? Yes, you must also invest in packaging and branding materials.
Maintenance Cost
After setting up your direct-to-consumer delivery system, you will also repeatedly tackle maintenance. Is there gas in your vehicle? What about oil? Did you check the tires today before embarking on the delivery journey? Did you renew expired licenses that certify your delivery staff to ride or drive the delivery vehicles? You will fall into a hole of endless upkeeps that cost time and money, and failure to do them can attract fines.
Staff Management
You have to train your delivery staff and keep training new ones to ensure that they are familiar with the laws and policies regulating deliveries in your city and country. Otherwise, your delivery staff can violate a law or policy that can cost you an arm and a leg. Since your delivery staff represents your brand, you must teach them how to provide excellent customer service to make your customers happy. Besides, having delivery staff adds extra managerial duties to your daily to-do list.
Insurance
It is unwise to own and use delivery vehicles without an insurance plan. That's a tragedy waiting to happen. Businesses must research different insurance plans and choose the best for their business. Secondly, insurance costs money, whether you're choosing to insure only the delivery vehicles or choosing a plan that covers general liabilities. Avoid an insurance plan that doesn't cover workers' compensation in cases of accidents, or you might face a lawsuit that can bankrupt your business.
Bottom Line
In addition to the challenges of running a business, an in-house delivery system will force you to invest your time and money to manage avoidable logistics. In the end, you will spend just as much or more than you spend using third-party delivery services to run your in-house delivery system. Why not partner with a few reliable third-party delivery service providers?