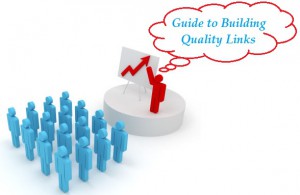 On-Page Content Fetch You Quality Links in 7 Simple Steps
Links building can be good without making changes to the on-page changes. Your page may rank among top 10 for definite keywords by building lots of links, but it does not guarantee any gain in new customers or new subscribers to your website.
It's time to find the suitable ways to make your site standout from a user's perspective with better on page content. This will improve the chances for people linking to you.

Here are seven factors to be considered while building links:
1. Great content is the key:
Building links becomes easier with great content. In the absence of quality content, it might prove to be a nightmare. But the problem with creating great content is that no laden emphasis is procured on creating the right kind of content nor every site needs a blog.
Relevance is the key. To be pertinent, first think about what are your users' needs, what they want to see, what they'd find beneficial and express it in such a way that it could also benefit the people outside your target audience. Good writing becomes the chocolate doughnut for link building.
2. Titles:
Keep what you say. It's great to give a title that flawlessly denotes your content.
A title making perfect sense to you might look appalling to your readers. Misleading titles waste people's time. I hate when I click on a recipe of my favorite pudding and find someone talking about his restaurant in that certain page and ending by saying that he cooks great pudding.
Your title is crucial for users because its counts on being impact SERPs ranking factor. It tells the users and directs the search engines what your page is all about.
3. Images:
A content that contains at least 1 pictorial is believed to grab an increased user engagement. Images themselves are great for link building catching more eyes and increasing the chances of getting links. Many people prefer learning something by looking at the images of the steps rather that reading them. Including images, covers the bases.
4. Video and interactive content:
Make sure that the video or interactive content loads and actually works. Make sure if you are heaving something like this from another website, it actually works. People don't like to link to content that's shattered.
5. Search-ability and the internal links:
Make sure that when your user land on your page, it contains the information they are looking for and supposing to possibly link to. If your website is difficult for users on navigation and find what they need, they'll get frustrated. Don't complicate things for people.
6. Outbound Links:
Link out to reliable and related sites. You anticipate these links to be useful, so link out fairly. Your posts should link to reputable ones. Remember, your image depends a lot on the ones who you associate with.
7. User Engagement and Share-ability:
If a post has numerous spam comments on it, users will consider twice before connecting to it. So, avoid spam comments. Don't forget to tip to social media. It is a strong platform to collect valuable comments.
Conclusion:
Make your content easily searchable and linkable. Make sure everything looks and works conveniently and cross-check its compatibility on mobile devices. People prefer to choose what they like, share and connect to. So don't think that on-page factors don't play a role when links are referred to. They can create or breakdown your link building.
[go_portfolio id="flex3″ margin_bottom="50px"]