Reasons to Consider the BigCommerce eCommerce Platform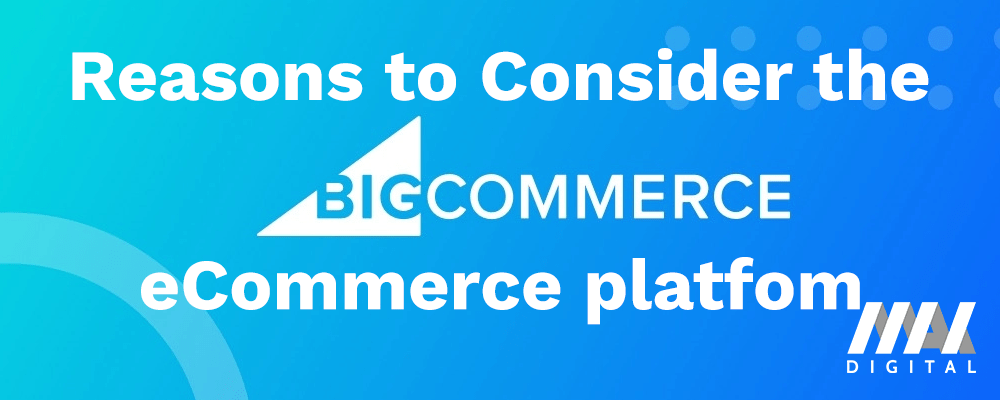 As an eCommerce vendor, there's a high chance that you have come across BigCommerce a few times in your search for the best eCommerce platform to build your business on or migrate to. While you might be considering popular names like WooCommerce or Shopify, BigCommerce offerings will drop your jaws, and we can't wait to tell you more. First, unlike Shopify, which limits the number of staff accounts to just two on its basic plan and 15 on its advanced Shopify plan, BigCommerce supports unlimited staff accounts on all plans. SEO? That's a walk in the park for BigCommerce, but, you see, these are not enough reasons to go with an eCommerce platform.
BigCommerce offers so much more, and here are some key reasons why you should choose BigCommerce today.
Easy Onboarding
BigCommerce is arguably the best eCommerce platform for newbies. You don't need technical expertise to build your eCommerce business on BigCommerce. BigCommerce provides all the necessary tools and resources to build an eCommerce business from scratch. And if you are stuck with a tool or don't know how to proceed, you will find the Help Center very valuable. The Help Center has written and video content explaining how to use BigCommerce as a beginner.
The BigCommerce Community also offers endless helpful resources. You can go to the Community to ask questions. Regular BigCommerce users with more experience will be more than happy to give you practical answers about how they tackled similar issues.
Easy to Use
BigCommerce continues to make its user experience smooth for all users regardless of their technical knowledge, starting with its intuitive dashboard. Users can easily manage product inventory, sales & orders, and returns from the dashboard.
Navigating an eCommerce platform can be overwhelming for beginners, but BigCommerce has a Quick Search Bar feature that reduces the burden of keeping up with multiple pages and buttons. You can search for keywords to access admin pages instead of racking your head to remember how to find each page.
BigCommerce also helps you manage customer segmentation, allowing you to group your customers based on pricing, product access, and promotions you are running. And this makes it easy for you to create a tailored strategy for each customer group.
BigCommerce handles everything for you, including tracking, reporting, and analytics, and you can focus on other vital business operations.
Active Customer Support
When you are new to the eCommerce industry, you realize that there's a lot you don't know. Not to mention the constant technical changes that happen in the industry. Sometimes, you will need one-to-one help to guide you or help resolve a unique challenge you are facing. In this case, the BigCommerce Community won't suffice. Thankfully, BigCommerce offers round-the-clock customer support.
Now, many SaaS providers claim to offer 24/7 customer support, but only a few come through when it matters. BigCommerce is one of those exemplary few. You will enjoy shorter wait times, dedicated expert support, and timely help.
Cybersecurity
As an eCommerce business owner, cybersecurity should be a top priority on your list of items to consider when choosing an eCommerce platform. Oh, you don't want to fall victim to a cybersecurity attack because your eCommerce platform doesn't tie loose ends. It's a nightmare. So, the first step to reducing your chance of falling victim to cybersecurity attacks is to choose an eCommerce platform that offers iron-clad cybersecurity.
BigCommerce doesn't joke with cybersecurity. It continually remains in compliance with all the necessary regulatory bodies and standards, such as Payment Card Industry Data Security Standard (PCI-DSS). PCI-DSS compliance ensures that your customers' credit card information is protected against fraud when used in your eCommerce store. BigCommerce takes cybersecurity further by offering hosting security on all plans.
A secured payment gateway where customers are not wary of paying for the items in their carts shows that your eCommerce store is professional.
Guarantees Smooth User Experience
While your eCommerce platform must provide you with a smooth experience when you use it, it must also make your eCommerce store easy to use for your customers. You are in this business to sell to your buyers, so hey, choose a super customer-centric eCommerce platform.
We all know that most people shop on mobile devices, so it will be a shame that your eCommerce store is not mobile-friendly, right? BigCommerce has free and paid mobile-friendly themes that make shopping on mobile smooth, from product browsing to checkout. So even if you are under budget, you will find a mobile-friendly theme for your store. And BigCommerce continually updates these themes to adapt to the constantly changing mobile technology.
We told you earlier that cybersecurity should be a top priority. Payment option is another aspect of eCommerce you need to get right, and the key to getting it right is by offering multiple payment solutions. Don't limit yourself because buyers won't go out of their way to use a payment option that doesn't favor them.
BigCommerce provides multiple payment features with over 65 pre-integrated payment gateways to choose from that are available to over 100 countries. Guess what? You can integrate any third-party payment gateway of choice without stress.
BigCommerce provides industry-leading in-built features that make it easy for buyers to shop. The abandoned cart saver feature allows you to send your cart abandoners automated emails to make them conclude their orders. The search filter feature allows buyers to search for items on your product page using elements such as size, color, price, and other custom attributes.
Supports Integration aka developer friendly that is API
BigCommerce is developer-friendly. You can integrate any third-party APIs into your eCommerce store. Although, you may realize that you don't need extra third-party APIs because BigCommerce offers multiple in-built software tools such as Avatar and ShipperHQ that can optimize eCommerce processes.
To Wrap it Up
BigCommerce offers way more than we can talk about in one article. What we like most about BigCommerce is its high scalability. BigCommerce makes it easy for you to scale and expand your eCommerce business. For example, as you grow, if your orders increase and you add more shipping options, you won't have to carry out any integrations or installations to add more third-party carriers.